We are always looking for creative ways to celebrate the holidays.  There are tons of great DIY decorations and delicious recipes out there.  BUT, when we find one that combines creative DIY with food – let's just say I get a little hyper about it!
Picture this ….. it is Thanksgiving night.  The table is set, the turkey is in the oven, side dishes are cooking, dessert is being chilled.  Ding, Dong…the guests begin to arrive and what is the first thing they see….
BAM – A VEGGIE TURKEY TRAY!!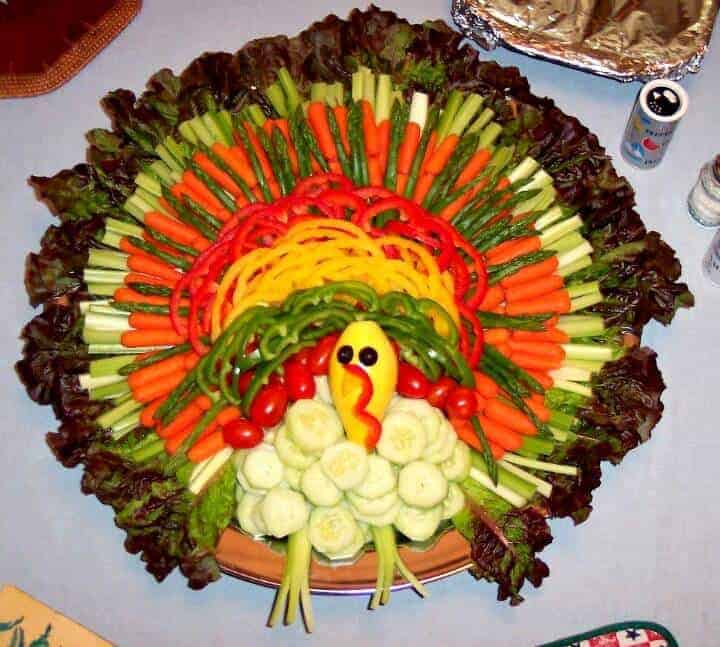 This amazing display is the creation of Karen Havling!  Karen is the creative genius behind this appetizer than went crazy viral.  But thanks to one of my readers, Terrell, we found her and she was kind enough to share the how to!
Karen has made this for her Thanksgiving dinner the past two years.  She has her work cut out for her  with a part vegetarian family, part vegan and part meat eaters.  Karen was up for the challenge and able to please everyone ('cause that is what a Hostess with the Mostess does, right!!)
How to make a veggie turkey tray: 
Veggies Needed:
Red-leaf lettuce
Celery
Baby carrots
Asparagus spears
Red, yellow & green peppers
Cucumber
Yellow squash
Grape tomatoes
Black olives
Tooth pics
Once the veggies are prepped, the putting it together is quite simple and only takes a little longer than a standard veggie tray. She used red-leaf lettuce, celery, baby carrots, asparagus spears that were blanched in boiling water for a minute or two and then plunged into ice water. Those form the tail.
The body is red, yellow, and green peppers that have been halved lengthwise and then sliced.
The breast is sliced cucumber, the head is a yellow squash and is held in place by the cucumbers and some grape tomatoes.
The eyes are black olive slices, the beak is a triangle from the yellow pepper, and the waddle is a slice of the red pepper.
The face pieces are held in place by toothpicks that have been cut in quarters ( only used the end pieces that have points). The feet/legs are celery sticks that are cut into "toes".
Here is a smaller version that Karen also made!
BUT WAIT – my good friend Betsy just blew me away with this adorable version in a fruit tray!! Check it out!!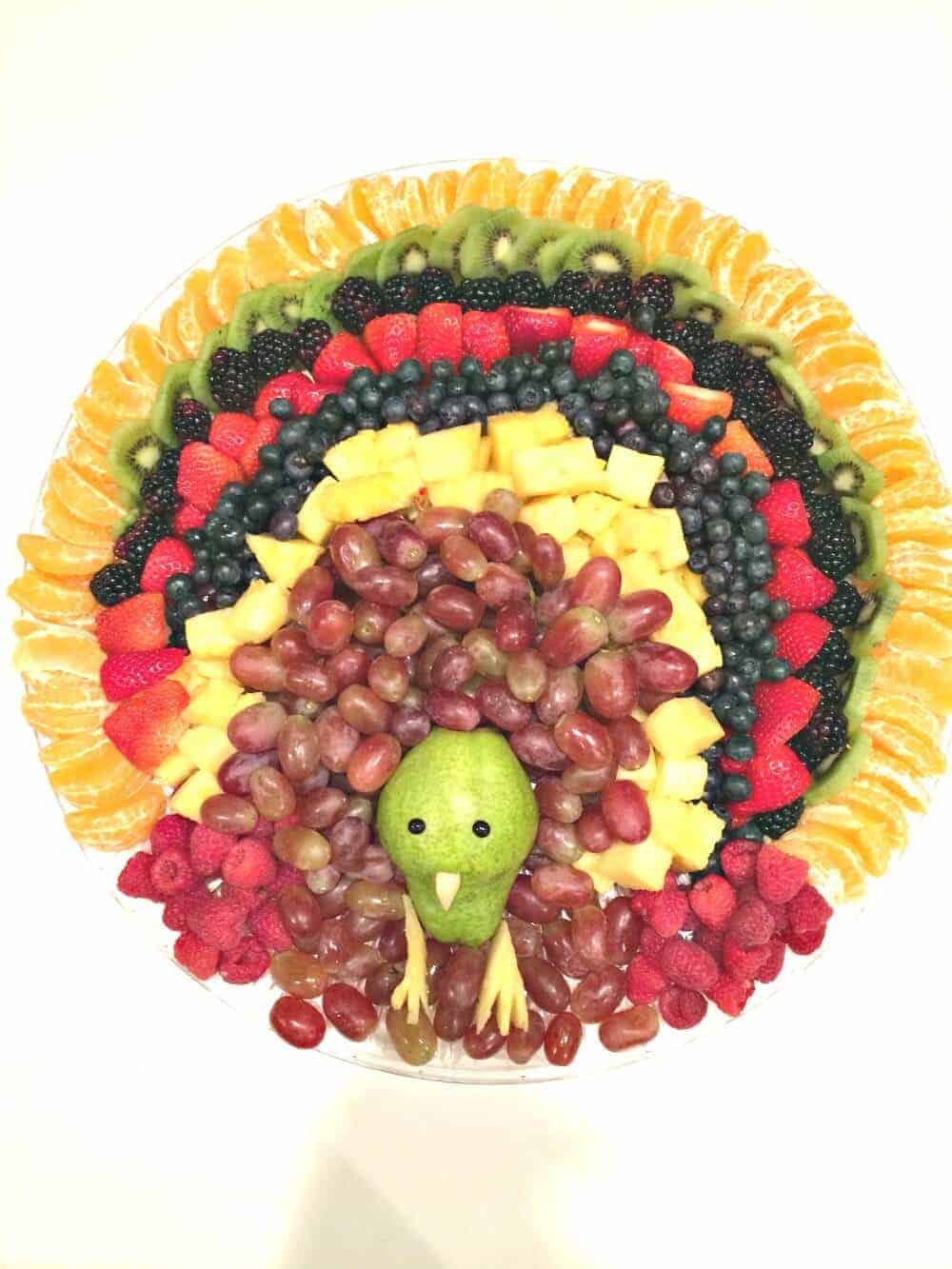 The only thing you have to be careful about with starting out with this amazing appetizer is the expectations are set very high for the rest of the night!
Looking for some other Thanksgiving appetizer ideas?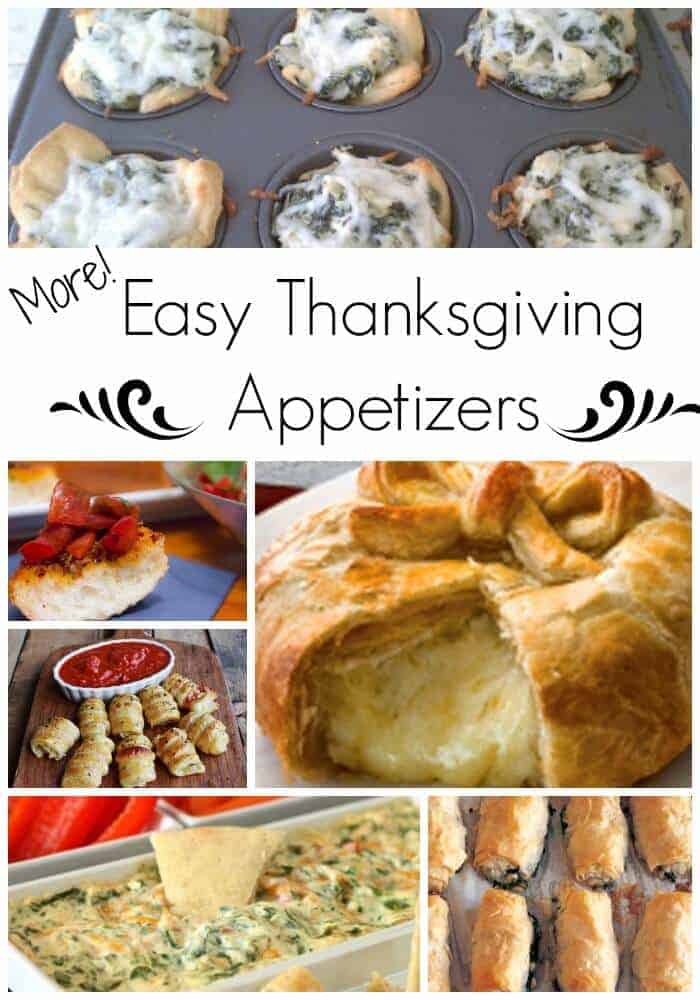 Also – check out:
Thanksgiving: Course 2.5 – Side Dishes
More Thanksgiving Side Dishes
Thanksgiving: Course 3 – Dessert…saving the best for last ….and don't miss out on
Thanksgivukkah, it's a holiday miracle!)
Thanks so much, Karen, for sharing your creation!  Can't wait to see what you come up with for Christmas!!
Sign up for the Princess Pinky Girl Newsletter and automatically receive our latest & greatest delivered right to your inbox! Follow Princess Pinky Girl on Facebook, Twitter, Pinterest and Instagram for all of the newest recipes, crafts, travels and updates!
If you make a Princess Pinky Girl creation make sure you take a picture and share it on Instagram with @princesspinkygirl ! I love seeing your masterpieces!