This post may contain affiliate links. Read my disclosure policy here.
Disclosure: I am a member of the Invisalign Mom Advisory Board. My son and I are receiving complimentary treatment from Invisalign, but all opinions expressed are my own. Get YOUR SMILE ASSESSED HERE!
I have three beautiful boys! Beautiful boys with beautiful smiles. Smiles that, unfortunately, need orthodontic work 🙁 $$
With my two older boys, we went down the traditional path of wire braces. They did great, with a few incidents of poking wires requiring an early morning, before school run to the orthodontist, some broken brackets that required a quick trip to get it replaced after school and before soccer – oh yeah, and we cannot forget about the time my oldest son thought sitting on my younger sons head and his braces got stuck to the carpet which required a pair of scissors and a steady hand (true story, I cannot make this stuff up)
So when it was time for my youngest to start orthodontic treatment, we decided to explore our options. Our youngest has some sensory issues and some anxiety. We weren't sure how he would do with the "disruption" to his mouth. That's when our orthodontist told us that we may want to consider Invisalign. I told her that I had heard that Invisalign was better suited for adults. She explained to me "not any more!" After looking at the pros and cons of both, we decided to give Invisalign a try for him.
A few of our concerns going into the Invisalign treatment mostly involved responsibility. When you have traditional braces, they are bonded to your teeth. For the most part, if a piece doesn't come loose and fall off (which has happened numerous times for us) then they are staying put. With Invisalign, you wear the aligners 22 hours a day, but take them off for meals. So you can understand our concern when our 11-year old needs to be taking them out at lunch time at school, or when he is at a restaurant or at a friends party. Where would he put them? How long before he forgets his retainer case and puts them on a napkin and throws them out?
Let's start by saying that I didn't give my son nearly the credit he deserves! He stepped up and blew the responsibility challenge away! We are two and a half months in and he has been amazingly responsible. I actually think this has taught him a new level of responsibility. He takes it very seriously and has gone above and beyond and impressed us!
The other concern was with his speech – would the aligners impact his speech. We spent years in speech therapy with him and we were concerned that this would take us a step back. Well, wrong again – It took him a few days to get used to it, but his speech it totally fine if you didn't know he was wearing them, you wouldn't even realize they were in!!
Some of things that we absolutely love about our Invisalign – pictures – school pictures, family pictures, etc. – he can take them out, take his pictures and them pop them back in. He can eat whatever he wants….no restrictions (popcorn, gum, sticky stuff – you just need to brush really well after). Not invasive in his mouth – we were very worried with wires and other hardware that the poking or rubbing would not work well for him – with Invisalign, we get none of that, which is great for sensory issues.
So, two and half months in and we couldn't be more pleased. He is on a journey to help him make his beautiful smile even more spectacular!
Get your smile assessed here and see if you (OR YOUR CHILD) are a good candidate!
Orthodontics can also have a positive impact on your confidence; no more hiding your smile or feeling less than fabulous! If you or your tween/teen is looking to straighten your teeth, click here to find an orthodontist near you.
I am also going through Invisalign treatment! Check out my story here!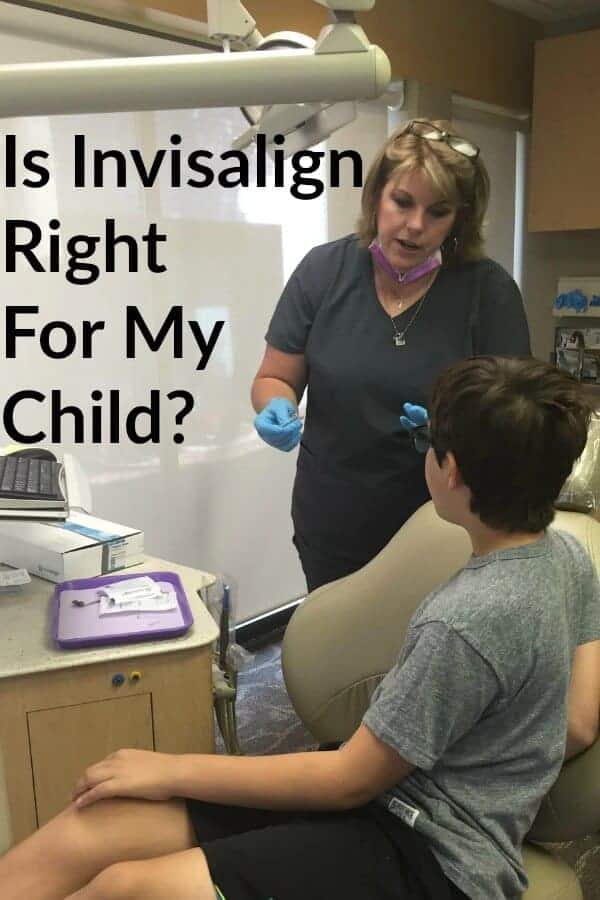 Sign up for the Princess Pinky Girl Newsletter and automatically receive our latest & greatest delivered right to your inbox! Follow Princess Pinky Girl on Facebook, Twitter, Pinterest and Instagram for all of the newest recipes, crafts, travels and updates!
If you make a Princess Pinky Girl creation make sure you take a picture and share it on Instagram with @princesspinkygirl ! I love seeing your masterpieces!