This post may contain affiliate links. Read my disclosure policy here.
Easy Grilled Salmon Kale Salad with Honey Lemon Vinaigrette, flaky grilled Alaskan salmon served over a bed of tender sweet kale greens. The vinaigrette is made with fresh lemon juice, a little Dijon mustard and a bit of sweet honey…the perfect combination for a perfect salad!
Our Alaskan Cruise that we took with Princess Cruises inspired not only this Grill Salmon Kale Salad, but some other delicious creations as well. Be sure to check out our Baked Crab Dip, Alaskan Glacier Martini and our favorite… Strawberry Shortcake Baked Alaska!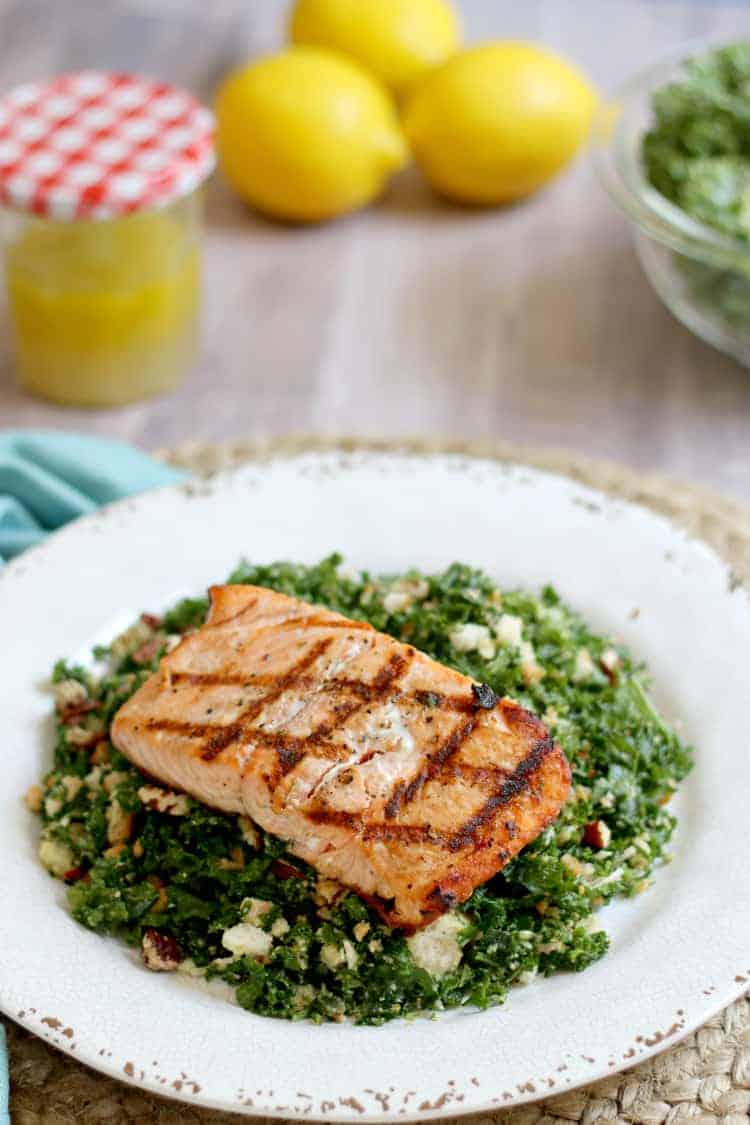 Grilled Salmon Kale Salad with Honey Lemon Vinaigrette
I'm always on the hunt for delicious ways to serve up salmon, and today I am sharing one of my FAVORITE salmon recipes – Grilled Salmon Kale Salad with Honey Lemon Vinaigrette. The genius of this recipe is in it's simplicity. It uses a handful of ingredients and is a celebration of flavors that deliver on every point.
When I was in Alaska, salmon was everywhere! While we didn't get to go salmon fishing, though our other excursions were amazing (see our Alaska Excursion Guide here… they were out of this world). Salmon was always on the menu on the Island Princess, and I indulged more than once!
Once I got home, I was on a total salmon recipe kick! My smoked salmon dip is always an appetizer staple, but I was looking for something light and healthy and salmon and kale was the perfect combination!
My Grilled Salmon Kale Salad recipe was inspired by my trip to Alaska sponsored by Princess Cruises, but all opinions are my own.
Before we get to the recipe, let's start with some salmon basics.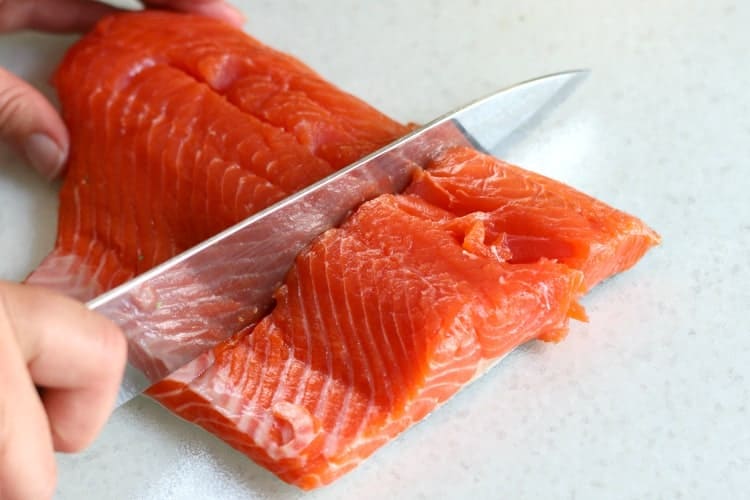 How to Choose Fresh Salmon
Look for steaks or fillets that are moist, clean cut and free of any strong fishy odor.
Buy your salmon the day you will be cooking it. If you do purchase it in advance, keep it loosely wrapped and place in the coldest part of your fridge for 1-2 day at the most.
If using frozen, thaw the salmon in your refrigerator for 1-2 days and not on the kitchen counter.
You can purchase fresh salmon with the skin on or ask to have it removed. I find that when grilling salmon, it is easier to grill the fish with the skin on and then remove it before serving. But it's more of a personal preference.
How to prep salmon for cooking or grilling
Here's a few things to keep in mind when getting your salmon ready for cooking.
Make sure that your rinse the salmon and pat dry with a paper towel before cooking. This is good practice no matter what method of cooking you are using and I think it's a key part in your recipe prep.
Salmon is great with a simple salt and pepper seasoning, dry rub or marinade. Salmon does pick up flavor quickly so be sure not to over marinate. A quick 20-30 minutes is usually long enough to add just the right about of flavor.
How to Grill Salmon
There are many ways to prep salmon but one of the more flavorful is by grilling. Cooking salmon on the grill is actually very easy and just need to keep a few things in mind for grilling success.
Make sure the you heavily grease your grilling surface before laying your fish on the grill. If you have a grill basket, use it. They are a nice way to make sure that the salmon stays together during the cooking process. Just be sure to grease the grill basket just as you would the direct grilling surface.
You can also grill the salmon on some non-stick foil. Cut some slits in the bottom of the foil to allow the juices to run.
If you are cooking the salmon directly on the grill racket, try keeping the skin on the salmon steak or fillet during while it cooks. This make it much easier to handle the fish and you can simply remove the skin before serving.
For a gas grill, you'll want to preheat but then turn the temp down to medium heat.
Cook the salmon on the grill with the lid open.
Rule of thumb: cook 4-6 minutes per ½" thickness or until the fish flakes with a fork.
You can turn the fish halfway through cooking and top with a little more olive oil or butter for enhanced flavor.
If you keep these tips in mind when grilling, you'll have perfectly cooked salmon every time!
Now…. on to the kale!
Now I am going to ask you a question that may seem a little…off the wall but hang in there with me! Have you ever heard of massaging kale before eating it?
How to massage kale
The claim is that massaging the kale for about 30 seconds tenderizes the leafy green and makes a huge difference in texture. I gave it a try and am pleased to report, it does make a difference. I big difference in fact. I know it sounds strange but give it a try and see for yourself!
On to The Recipe ….
How to Make Grilled Salmon on Kale Salad with Lemon Vinaigrette
This salad starts with a generous amount of thinly chopped kale. You can chop the kale leaves by hand or use the slicing blade of your food processor to speed things up a bit.
Now go ahead…use those fingers to massage the kale to help with tenderness.
The lemon vinaigrette dressing is easy to make and come together in just minutes. Fresh lemon juice, lemon zest, Dijon mustard, shallots, and a bit of honey create the perfect blend of sweet and tart to compliment the grilled salmon.
I found some gorgeous Alaskan salmon fillets to grill and put on top of the kale salad. I seasoned the fillets with a little salt and brushed with olive oil before grilling. As I mention earlier, it's helpful to grill the salmon with the skin on and then remove just prior to serving.
This salad can be prepped ahead of time. Just lightly toss the kale with the lemon vinaigrette, cover and store in the refrigerator. This softens the kale more making it extra tender without becoming mushy.
When you're ready to eat, grill up the salmon and lay the filet atop the kale. Wham-bam, dinner (or lunch) is served!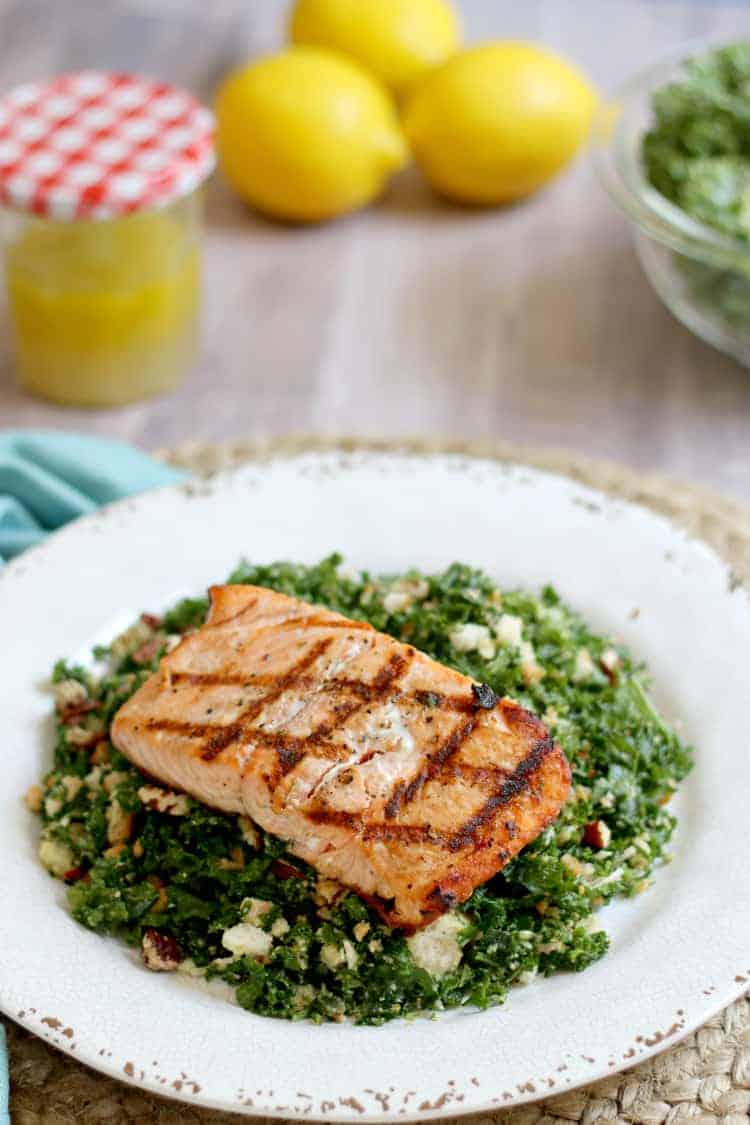 Grilled Salmon Kale Salad with Honey Lemon Vinaigrette
Easy Grilled Salmon Kale Salad with Honey Lemon Vinaigrette, flaky grilled Alaskan salmon served over a bed of tender sweet kale greens. The vinaigrette is made with fresh lemon juice, a little Dijon mustard and a bit of sweet honey...the perfect combination for a perfect salad!
Prep Time: 20 minutes
Cook Time: 15 minutes
Total Time: 35 minutes
Course: Dinner
Cuisine: American
Servings: 4 servings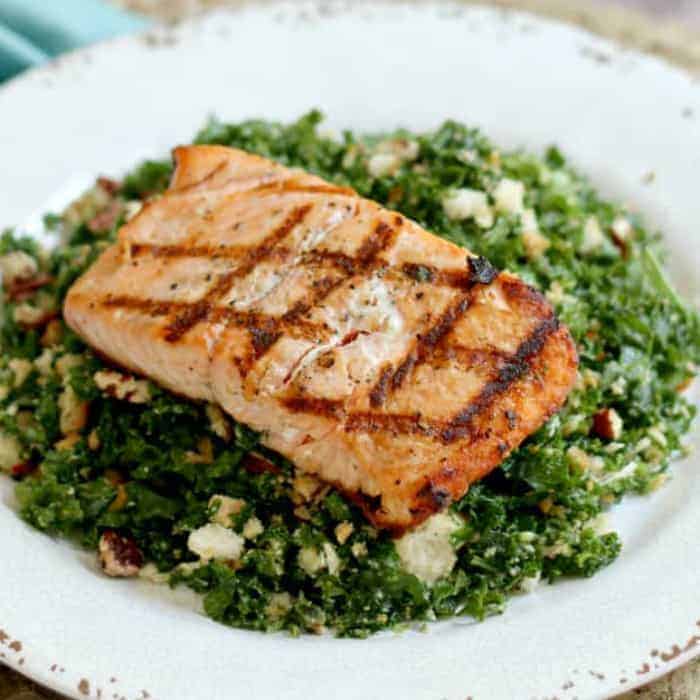 Ingredients
4 (6 ounce) Alaskan salmon filets
3 Tbsp. olive oil
Kosher salt
6 cups shredded kale (stems removed)
1/2 cup shredded Parmesan cheese
1 cup pecans, chopped
2 cups croutons, crushed
2 tsp. crushed red pepper
salt and pepper, to taste
Honey Lemon Vinaigrette Recipe
1/4 cup extra virgin olive oil
1/4 cup` apple cider vinegar
1 tsp. Dijon mustard
3 Tbsp. fresh squeezed lemon juice
1 Tbsp. honey
1/2 tsp. salt
1/8 tsp. fresh ground pepper
Zest of 1 lemon
Instructions
To make the honey lemon vinaigrette, whisk together olive oil, apple cider vinegar, Dijon mustard, lemon juice, lemon zest, honey, salt and pepper in a small bowl; set aside.

To prepare kale, wash, dry and remove stems. Slice kale into thin strips and place into large bowl. Add crushed croutons, Parmesan cheese, pecans, crushed red pepper, season with salt and pepper. Toss with desired amount of vinaigrette and set aside.

Bring the salmon to room temperature 10 minutes before cooking. Season salmon with dash of salt and drizzle with olive oil.

Preheat grill to medium-high.

Lightly oil grill grate. Place salmon on the preheated grill, and cook salmon skinless side down (if applicable) for approximately grill for 3 to 4 minutes on each side or until fish flakes with a fork. Remove from grill and let rest for 5 minutes.

Plate dressed kale salad and top with piece of salmon.
Nutrition per serving
Calories: 574kcal | Fat: 48g | Saturated fat: 7g | Cholesterol: 9mg | Sodium: 638mg | Potassium: 695mg | Carbohydrates: 28g | Fiber: 3g | Sugar: 4g | Protein: 13g | Vitamin A: 10880% | Vitamin C: 125.2% | Calcium: 336% | Iron: 3.4% |
Keyword: Grill
Sign up for the Princess Pinky Girl Newsletter and automatically receive our latest & greatest delivered right to your inbox! Follow Princess Pinky Girl on Facebook, Twitter, Pinterest and Instagram for all of the newest recipes, crafts, travels and updates!
If you make a Princess Pinky Girl creation make sure you take a picture and share it on Instagram with @princesspinkygirl ! I love seeing your masterpieces!