You guys know that I love to cook. I share easy recipes all the time and you just wouldn't believe how many times they've been shared and pinned.
Today, I want to share a gift guide for the best kitchen gadgets around. I know you love to cook and these gadgets make cooking easy and fun. They are all great ideas for gifts to purchase for your family and friends this holiday season!
/div>
Thank you to all of the amazing companies for working with us to share these with you. We were so excited to be gifted many of these gifts to share with you today! Many of these links contain affiliate links.
Why kitchen gadgets make great holiday gifts
Most people don't buy themselves things like kitchen gadgets. They see them as luxury items, but they are actually quite affordable and make perfect gifts.
Kitchen gadgets are notorious for not actually being helpful and taking up precious storage space in drawers and on counters- Not to worry… these are ALL highly recommended and used all the time.
These kitchen gadgets can make everyday tasks so much easier. Saving time is a precious gift that we can rarely give, but now you can!
Some of these items will help cut down on the number of appliances that are needed. They save space, too!
Buying someone a handy new kitchen tool can really help motivate them to get in the kitchen more and actually enjoy cooking again.
What to Look for in a Kitchen Gadget
Kitchen gadgets can be so tempting to purchase, but how much it will really get used is the question to ask before purchasing. If it will help with a task that you do all the time, it is probably worth it. On the other hand, if it's a gadget that won't get used often, you may want to think about a more practical purchase.
A person can only have so many kitchen gadgets and you should really keep in mind how much space someone has available. If the person you are buying for has loads of storage space, it might not be an issue, but for most people space is limited and you'll want to keep that in mind. Gadgets come in a variety of sizes, and you can get similar functionality on a smaller scale.
Make sure to look at the quality of a kitchen gadget before you purchase it as a gift. Higher-quality products will hold up better over time—and they can also make any task easier and safer to perform. Check out the ratings and reviews, they can really be helpful when you are shopping.
The Best Kitchen Gadget Gift Ideas – for the Kitchen Enthusiastic
If you have a tea lover on your gift list, this bluetooth electric kettle is literally the mack daddy of all kettles! This kettle holds the perfect temperature water for your pour over coffee too! A must have for your coffee or tea enthusiast (great for travel too!)
You guys know that I love a good instant pot recipe and I've shared all about how to use your instant pot. I use mine for everything from lasagna to soups, even french toast! This particular model combines 7 kitchen appliances in 1 to save you space, including pressure cooker, slow cooker, rice cooker, steamer, saute, yogurt maker, and warmer. You'll save time, counter space and your sanity!
For new cooks and experienced pros, a good vegetable and fruit peeler is key. I love this model because it swivels, is easy to grip and has a sharp eye at the end to quickly remove any bad spots or blemishes.
We sure do love pasta at our house and a good strainer is super important. There are just so many reasons why this Snap N' Strain Colander is a favorite kitchen gadget for us. First, the clips will fit almost any pan, pot or bowl, even if they have a lip around the top. It is super strong and you can even strain potatoes without worrying that it will come loose. I also love that it is compact and takes up much less storage room than a traditional colander. It is also dishwasher safe which is a necessity at our house!
If you celebrate Taco Tuesday or just love these heavenly delights, a set of taco stands makes a great gift. These stainless steel taco stands make stuffing and serving tacos so simple and a lot less messy!
Do you remember the time when avocados weren't that popular? I know, I'm trying to forget that time, too! Now that we are enjoying them for breakfast, lunch and dinner, we need a handy way to prepare them. This slicer will help you easily pit the avocado in one step and then it will slice the fruit and lift it away from the skin. Genius!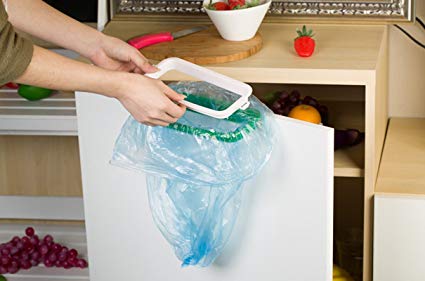 I kept seeing another blogger share this clip on trash bag holder and it looked so handy. You can use them for all sorts of things, but I love them when peeling fruits and veggies. Just sweep the peel right into the bag and you are done. You can even use the produce bags from the grocery store!
For the home chef in your life, this stripper tool will be such a blessing. Just place the stem of greens like kale, chard or herbs and pull. This even works great for other cooking herbs like rosemary and oregano. The curved edge is actually a chopper, too.
I use my mini food chopper ALL the time! This makes a perfect gift for anyone who cooks anything!
If you are like me, you purchase fresh herbs from the store and they end up getting brown and soggy before you use them all. The herb keeper will help prolong the shelf life of store bought and garden picked herbs. Ultimately, this gadget will end up saving you money in the end.
Do you love boiled eggs? We use them for everything from salad to deviled eggs and this little gadget is a great gift for busy families. You can cook up to seven eggs at a time with absolutely no boiling required (or forgetting to remove the eggs from the stove). This is also awesome for college students that live in the dorm.
There is nothing more frustrating than anticipating a nice big bowl of ice cream, but when you go to scoop it out of the carton it is too cold to scoop. This self-warming ice cream scoop takes the heat from your hand and transfers it to the scoop making it warm and super easy to use for scooping. Perfect for all of the ice cream fans out there.
As if we didn't need an easier way to lick the spoon when baking, this whisk wiper takes this to the next level. This makes clean up a breeze and you can use every bit of the food you are mixing up. This little guy comes in tons of colors, too, making it great for gift baskets.
Air fryers are more popular than ever and I've shared loads of air fryer recipes on the blog. They make a great gift for the home chef! Check out this article to learn all about this kitchen gadget and see all of the healthful benefits that using the air fryer has to offer.
Cookware may not seem like the most wow-ing gift, but if they have a passion for cooking, then they will be giddy over this stackable cookware. No one likes playing the "trying to get to the right pot" game. This Analon Smartstack cookware set not only is an amazing space saver, but the performance is top-notch (did I mention it is dishwasher safe too?)