This post may contain affiliate links. Read my disclosure policy here.
Are you looking for something great to make with the kids this summer? Then you must try my DIY sidewalk chalk! We are going to show you everything you wanted to know about How to make your own sidewalk chalk!
What I love about making our own Sidewalk Chalk is that is it not only super easy and inexpensive to make, but it is a fun activity to do with your kids AND you can make any shape you want!
This sidewalk chalk recipe only takes 3 ingredients and a mold and you are all set to go to create your own summer fun!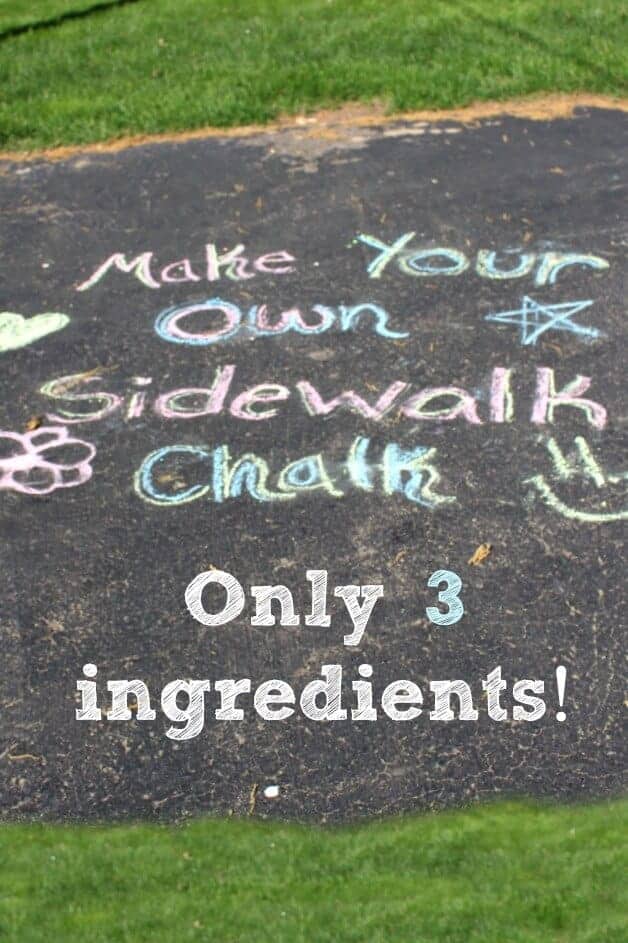 I love playing with sidewalk chalk!  What is better than the BIGGEST chalkboard ever – my driveway!!!
A piece of chalk and a driveway provide hours of entertainment (check out my article on AMAZING THINGS TO DO WITH SIDEWALK CHALK…. there is SO much you can do with it!
You can draw pictures, make up games, draw an entire track of cities to play with trucks on!
So when I found out that I could make my own, that opened up a whole new world of possibilities AND The best news is that it is CHEAP AND if you have the right mold you can make ANY shapes!!!
Having a birthday party or end of the school year party? Make these sidewalk chalks and put them in a cute bag and tie them with some ribbon and you have a cute giveaway for your guests.
They are also great to make as Valentine's gifts if you are looking for a non-candy Valentine alternative.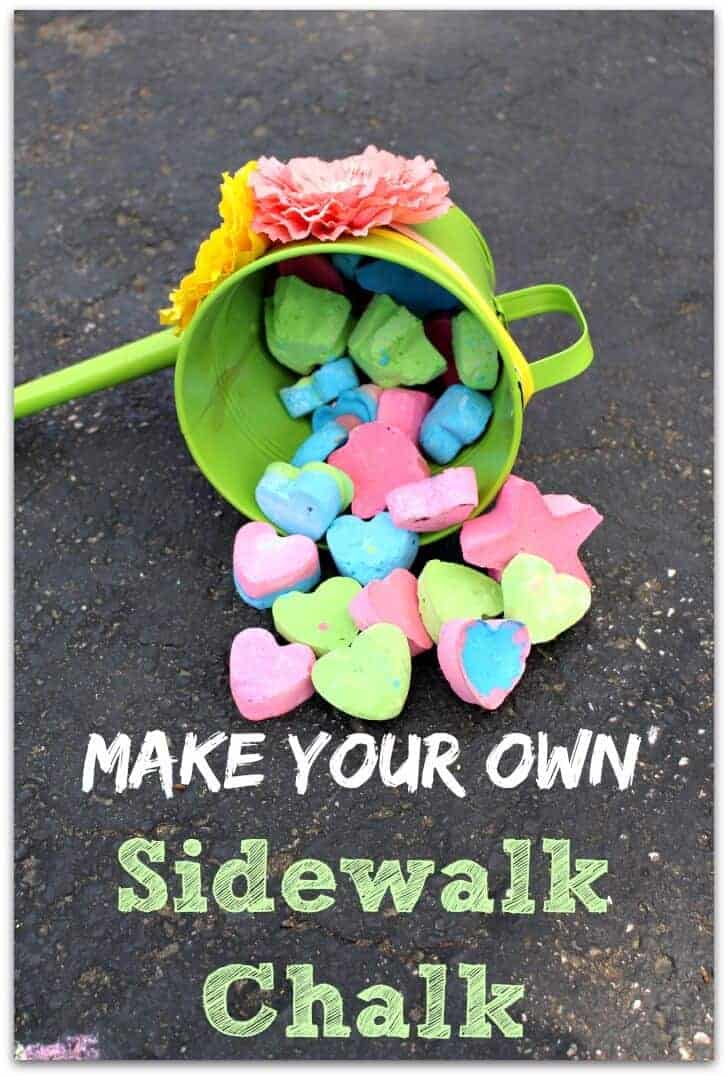 Items needed to make sidewalk chalk:
DIY sidewalk chalk
DIY sidewalk chalk it is cheap to make and you can make any shape you want! You only need three ingredients and a mold and you are on your way to non-stop summer fun!
Ingredients
Plaster of Paris (dry powder, not mixed. They have this at Michaels)
Tempera Paint (have fun with the colors!)
Silicon Mold
Water
Disposable Cups
Plastic Spoons
Instructions
For each color you will need a separate cup.

Fill each cup with 3/4 cup of water.

Add 1/4 cup of paint

Add 1 cup of Plaster of Paris

Mix well

Pour mixture into molds (I cleaned up the edges with a paper towel)

If you want to layer colors just pour the first color in and add the second or third on top (see picture below - don't mix them)

Let dry for 24 hours. Remove them from the mold (be careful because they are still soft and you need to carefully pop them out). Let them dry outside the molds for an additional 24 hours!

Presto - your own homemade sidewalk chalk!!!! So fun!!
Looking for some creative ideas to do with your new homemade sidewalk chalk, check these out:
Amazing things to do with sidewalk chalk!
Sign up for the Princess Pinky Girl Newsletter and automatically receive our latest & greatest delivered right to your inbox! Follow Princess Pinky Girl on Facebook, Twitter, Pinterest and Instagram for all of the newest recipes, crafts, travels and updates!
If you make a Princess Pinky Girl creation make sure you take a picture and share it on Instagram with @princesspinkygirl ! I love seeing your masterpieces!