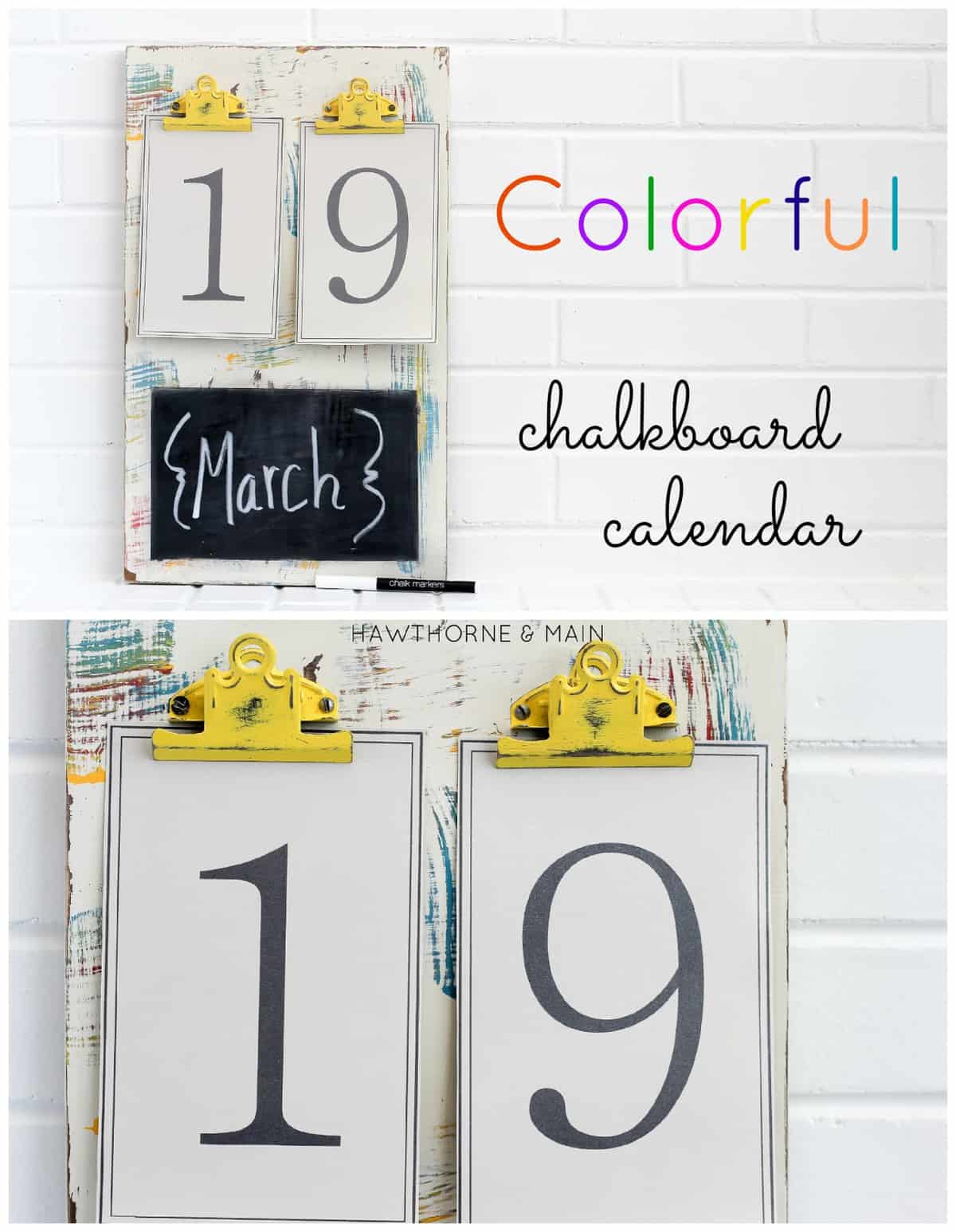 Hello Princess Pinky Girl readers!! This is Shonee from
Hawthorne and Main
! I'm super excited to be here with you!! Today I am going to show you guys how to make this colorful chalkboard calendar!
Since becoming a mom I swear my mind is gone!! Things that I should remember have vanished.
The other night I had a girls night out planned. It was going to be a fun night of food, friends and hanging out! How could I forget something like that…..
I kid you not, I did.
I remembered in the morning and by afternoon it was gone. Just gone.
My friends texted me that night to say "Hey, where are you?"
Luckily I was still able to make it. Very late and super embarrassed.
I think I need a personal assist to help keep my mind straight….sheesh.
Maybe this chalkboard calendar will help me stay on top of things better!! I still love anything having to do with chalkboards! Who's with me?

-1×12 cut to 19 inched long
-2 clip board clips- got mine at Joann
-white acrylic paint
-assortment of bright acrylic paint
-black chalkboard paint
-yellow spray paint
-painters tape
-paint brush
-sand paper
-4 small screws
-Calendar Numbers- FREE printable
To start off, paint the entire board white. After it has dried completely randomly apply the different bright colors of paint. Once again let that dry. Then, apply one last thin coat of white paint.
After all the paint has been applied and allowed to dry, take a piece of sand paper and gently sand the areas where you painted the bright colors. This will allow the colors to show though. If you leave some of the white it will make it look more aged.
Using your painters tape, mark off a section where you want the chalkboard to be. Roughly 9 inches by 6 inches.
Paint the marked off section with the chalkboard paint.
Next, paint the clips with the yellow spray paint. Doing a few light coats always ensures good coverage without drips! Once the paint dries, sand the surface a little to get an aged look. Use a couple small screws to attach the clips to the board.
When you get ready to print out the calendar numbers head over here.
Print and cut out all of the letters. The clips should be able to hold all of the numbers making it easy to change out the date. The chalkboard area can be used to write the month, a message, or even a reminder, ahhhheeemmmm.