These Chocolate Peanut Butter Pancakes are a classic blend of peanut butter and chocolate topped onto a pancake which makes these the ultimate stack!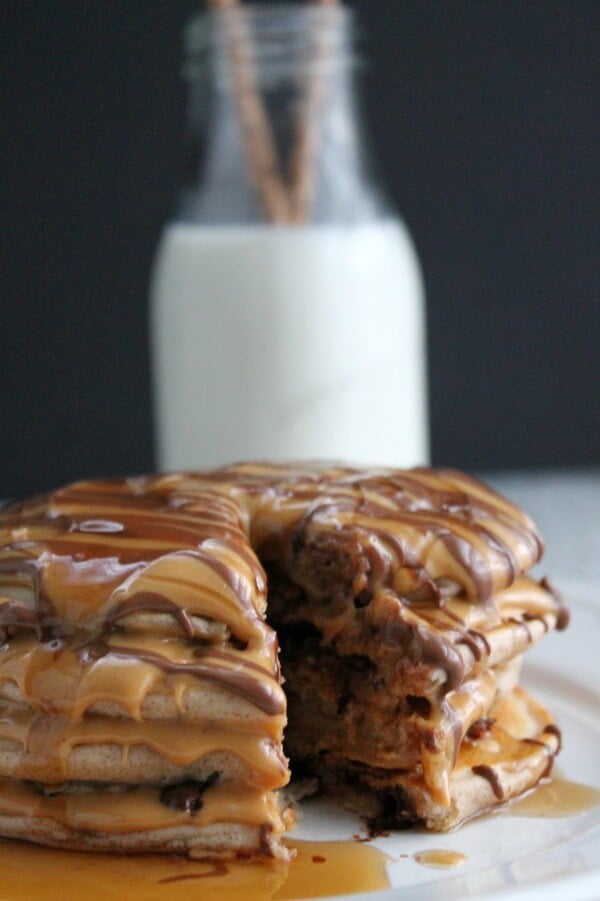 Hey everyone, Nancy from The Bitter Side of Sweet here again! So last time I was here I shared with you these croissants. And if you haven't made them, well you should! They are quick and easy!
This month I went with making pancakes for you. They have been on my brain for over two weeks now so over the weekend I made them for my girls! You guys don't mind chocolate right?
I know what you must be thinking? Pancakes with peanut butter AND chocolate? Hang tight with me for a minute, you are going to love them!
When I lived in Italy back in the early 2000's I had a friend who put peanut butter on her pancakes. I thought she was crazy. I had never heard of such a thing. I've had chocolate chips, fruit and just plain with syrup but peanut butter was a stretch for me. Until I tried them!
You must try them! It rocked my world! The combination of the peanut butter flavor and chocolate is always good match but when you add the syrup on top! It is absolutely amazing! ENJOY!
Ingredients:
1 1/2 cup all purpose flour
2 teaspoons baking powder
1 tablespoon sugar
1 teaspoon salt
1 1/4 cup milk
2 tablespoons unsalted butter, melted
1 egg
1 teaspoon vanilla
1/2 cup dark chocolate chips
1 cup peanut butter, softened
Directions:
Instructions:
In a large bowl whisk together flour, baking soda, sugar and salt. Set aside.
In a medium bowl add milk.
Whisk in egg. Then whisk in butter and vanilla.
Add wet ingredients to dry ingredients and stir till incorporated.
Stir in chocolate chips.
Cook on griddle or in non stick pan till bubbles form and break about 3 minutes.
Then flip and cook for 2 minutes more or until brown.
When pancakes are done place one tablespoon of peanut butter between each layer.
Drizzle with chocolate and syrup (optional) ENJOY!
Want more chocolate and peanut butter?
Chocolate and Peanut Butter Fudge
Peanut Butter Brownie Ice Cream Cake