This post may contain affiliate links. Read my disclosure policy here.
The best Chocolate Chip Banana Bread Recipe. This easy to make, super moist banana bread recipe will be your go-to recipe anytime you have overripe bananas on your counter! Did I mention that this is the Best Banana Bread recipe ever?
The Best Chocolate Chip Banana Bread Recipe
What's a girl to do with 3 perfectly good, but over-ripened bananas and an hour to spare? Make Chocolate Chip Banana Bread, of course! Let me tell you… this Banana Bread Recipe is the best one around!
I think my family has finally figured out the trick. If they leave three bananas uneaten until they turn a bit brown, miraculously, a Chocolate Chip Banana Bread will appear! It is like magic!
For the full list of ingredients and comprehensive instructions, please see the recipe card at the end of this post. Before you scroll, there's important stuff in the blurb!
This recipe is so easy! You can whip two loaves together in minutes and bake it in less than an hour. Added bonus, your house will smell amazing!
Do yourself a favor and after it cools a bit, slice a warm piece and spread some butter on it and enjoy it with a hot cup of coffee.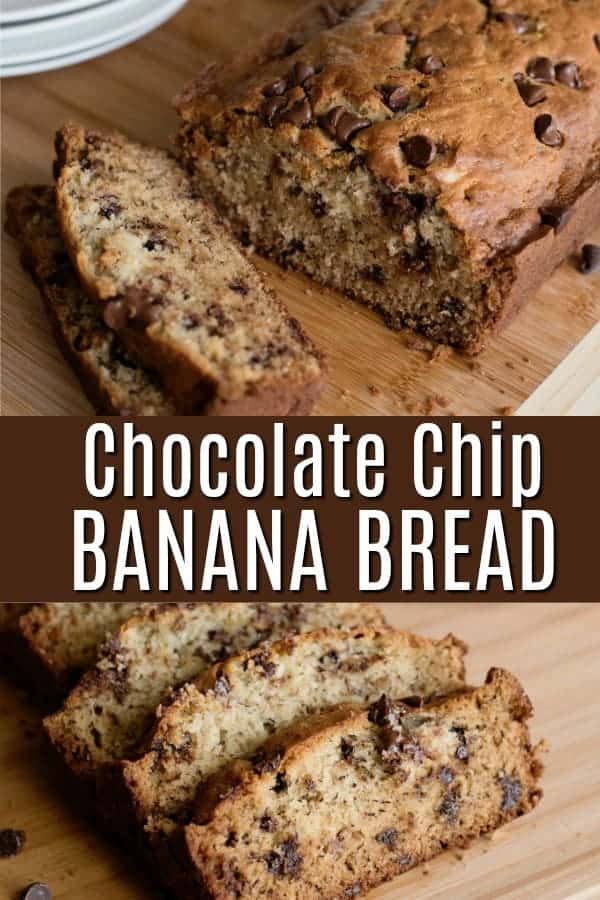 For those of you who don't know me or haven't read some of my other articles, let's just say I am not the best cook! If there are too many ingredients or too many steps – I'm out! So trust me when I say that this is an easy banana bread recipe and is pretty much foolproof!
Do you love bananas? You have to take a look at our Banana Cream Pie Dip too! It is another personal favorite! Pair it with Nilla Wafers and you fall in love!
Can I freeze banana bread
Yes, you can freeze your banana bread. As I mentioned. The recipe makes two loaves of bread. One for now, one for later!
You can wrap the extra loaf in plastic wrap and then in aluminum foil and freeze it. Pull it out and let it thaw and it will be ready to serve at a later date!!
Want the Printable Recipe?

(just scroll down?)
Love banana recipes? How about some more Banana Recipes?
I get questions about making banana bread all of the time so I am going to be proactive and try to answer some first!
How do you make banana chocolate chip muffins?
You can easily make these into muffins! I have a great mini banana bread muffin recipe that you can follow step-by-step here.
If you want to make full size banana bread muffins, I would follow the instructions below, but bake them for about 25 minutes (bake them until a toothpick inserted into the center comes out clean.)
How to keep the chocolate chips from sinking in your bread?
This batter is pretty thick, so they generally don't sink. However, if you are worried, toss them in a little bit of flour and that should keep them put! This will work with other breads and cakes, as well! I also like to sprinkle some on the top of the bread after it is in the loaf pan!
Can bananas be too ripe to use in banana bread?
Overripe bananas are not always safe to eat straight, but they can be used safely for baking. However, if they are black, it is time to throw them out.
When I have ripe bananas sitting on the counter and no time to make a banana bread, I will freeze the bananas (see tip below)
Can I freeze overripe bananas to use later in a banana bread?
Yes! I like to peel my overripe bananas and break them up into pieces and throw them a ziplock bag and freeze them. Then, just thaw them when ready to use!
How to quickly ripen bananas
There are a few ways to do this, depending on how much time you have.
Super quick method using the Microwave: One way to quickly ripen bananas is using your microwave. Leave the banana in the peel and poke the banana using a fork on all sides. Pop it in the microwave for about 30 – 45 seconds (use about 15 second intervals until desired ripeness.) It won't look pretty on the outside, but should be ripe on the inside! Let it cool (it may be hot).
12-24 hour method using a paper bag: If you have a little more time, place the bananas in a brown paper bag. The Ethylene will build up and circulate within the bag and speed up the ripening process.
15 – 30 minutes method using oven: If you have a few minutes to spare, try the oven method to ripen your bananas. The bananas cannot be too green for this method. Grab a cookie sheet and place the unpeeled bananas in the oven at 300 degrees for about 15-30 minutes until the peels are shiny and black.
Great add in's for Banana Bread
Walnuts
1/4 teaspoon of cinnamon or nutmeg
Coconut flakes
Sprinkles (make it festive!)
Sprinkle some powdered sugar on top
Love this Chocolate Chip Banana Bread recipe?
Tag us!

If you make our recipe,
Snap a pic and hashtag it #princesspinkygirl
We love to see your creations on Instagram, Facebook, & Twitter!
The best Chocolate Chip Banana Bread
The best Chocolate Chip Banana Bread. This easy to make, super moist banana bread recipe will be your go-to recipe anytime you have overripe bananas on your counter!
Prep Time: 10 minutes
Cook Time: 45 minutes
Total Time: 55 minutes
Course: Dessert
Cuisine: American
Servings: 12
Ingredients
3/4 cup unsalted butter (at room temperature)
1 1/2 cups sugar
2 eggs
1 1/3 tablespoons milk
3 ripened bananas
2 cups flour
1 teaspoon baking soda
1/2 bag chocolate chips (totally your preference on how much you like)
Instructions
Preheat oven to 350 degrees

In a large bowl, combine the sugar and the butter. Use a mixer on low until combined.

Add milk and the bananas and mix for about 1 minute. The batter may look at little lumpy - that's ok!

Add the flour and the baking soda and mix until blended. Fold in the chocolate chips.

Spray 2 loaf pans with non-cook spray and divide the batter. Pour the batter into the two pans.

Bake for 45 minutes (mine took a little longer, but my ovens are not so great).  You should be able to take a knife or a toothpick inserted into the middle of the loaf and the they should come out clean.

Remove from the oven and let cool on a wire rack for about 30 - 45 minutes. Remove from pan and serve

(I serve one and freeze one... wrap in plastic wrap and then with tin foil and freeze)
Recipe Video
Nutrition per serving
Calories: 383kcal | Fat: 15g | Saturated fat: 9g | Cholesterol: 60mg | Sodium: 114mg | Potassium: 141mg | Carbohydrates: 57g | Fiber: 1g | Sugar: 37g | Protein: 4g | Vitamin A: 445% | Vitamin C: 2.6% | Calcium: 30% | Iron: 1.4% |
Keyword: easy dessert
Other Great Recipes
This crazy easy Monkey Bread Recipe will be your new go-to dessert. All you need is store bought biscuits and four other simple ingredients and you will have a delicious cinnamon sugar dessert.
Rainbow Sprinkle Cookies – these are always a family favorite! Better than the cookies you remember from the bakery. They are soft, moist and delicious!
Edible Cookie Dough – let's face it, the best part of making cookies is eating the dough! These are eggless…so totally safe to eat raw!!
Sign up for the Princess Pinky Girl Newsletter and automatically receive our latest & greatest delivered right to your inbox! Follow Princess Pinky Girl on Facebook, Twitter, Pinterest and Instagram for all of the newest recipes, crafts, travels and updates!
If you make a Princess Pinky Girl creation make sure you take a picture and share it on Instagram with @princesspinkygirl ! I love seeing your masterpieces!