Casserole Recipes are always SO easy to make and SO comforting. The original one-pan meal, these family friendly dishes will make your weeknight dinners a piece of cake!
If you are looking for some more great family friendly meals, we love our 30 days of freezer meals! There is something for everyone here and you will be good to go for a whole month!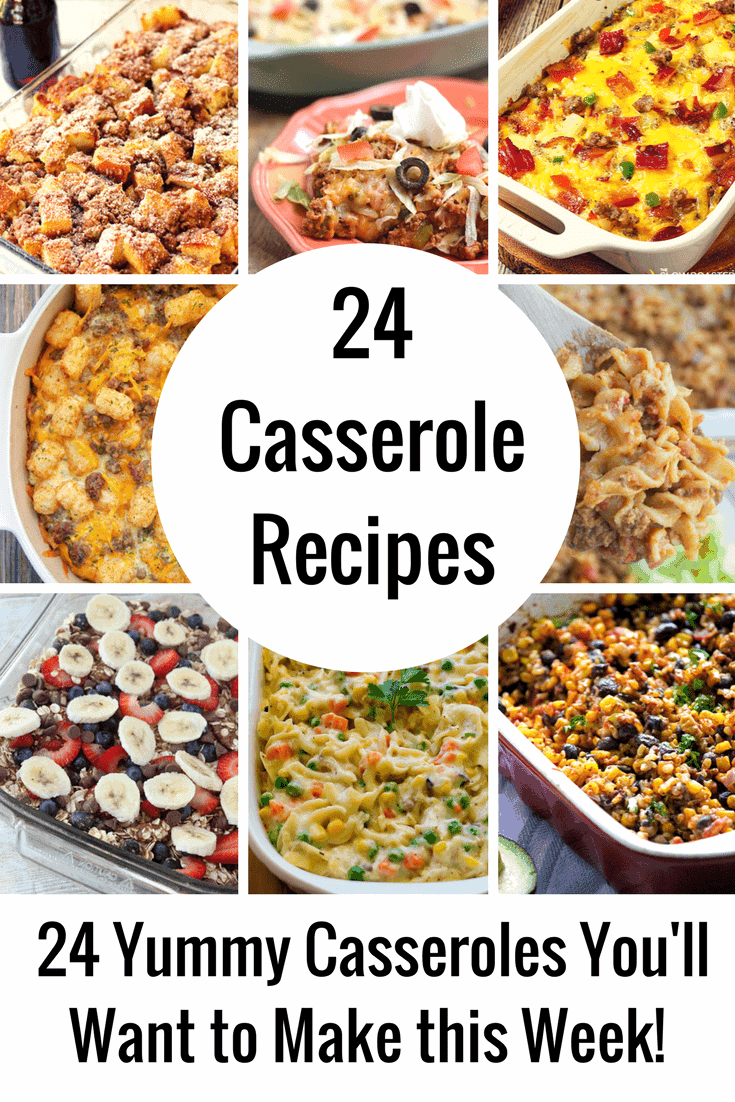 You guys know that I am all about a meal that is simple to throw together. There are times when you just need something fast and delicious and casseroles always fit that description (Remember this Poppyseed Chicken Casserole?)
The best thing about casserole recipes are that you can mix together all of the ingredients and just throw it in the oven and when it is time to serve, everyone is happy!
They also are one of the few recipes that my family will eat leftovers. Comfort food at its finest!
Today I am sharing some of my absolute favorite casserole recipes, as well as a few that I cannot wait to try soon.
Breakfast Casserole Recipes
I love breakfast food, especially breakfast casseroles. You can prepare most the night before and the next morning your kitchen smells heavenly as they bake.
Breakfast casseroles are perfect for feeding a crowd and you can even serve them for lunch or dinner if you'd like. They are always a crowd pleaser and oh-so filling.
Love of Family and Home has a delicious recipe for Baked Oatmeal Casserole. Not only does it taste great, it looks beautiful. Perfect for entertaining overnight guests and great for brunch or every day.
Fix this at the beginning of the week, and you'll have a healthy breakfast option all week!
This fully loaded cheesy breakfast casserole by The Slow Roasted Italian is so hearty and will fill everyone's belly. It combines so many breakfast favorites and pleases even the pickiest of eaters!
This breakfast casserole can be fully prepared the night before and popped in the oven in the morning. So convenient!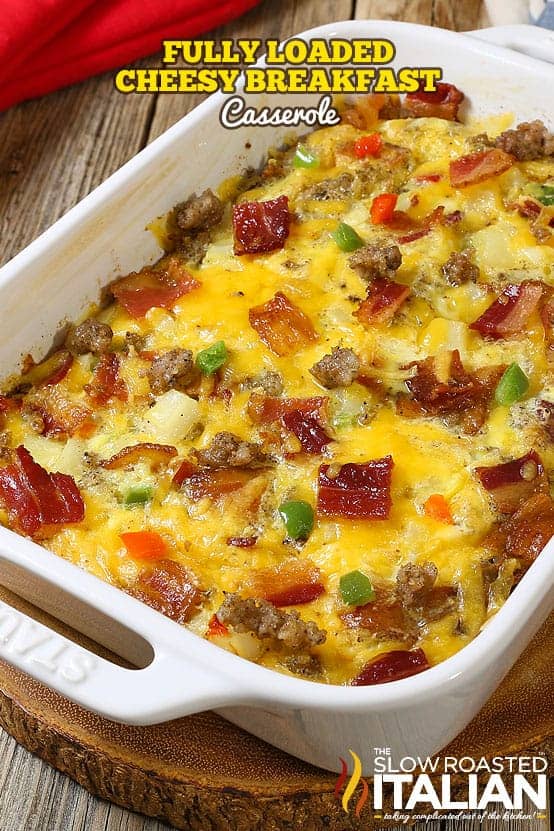 Plain Chicken has a scrumptious recipe for a Tater Tot and Sausage Casserole that is always a hit. This flavor combination is fun and so yummy and feeds a ton of people. Everyone loves tater tots!
This casserole is also delicious for lunch or dinner. Just pair it with a green salad and you are good to go!
Have a sweet tooth? Try out this French Toast Bake breakfast casserole by Lil Luna. It is so good! This is a good one to make for holidays and for brunch and adds a little sweetness to your spread.
I love that this is super simple to throw together and bake. Score!
I also can't wait to try out these delicious breakfast casseroles…
Dinner Casserole Recipes
Casseroles have long been the saving grace for busy families all across the world. A good casserole recipe is like winning the lottery and perfect for crazy weeknights and even for weekends when you'd like to have something easy for the family to enjoy gathered around the table. Casseroles are warm, filling and comforting and I can't wait to share these favorite dinner casserole recipes with you.
Our Baked Macaroni and Cheese is a family favorite that can be whipped up in under 20 minutes! Topped with crunchy panko, it is sure to be a family favorite!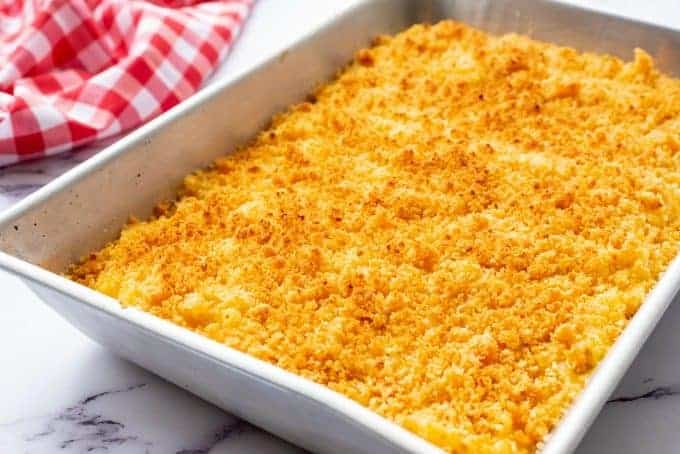 This Chicken Poppyseed Casserole is great for weeks when you know your time will be limited, but not appetites. It is one of those recipes where you may already have everything you need in the pantry to make this delightful dish. It tastes amazing, too!
Life in the Lofthouse share this delightful Chicken Noodle Casserole. It has all of the makings of chicken noodle soup, but in casserole form! Perfect for winter evenings or really any time you want an easy meal with veggies that takes minutes to throw together.
This recipe puts the comfort in comfort food.
When it comes to casseroles, this recipe from Diary of a Real Housewife is just perfection. Cheeseburger Casserole is perfect for filling the hungry bellies of families everywhere. It combines ingredients that are pleasing to all and it is warm and delicious. A true classic.
Casseroles have always been known to be fast, but this taco salad casserole by Six Sister's Stuff takes only 20 minutes. Yep, you heard that right… only twenty minutes to whip up this delicious meal and serve it up hot to your family.
It doesn't get any easier… or any speedier that this friends!
I also want to try out these yummy casseroles for dinner:
Healthy Casserole Recipes
Sometimes casseroles have a bad reputation for not being the most healthy option on the dinner table, but this can be a misconception sometimes. These recipes are on the healthier side and still stay true to casserole standards. They are easy, delicious and a little lightened up, too!
Project Meal Plan shares this recipe for Veggie Loaded Rotisserie Chicken Casserole and it is amazing! You won't believe how many servings of vegetables that you are serving up to your family with this combination. So good!
You'll also love these yummy healthy casserole options:
Be Sure to Pin this Post for Later…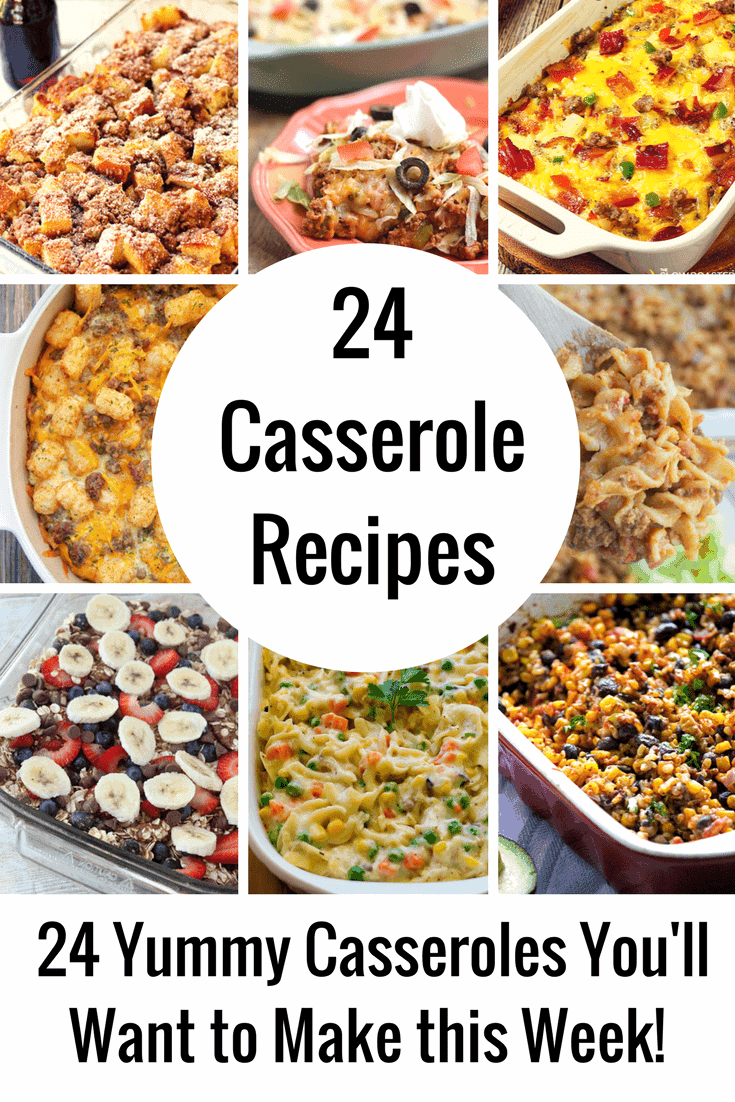 You may also love these great recipe ideas…
Healthy Recipe Ideas Everyone Will Love