Healthy Recipes that taste great! Healthy meal planning doesn't have to be restrictive or cumbersome. Simply choose low-sugar, high-protein, non-processed foods when given the option. These healthy dinner, appetizer and dessert recipes will put you on the road to a healthier lifestyle.
These yummy recipes are going to take healthy recipes to a whole new level.
Does the old saying "You are what you eat" ring true? Turns out, the science behind nutrition and metabolism consistently proves your mother was right.
It's all about choices. We're not talking about a total boycott of the occasional cookie. Let's focus on making small, impactful decisions that affect daily meals and the healthy (or non-healthy) consequences that follow.
Healthy meal planning doesn't have to be restrictive or cumbersome. Simply choose low-sugar, high-protein, non-processed foods when given the option.
Small changes go a long way in improving brain productivity, energy, focus, and mood. And if that doesn't motivate you, how about the benefit of stabilizing weight and significantly lowering your risk for chronic disease?
Whether preparing quick breakfast, small snacks, or lingering meals, select choices high in nutrients and low in saturated fats. Make mealtime meaningful. The reward will be a healthier, happier you!
I'm sharing three course menu options for you… healthy appetizers, healthy main dish recipes and healthy desserts. I think you'll find a little something you'd like to serve for your family.
Let's see those delicious recipes…
Healthy Appetizer Recipes:
Greet your mealtime guests with a fresh and delicious appetizer.
Cookin' Canuck makes a Healthy Mediterranean 7-Layer Dip that looks so amazing. Just look at all of those colors and flavor combinations. I can't wait to try this! Healthy looks so good with this to start off a meal.
Are these beautiful colors mesmerizing you? This dish is a Pear Cranberry Endive Appetizer by Reluctant Entertainer.
It is healthy, gluten-free, low carb and just looks out of this world. Drizzled with honey, this looks very fancy and will be a crowd-pleaser. Count me in!
Spinach dip is served at just about every family get-together that we have. I have to admit that it is not the best for you, but Cookie Rookie is here to help.
She is sharing this version of a Skinny Parmesan Spinach Dip that you won't feel guilty about at all!
Healthy Dinner Recipes:
I am a total carb freak and on top of that, pizza is my jam! Would you believe that my family LOVES this Cauliflower Pizza Crust. It is crispy and cheesy and totally delicious!
You can top it with all sorts of veggies and, while it isn't pizza, it is a good "close to" and an amazing guilt-free, carb-free, gluten-free option!
A Spicy Perspective makes a delicious and healthy slow cooker chicken potato soup. Not only is it warm and hearty, it is also good for you.
In my house, soups are always a good way to pack the veggies in with my kids. This particular recipe looks very filling which will please my husband to no end.
Can't you just taste this soup… it looks so good and I can just feel the comfort it brings.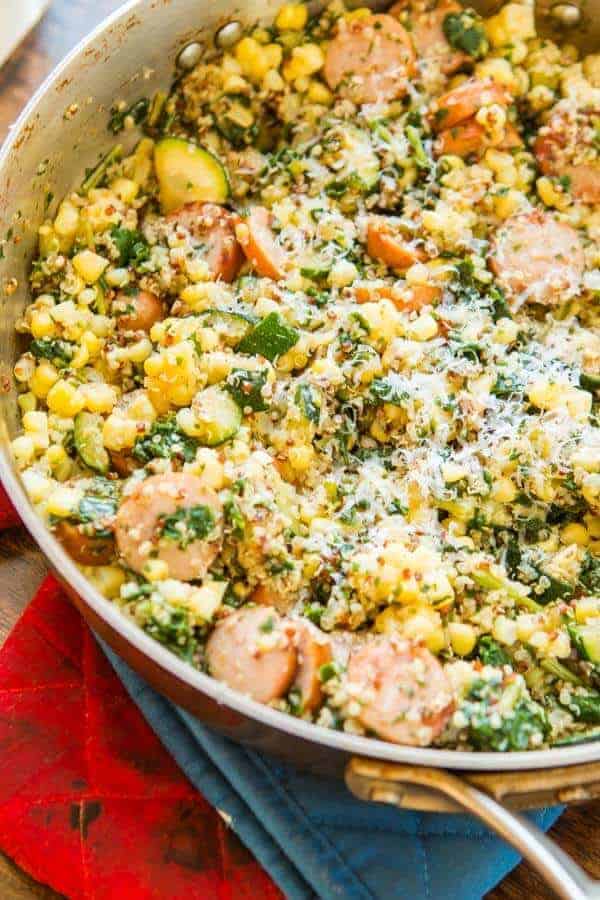 Quinoa is so good for you. It is a complete protein and packed with loads of amino acids that our bodies need.
When I saw this recipe for a healthy sausage and kale quinoa skillet by Oh Sweet Basil, I knew this would be a recipe that my kids would actually eat and it is good for them!
You have to see her hint for purchasing quinoa… it is a keeper!
Taco Casserole is always a good idea. Have you ever met a taco casserole that you didn't drool over? Yep, me either.
Well Plated has a great version of a healthy taco casserole and I can't wait to give it a go. Packed with flavorful ingredients, this one uses a slow cooker. too! An easy and convenient meal to the rescue!
The entire family will love these healthy dinner ideas. They are healthy and delicious.
Check out this amazing collection of dinner ideas that your family will go ga ga over!
This Cauliflower Fried Rice is amazing! It can be a main dish or a side dish. Either way, you can get your fried rice fix, with a healthy option!
Healthy Dessert Recipes:
I don't know of anyone who doesn't enjoy a good chocolate chip cookie.
I also believe that eating healthy doesn't mean you have to go without some of your classic favorites. Chelsea's Messy Apron has this great recipe for a healthy version of the classic chocolate chip cookie.
I am always game for a scrumptious cookie, but one that isn't bad for me is a match made in heaven!
Hello there fancy dessert bars, it is nice to meet you.
Have you ever heard of Nanaimo Bars? This is a Canadian delicacy that combines layers of chocolatey graham crackers, buttercream with custard and an extra layer of chocolate frosting. All Day I Dream About Food shared these beauties.
Look to good to be healthy? This is actually a low carb dessert and looks out of this world.
Are you trying to stop yourself from licking the screen? You don't have to! You can make this delicious chocolate banana bread by Baker Mama and enjoy eating it without the guilt… it is healthy!
You'll have to hop on over to get all of the details on how to whip up a few loaves of this bread. It would be great for dessert or for breakfast… score!
The Food Charlatan knows a thing or two about making a tasty cookie. She whipped up these Skinny Oatmeal Chip Cookies and they look divine.
Adding a bit of honey and cinnamon, they are a twist on a few of our favorite cookies. They are also a bit more healthy, too!
Try out this recipe… it makes a small batch, so you don't have to feel guilty about polishing them off yourself either. You are welcome.
Take a walk outside of your normal smoothies or sliced fruit and enjoy a bit of healthy indulgence with this Strawberry Frozen Yogurt.
This recipe by Bless This Mess is just the thing for busy families. It only requires four ingredients and takes just minutes to throw together and freeze.
The color alone has me hooked!
Be sure to pin these delicious recipes for later…