This post may contain affiliate links. Read my disclosure policy here.
This easy marinade is perfect for steaks and will make even the least expensive cut of meat taste like a restaurant steak!
This easy marinade takes seconds to whip together and you will definitely agree that is the best steak marinade ever! It's made with simple ingredients that you already have in your pantry, including A-1, Worcestershire Sauce, Soy Sauce and Garlic. With bold flavors, this steak marinade will turn any steak into a show stopper!
We love to grill. Did you know there are some really great grilling hacks out there? These will make your time at the grill easier than ever!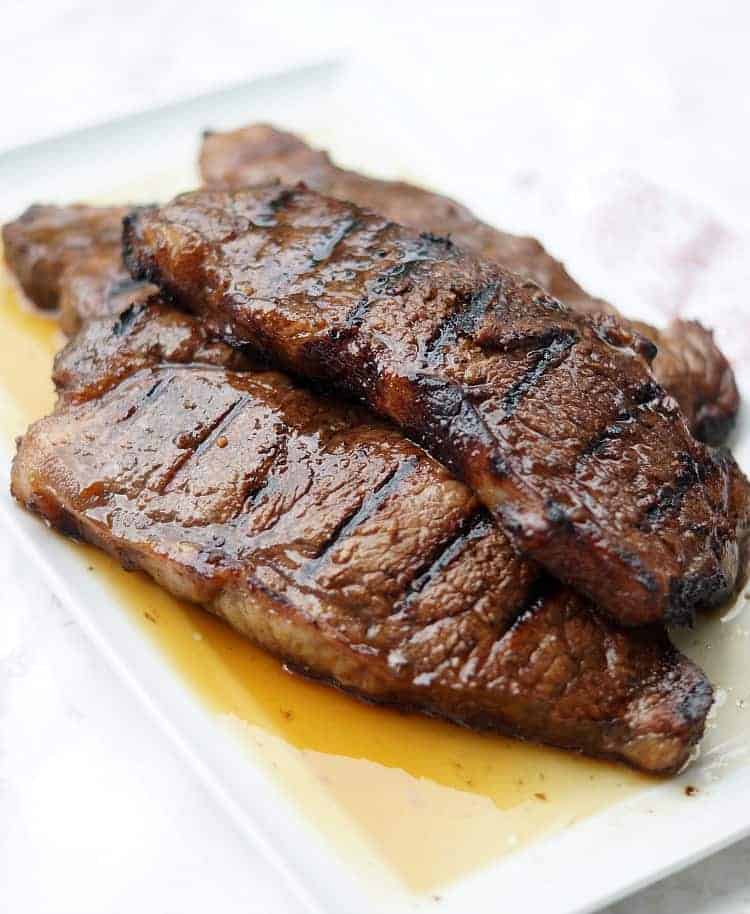 Steak Marinade for Grilling
Hi everyone! Amanda here from Old House to New Home. I'm sharing my go to steak marinade recipe that I use every single time I make steak.
Honestly, I have been using this same recipe for years. I love it because it is so easy to throw together. Also, it uses ingredients that I always have around, so no last minute trips to the store before dinner!
If you've been around my blog, you know I have a strict only go to the store once a week policy , so I always just try to use what I have in the fridge!
If you are looking for some more grilling recipes, be sure to check out our post about Grilling Hacks and Great Grilling Recipes.
Looking for another delicious dipping sauce, we are obsessed with this Yum Yum Sauce! It is just like the Japanese Steak House sauce!
Easy Steak Marinade
We loved grilled steaks in the summer and there is no better way to season up a steak then with a juicy marinade. Want to know how to grill the perfect steak? We have the perfect Grilled Rib Eye Recipe!
This easy marinade recipe is full of tang and flavor, but isn't overpowering so that you can still taste the meat! Simply whisk all the ingredients together and pour over the meat.
If you don't have one of those fancy marinade containers, just use a baggie! Works just as well!
How long do you marinate steak?
The marinate time really depends on the cut of meat. To really simplify it, the cheaper the meat, the longer I marinate.
So a cheap sirloin tip steak gets 6-8 hours, or even overnight, while a NY strip steak only needs about 2 hours.
This is also a great money saving tip! Buy a cheaper cut of steak and let it marinate overnight. The marinade will add tenderness and flavor and no one will never know that you didn't spring for the super expensive cuts of meat!
Hey, not every occasion calls for filet, right?
If you love a delicious, juicy steak, then I know that you will love this recipe for the best steak marinade! You will make this recipe your go to all summer long!
Serve alongside our grilled corn on the cob and a delicious pasta salad, and you have the ultimate summertime dinner! You can even top the steak with a delicious garlic aioli, to fancy it up even more! Your guests will think they are at an expensive steak house!
Steak Marinade Ingredients
Olive Oil
Balsamic Vinegar
Worcestershire Sauce
Steak Sauce (A-1, Heinz 57, etc)
soy Sauce
Minced Garlic Cloves
Salt
Pepper
How to Make Steak Marinade
In a small bowl, whisk all of the ingredients together until they are well combined.
Pour the steak marinade over your steaks in a ziplock baggie and refrigerate anywhere from 2-24 hours.
Shake the baggie every few hours to redistribute the marinade.
Cook steaks as desired. You can grill them, cook them in the oven or even on the stove.
How to Grill a Steak
First, start with a clean and oiled grill.
Then, place the steaks on the grill and cook for about 4-5 minutes, until brown and a little charred. Turn the steaks over and grill for another 3-5 minutes.
Let steaks rest on a cutting board or plate for 5 minutes before slicing.
How to Tell When a Steak is Done
I like to use a meat thermometer to make certain that my steak is perfectly cooked.
Here is a guide for internal temperatures:
Medium-rare -an internal temperature of 135 degrees F
Medium – an internal temperature of 140 degrees F
Medium-well – an internal temperature of 150 degrees F
Easy Side Dishes to Serve with Steak
The Best Ever Steak Marinade
This easy marinade is perfect for steaks and will make even the least expensive cut of meat taste like a restaurant steak!
Ingredients
1 cup olive oil
1/2 cup balsamic vinegar
1/4 cup Worcestershire sauce
2 tbsp steak sauce A-1, Heinz 57 or whatever you like!
1 tbsp soy sauce
3 minced garlic cloves
1 tsp salt
1/2 tsp pepper
Instructions
Whisk all ingredients together in a small bowl until well combined. Pour over your steaks in a baggie and refrigerate anywhere from 2-24 hours. Shake the baggie every few hours to redistribute marinade.

Cook steaks as desired.
Nutrition
Calories: 101kcal | Carbohydrates: 11g | Fat: 5g | Sodium: 1148mg | Potassium: 209mg | Sugar: 7g | Vitamin A: 40IU | Vitamin C: 3.1mg | Calcium: 27mg | Iron: 1.4mg
Great Grilling Recipes
Grill Hacks and Tools – From grilling tips to the best accessories and recipes that you never imagined you could grill – these are the best grilling ideas out there!
Grilled BBQ Chicken Flatbread – has juicy grilled chicken, two types of cheeses, caramelized onions, and my favorite green, arugula!! Then the whole thing gets drizzled with ranch dressing! So good!
Sign up for the Princess Pinky Girl Newsletter and automatically receive our latest & greatest delivered right to your inbox! Follow Princess Pinky Girl on Facebook, Twitter, Pinterest and Instagram for all of the newest recipes, crafts, travels and updates!
If you make a Princess Pinky Girl creation make sure you take a picture and share it on Instagram with @princesspinkygirl ! I love seeing your masterpieces!