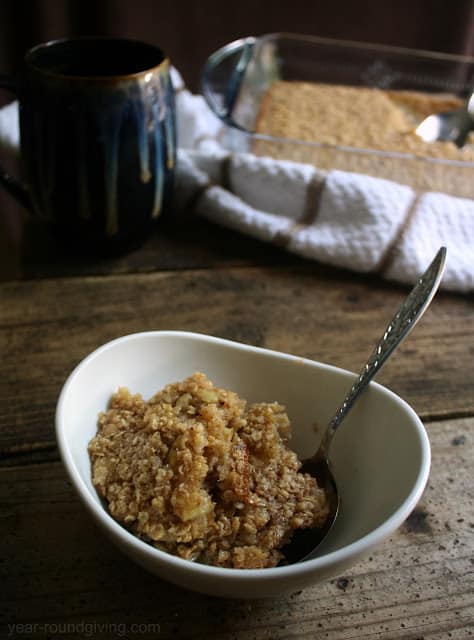 This Baked Banana Oatmeal is loaded with mashed bananas and spiced with cinnamon and nutmeg. Stephanie here from Year-Round Giving sharing with you my favorite breakfast.
The kids are out of school for the summer and at my house that means we have more time for breakfast. This oatmeal bakes for 30 minutes and prep time is less than 10 minutes. It is super easy to throw together and put in the oven.
There are a few ways we like to eat this baked oatmeal. My boys like it with milk poured over it, my husband likes it as is, and I like it with a dollop of vanilla Greek yogurt. If there are leftovers I will reheat the oatmeal and serve it Ala Mode for dessert.
Baked Banana Oatmeal
Ingredients
1/2 cup milk
1/2 tsp salt
1/2 tsp cinnamon
1/4 tsp nutmeg
1 egg
1/2 cup sugar
1/4 cup melted butter
1 tsp vanilla extract
2 tbs vegetable oil
2 medium bananas, mashed
1 1/2 cup Oats (Quick 1 minute)
Directions
In a mixing bowl mix together all ingredients except oats.
Once well combined, mix in the oats.
Pour mixture into greased 8×8 baking dish.
Bake at 350F. degrees for 30 minutes.
Hope you enjoy this warm breakfast. Swing by my site Year-RoundGiving.com to see what else I have been cooking up.
For the love of food join me on social media!

Looking for some other quick, easy and delicious breakfast options – click on the pictures below to check them out!