Bacon in a Chocolate Chip Cookie??
I know, I know. I'm messing with perfection here. There's simply nothing better than a fresh, warm, gooey chocolate chip cookies. It's my absolute favorite treat. But I had some leftover candied bacon after making a bunch of Honey Jalapeno Bacon. (Watch for that recipe on January 2nd!) I also know that 2015 was the year of bacon, so I'm a little behind the times here. But that doesn't mean you shouldn't give my Candied Bacon Chocolate Chip Cookies a try. I think you'll be pleasantly surprised. Trust me. (Looking for a more traditional chocolate chip cookie – check out these world famous Neiman Marcus Copycat Chocolate Chip Cookies!
Hi again, Pinky Pals! It's Nicole from 365(ish) Days of Pinterest. This is my last post for 2016. I've shared something new and fun with you every month this year, including Easy Ice Cream Cake, Turkey Treats, and Peppermint Fudge. Hopefully you've found a recipe or two that you love! I plan on sticking around for 2017, so be sure to stop by next month to see what I'm sharing. In the meantime, I'd love to have you follow me on Pinterest!
OK, back to what you're here for-the recipe for Candied Bacon Cookies 🙂 As I mentioned above, I was creating a new recipe for Honey Jalapeno Bacon, and during the testing process, I made several different batches of candied bacon. I wanted to use up those leftovers, so I used them for cookies! This particular bacon didn't have any jalapeno, so don't worry about them being weirdly spicy. 🙂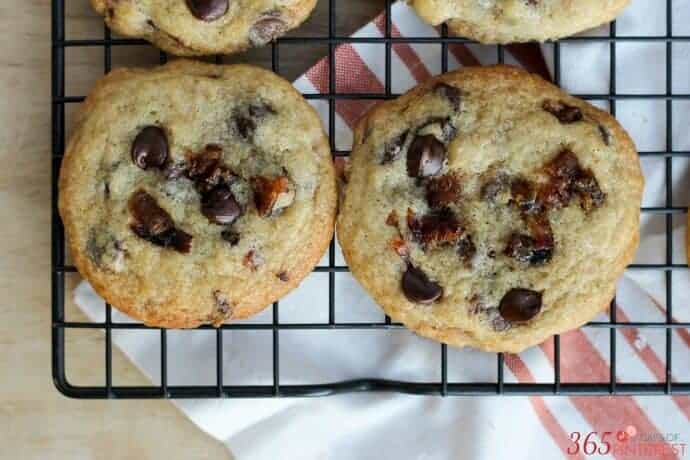 Candied Bacon Chocolate Chip Cookies
2 1/4 cups flour
1 tsp baking soda
1/2 tsp salt
2 sticks (1 cup) butter, softened
3/4 cup brown sugar
3/4 cup granulated sugar
1 tsp vanilla
2 eggs
2 cups semi-sweet chocolate chips
6 strips candied bacon, diced (about 1 cup diced)
To make the candied bacon, dredge both sides of a strip of thick cut bacon through some brown sugar on a plate, pressing down to help it stick. Place the bacon on a greased cooking rack over a foil-lined cookie sheet and bake at 400 for 15 minutes. Turn slices and bake for another 5-10 minutes. Allow to cool.
Sift together flour, baking soda and salt in a medium bowl. Set aside.
In a large bowl, cream butter, sugar and vanilla together until fluffy. Add eggs one at a time, mixing well.
Stir in chocolate chips and bacon pieces, evenly distributing the chunks as much as possible.
Bake at 375 for 10 minutes, until golden brown and crispy on the edges. Allow to cool on the pan.
Looking for some other super yummy cookie recipes – check these out!
Neiman Marcus Copycat Chocolate Chip Cookie Recipe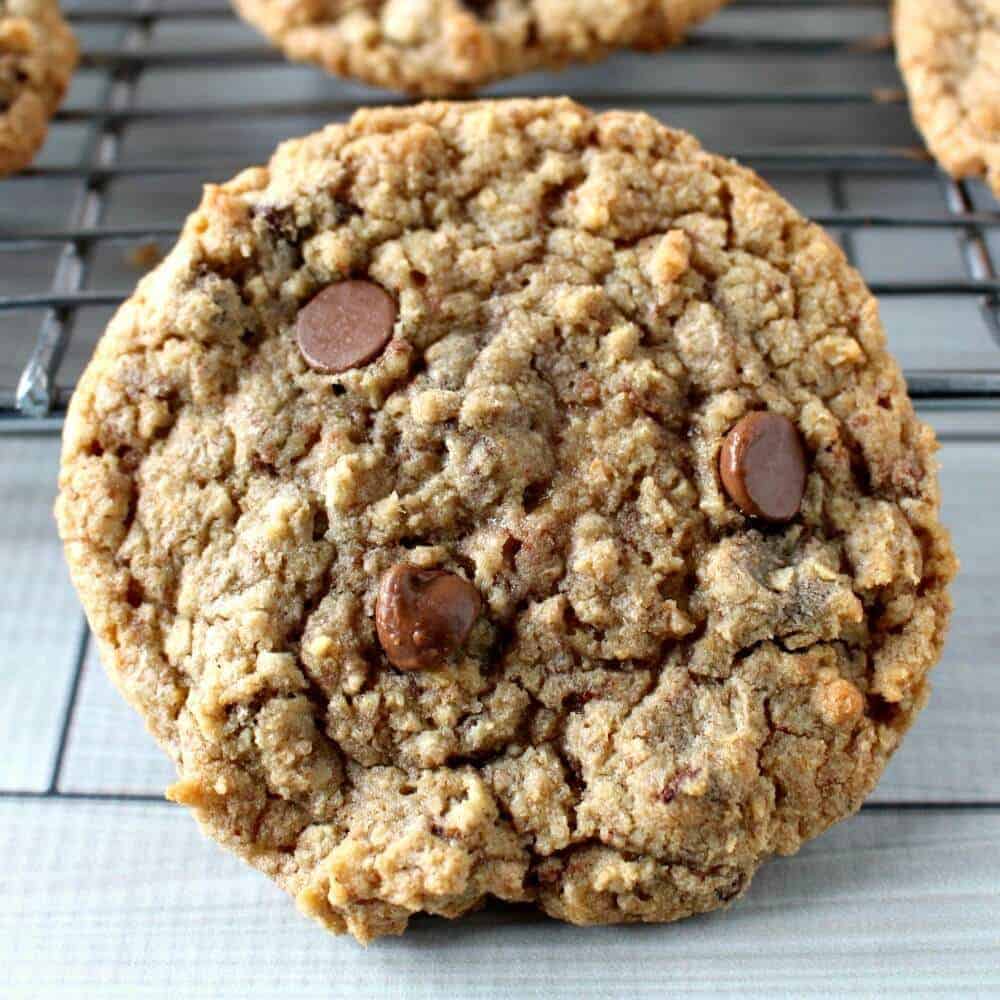 Three Ingredient Cake Mix Cookies