Brunch is one of my favorite meals! We love to have friends and family over on a lazy Sunday morning. I am always looking for new and easy dishes to serve and this Spinach and Feta Quiche is the perfect dish!
What I love about these is that it is easy to make, of course because I only make easy dishes – but you can also make it in one big pie crust or, my favorite – mini it! This recipe is for a large pie, but it is very easy to adapt it into cute little mini spinach and feta quiche! Whichever you choose, I am sure that this recipe will please your guests!
Spinach and Feta Quiche
Here is what you need:
1 1/2 cup fresh spinach (chopped)
1/2 cup of feta cheese
Pre-made Pie crust(Or make your own)
1/2 cup of milk
pinch of salt (optional)
2 large eggs
Pie dish
Here is what you do:
Preheat oven to 400 degrees.
Take your premade pie crust and lay it into your pie dish. Cut the excess crust off the pie and set aside.
Grab your spinach, feta cheese, salt and toss into a bowl.
Add in your milk and eggs and stir until its well combined.
Pour the mixture into your pie crust.
Bake for about 35 minutes (until the edges start to get a golden brown). Remove from oven and let cool slightly.
Top with some fresh feta.
Enjoy!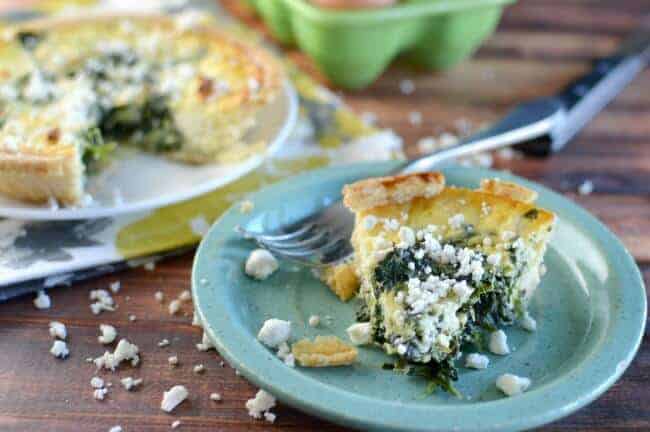 Looking for some other great brunch recipes – just click on the pictures below: