Peanut Butter Oreo Cookie Bars – Chocolate Peanut Buttery Deliciousness
Hi friends! It's Yvonne here from Tried and Tasty with another great recipe for you this month! The holidays are all about sweet and treats and these Peanut Butter Oreo Cookie Bars couldn't be any more decadent!
The best part about them is they would be fantastic at any of your holiday parties. They are so rich they'd feed plenty of guests! The only thing I would change would be for you to use a square 9 by 9 in. baking pan as opposed to the 8-in. square cake pan that I used. I mean look at those babies, they are a mile high of peanut-buttery-goodness!
I can just about bet you probably have all the ingredients to make these on hand. Make them! You will LOVE them.. oh, and if you want to go the extra mile, add a scoop of vanilla ice cream right on top while they are still a little warm. You can thank me later!
Love peanut butter and Oreos? Check out our Peanut Butter Oreo Icebox Cake! It is a no bake dessert that takes less than 15 minutes to throw together!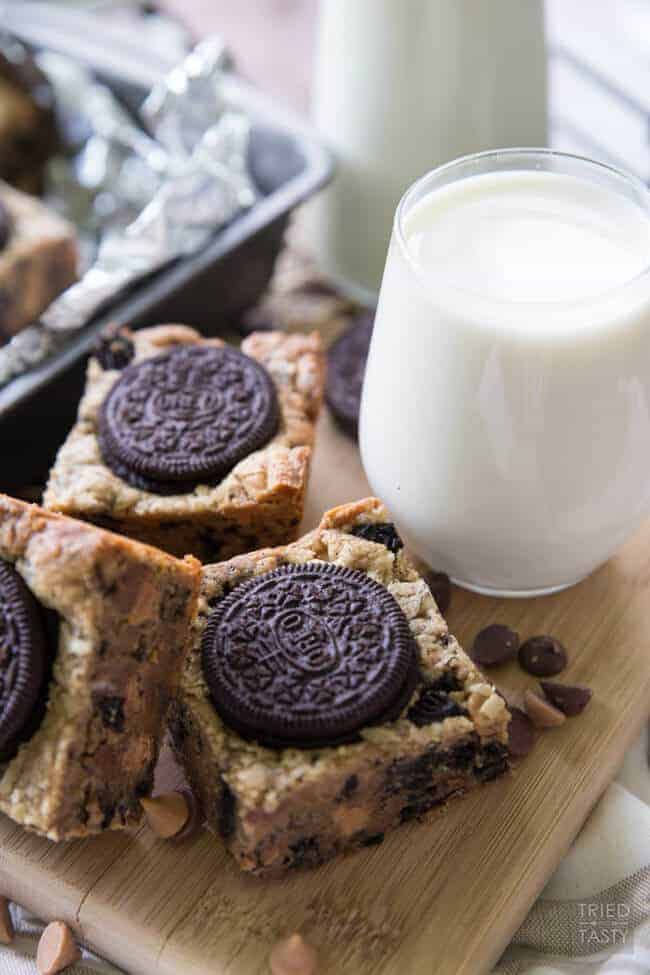 Peanut Butter Oreo Cookie Bars
1/2 c. unsalted butter, melted & cooled slightly
1 large egg
1 c. packed light brown sugar
1 tbsp. vanilla extract
1 c. all-purpose flour
2 c. crushed Oreo Cookies (approx. 18 cookies) + nine cookies, reserved
3/4 c. creamy peanut butter
1 c. peanut butter & chocolate chips
Preheat oven to 350F. Line an 9-by-9-inch baking pan with aluminum foil, spray with cooking spray; set aside. In a large, microwave-safe bowl melt the butter, about 1 minute on high. Let cool slightly before adding the egg. Add egg, brown sugar, vanilla, peanut butter and whisk until smooth. Add the flour and stir until just combined, being careful not to overmix. Stir in the Oreos and peanut butter chocolate chips. Turn batter out into prepared pan, smoothing the top lightly with a spatula. Top with the reserved OREOS in rows of three by three cookies. Bake for about 20 to 22 minutes. Top should be set and edges slightly firm. A toothpick inserted in the center should come out clean, or with a few moist crumbs, but no batter. Allow bars to cool in pan for at least 30 minutes before slicing and serving (very important!).
Want more great bar recipes? Find these and more over at Tried and Tasty!
Peanut Butter Bars // Tried and Tasty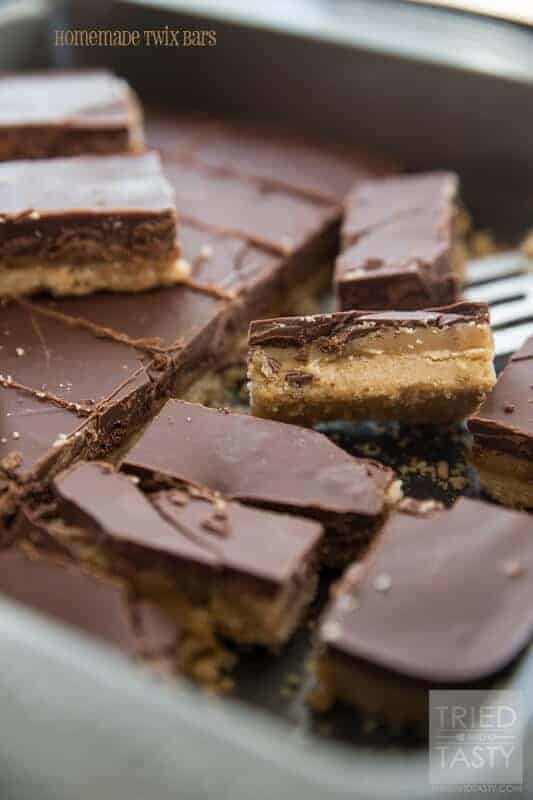 Homemade Twix Bars // Tried and Tasty