This post may contain affiliate links. Read my disclosure policy here.
It is not 4th of July without some homemade ice cream at least not at my house. This easy Blender Peach Ice Cream will have you whipping up ice cream in minutes.
I love being a guest blogger at Princess Pinky Girl. Thank you, Jenn, for allowing me to share this easy, delicious Blender Peach Ice Cream with your readers.
Growing up in South Alabama, the summers were always HOT. The heat was a great excuse to make some homemade ice cream, especially on the 4th of July. My dad loved homemade ice cream, and we would make this delicious treat often. We usually made either fresh peach ice cream or fresh strawberry ice cream. Fresh, juicy, sweet strawberries and peaches remind us of summer, but when you add them to homemade ice cream something magical happens. Growing up that magic happened in our backyard as we took turns turning the crank on an old fashion ice cream maker. You can see my recipe and my story for homemade peach ice cream here.
We do not always have time to make homemade ice cream, but that is no excuse not to make this blender ice cream. It is super simple to make. You can enjoy ice cream in a couple of minutes. Since I live across from a peach orchard, I use fresh peaches in this ice cream. I slice my peaches and place them on a baking sheet to freeze. After they are frozen, I place the peaches in a large freezer bag. Frozen peaches work best in this blender ice cream. I have used fresh peaches with some ice, and it works, but I still like the frozen peaches better. After blending the ice cream, simply freeze it for a couple of hours so it will harden up. I do the same thing when making homemade ice cream in an ice cream maker. After a couple hours in the freezer, the ice cream is frozen. My family will devour this blender peach ice cream in minutes.
I have a Vitamix and a Cuisinart mixer. Both work well when making this blender ice cream. The instructions below are for both mixers.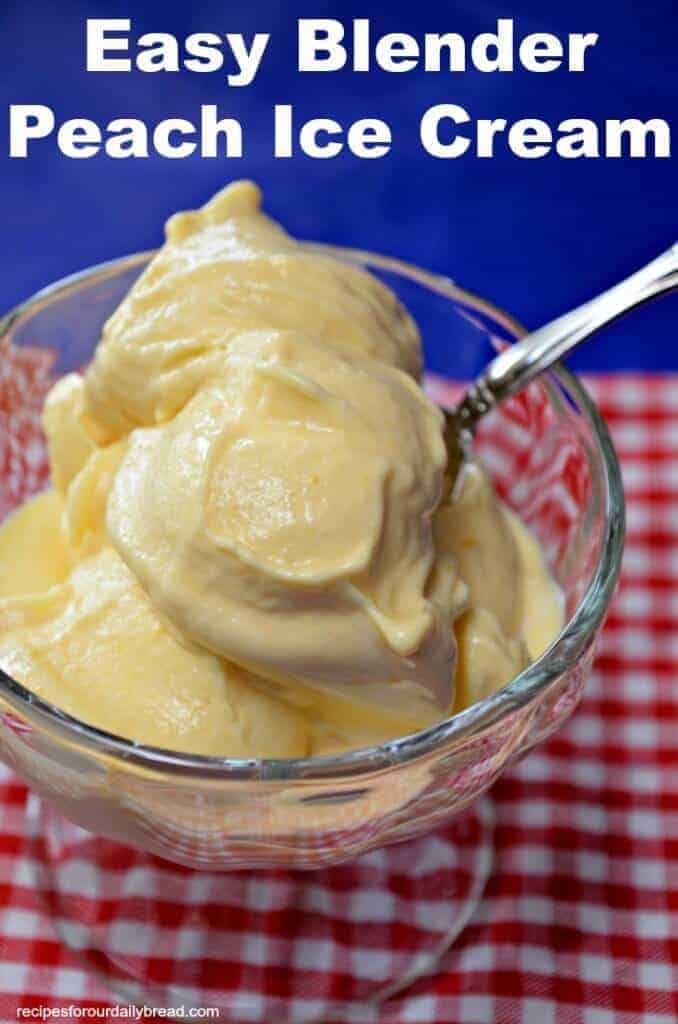 It is not 4th of July without some homemade ice cream at least not at my house. This easy #Blender Peach Ice Cream will have you whipping up ice cream in minutes.
Easy Peach Ice Cream
Ingredients
½

cup

heavy cream for Vitamix OR

1 cup heavy cream for Regular Blender

3

cups

frozen Peaches Sliced

Slice your fresh peaches and freeze them first.

½

cup

sugar
Instructions
INSTRUCTIONS FOR A REGULAR BLENDER

Chop the frozen peaches and place in a blender.

In a bowl whisk the sugar into the cream.

Add in the cream and sugar through the opening in the lid, stopping to stir the mixture.

Blend until smooth. (the cream will thicken slightly)

Place this mixture is a freezer container and freeze for 2 to 3 hours.

INSTRUCTIONS FOR VITAMIX

If you have a Vitamix, simply add all ingredients to the mixer with the heavy cream on the bottom. Blend on high about 2 minutes until the four separate sections form on top.
Nutrition Disclosure
Nutrition information is an estimate. Please utilize your own brand information to double check against our estimates.
You can easily see the four separate sections form when using a Vitamix. When this happens, the ice cream is ready.
There are icicles in my Ice Cream
Did you know Icicles or Ice Crystals in Ice Cream are usually formed by opening the door to the freezer too often? A drop in temperature changes the molecules and water forms into Ice Crystals or Icicles in the ice cream. Keep the ice cream in the coldest part of the freezer and use it within ten days. We have no problem in my house finishing ice cream within ten days. How about you?
Your Turn:
Do you have a favorite blender ice cream? Do you make homemade ice cream around the 4th July?
Looking for some other great recipes from Diane…click on the pictures below:
Sign up for the Princess Pinky Girl Newsletter and automatically receive our latest & greatest delivered right to your inbox! Follow Princess Pinky Girl on Facebook, Twitter, Pinterest and Instagram for all of the newest recipes, crafts, travels and updates!
If you make a Princess Pinky Girl creation make sure you take a picture and share it on Instagram with @princesspinkygirl ! I love seeing your masterpieces!