What's not to love about one pot meals? Only one pot to clean up – not much better than that. These One Pot Pasta Recipes are not only easy to make, but your family dinners will never be the same!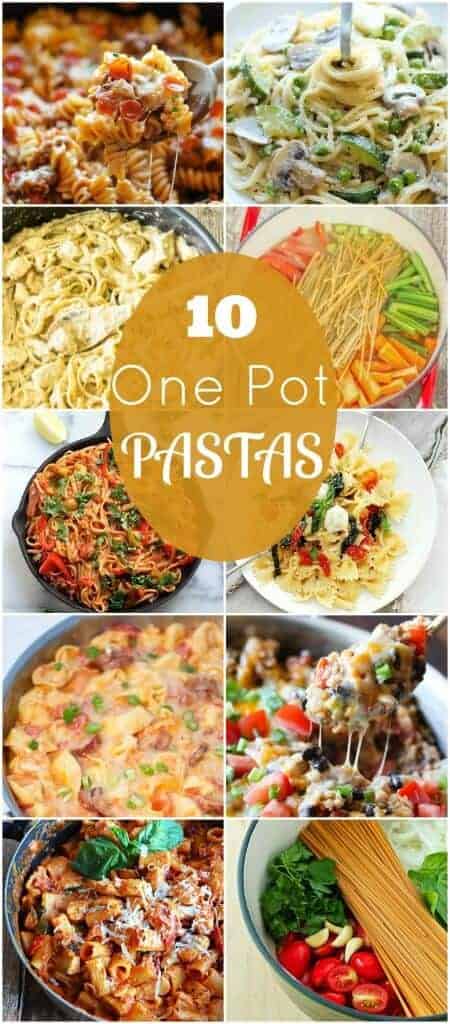 Weeknights are tough regardless if you have kids or no kids, carpools or teen drivers, work or stay at home. By the time dinner comes, you have had a full day and the last thing you want to do is clean a ton of dirty dishes. That is why we adore these One Pot Pasta Meals.
Pasta is easy to make and one of our most loved dishes in our family. So I am always looking for some new ideas and if I can make them all in one spot, that is even better!!
If you love the idea of only having one pot to clean, then you should also check out my Easy Sheet Pan Meals article. These are all made on one pan or baking sheet, which means less clean up!! You will never cook the same again!
If you love curry, or if you don't know if you love curry, you should totally give this Easy Chicken Curry Skillet a go. It has all the flavor you are looking for and all the simplicity you need when it comes to dinner. Full of bold curry flavor, it will be perfect for any night of the week.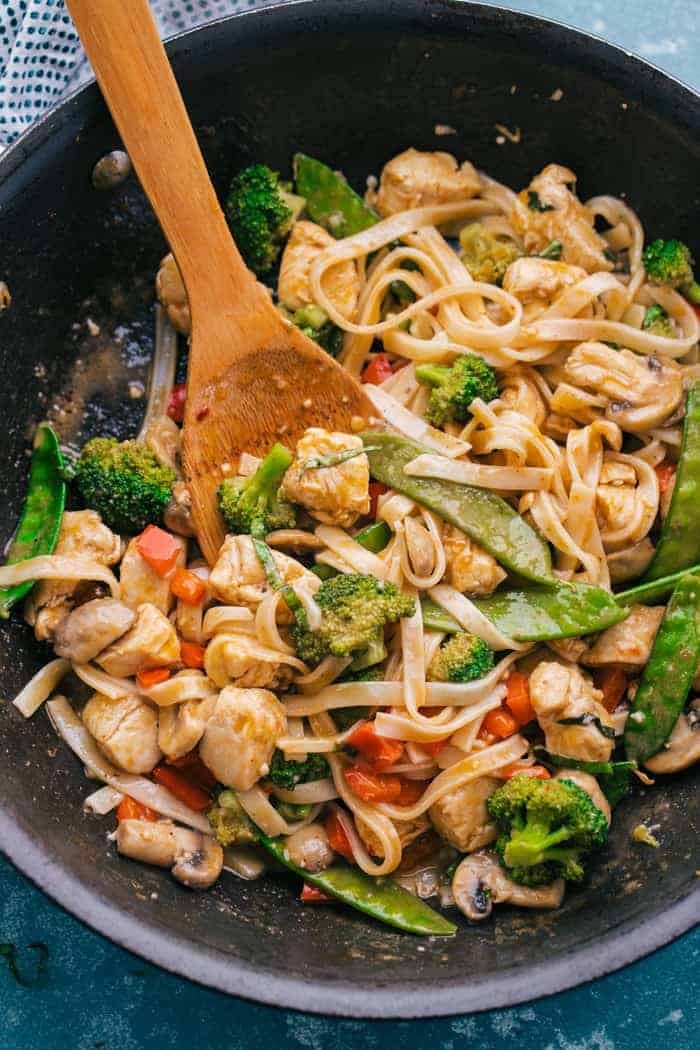 This One Pot Three Cheese Tortellini Rosemary Chicken Recipe is not only easy to make, but only takes 30 minutes to make. If you love chicken and you love pasta, this is going to be a new favorite!
Tortellini and Sausage in Cheesy Tomato Cream Sauce from Yellow Bliss Road – Can you tell that I love Tortellini! It is just such a no brainer when it come to a yummy dinner for the family!
Pizza Pasta Bake from Damn Delicious – I mean, pizza and pasta are two of my favorite things, so why wouldn't this Pizza Pasta Bake be the best thing ever??
Cajun Chicken Alfredo from The Wholesome Dish – I loooove Chicken Alfredo…. it is my guilty pleasure. Now, add in some kick of cajun and we have a total winner!!

Zuchinni Mushroom Pasta from Damn Delicious – I mean, just look at this pasta! Everything about it screams delicious! I do love me some veggies and pasta!
Chicken Burrito Bowl from Number 2 Pencil – This isn't actually a pasta, but I had to include it anyway! How amazing does this burrito bowl look? This takes Taco Tuesday to a whole new level!
Skinny Veggie Fajita Pasta from Baker By Nature – I am always looking for some healthier options and I love everything about this fajita pasta! I mean, mixing some Mexican and Italian food is such an incredible fusion idea and then to top it off – make a skinny alternative! Love it!
Chicken Lo Mein from The Wholesome Dish – We are a huge Chinese food family! I am so excited to try to make my own lo-mein at home. Add whatever veggies and meat you want! And one pot, means only one pot to clean up at the end! YAY!
Tomato Basil Pasta from Yankee Kitchen Ninja – I love the simplicity of this pasta recipe! Easy to make, with ingredients you likely have in your house already!
Caprese Pasta from Diethood – Caprese is one of my favorite things ever! I never thought of incorporating the ingredients into an easy pasta dish! Bonus – ONE POT RECIPE!
Spicy Chicken Riggies from Host the Toast – How do you make an already easy dish, even easier? Make it all in one pot to keep the mess to a minimum! Love this pasta and you can't go wrong with a kick of spice – to spice things up!
More easy dinners recipes and ideas
Check our some of our favorites (just click on the picture below!)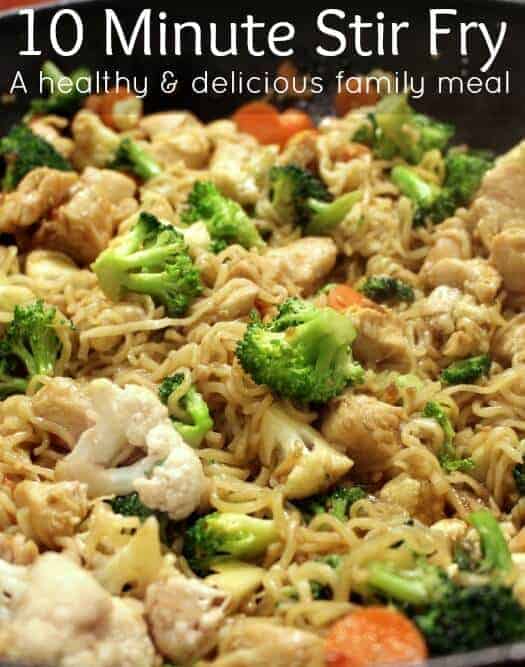 Easy 10 Minute Chicken Stir Fry