This post may contain affiliate links. Read my disclosure policy here.
This Chicken Curry Skillet has all the flavor you are looking for and all the simplicity you need when it comes to dinner. Full of bold curry flavor, it will be perfect for any night of the week.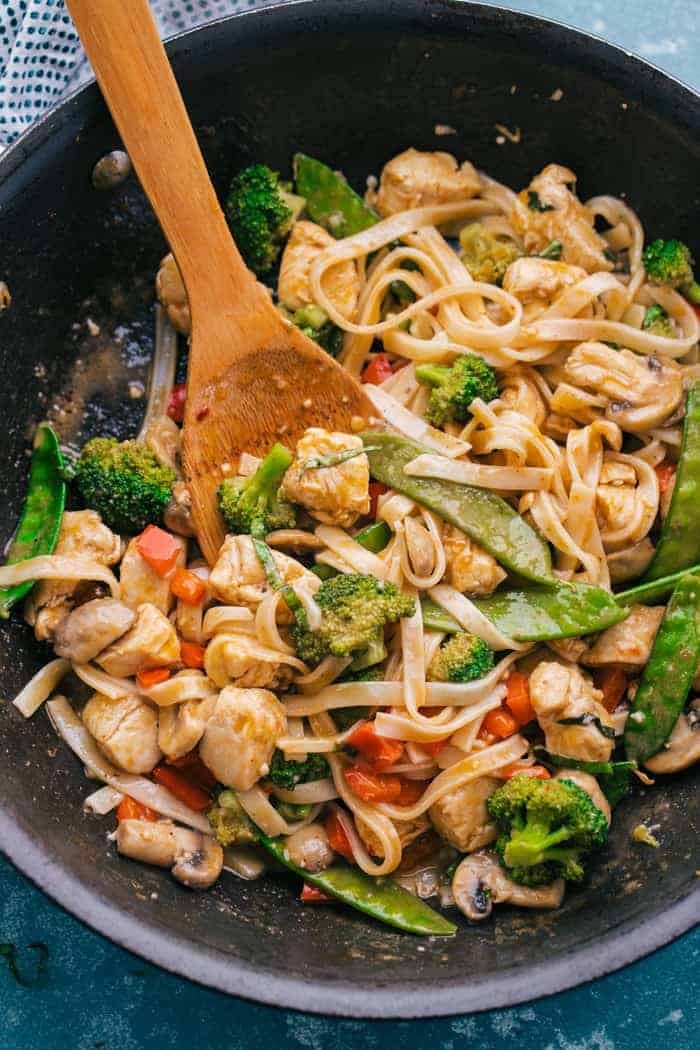 Easy to make Chicken Curry Skillet
This easy chicken dinner is a sensational weeknight meal that will not leave your tastebuds lonely.
It has so much flavor and is perfect for lunch or dinner. Made with red curry paste, unsweetened coconut milk, and rice noodles, this Chicken Curry Skillet is not going to disappoint you.
Our Chicken Curry is made with an Asian red curry paste and is different than Indian curry paste. It has an asian flare to it, making it the perfect accompaniment to the rice noodles and vegetables.
Speaking of easy to make dinners – these Pizza Mozzarella Stuffed Meatballs are one of our new family favorites! Also, my family goes crazy any time I make my Creamy Pesto Chicken Skillet (can you tell I love to cook in my skillet!)
How do I make chicken curry with coconut milk?
Soak rice noodles for 25 minutes in hot tap water.
Cut chicken into 1 inch pieces and season chicken with garlic salt and pepper. Add sesame oil to a heavy skillet and cook chicken over medium heat until no longer pink, about 10 minutes.
Add vegetables the last 5 minutes of cooking the chicken then remove chicken and vegetables from skillet.
In the same skillet combine unsweetened coconut milk, sugar, water, fish sauce, and red curry paste. Bring to a boil. Stir in chicken and rice noodles and bring back to a boil. Reduce heat and simmer until sauce has thickened and serve.
The big flavor in our Chicken Curry definitely comes from the red curry paste, but the amazing creamy texture is all about the coconut milk and the rice noodles. Rice noodles are great to cook with because you don't have to boil them, just soak them in hot water and they are good to go.
Is curry chicken healthy?
Curry generally includes a protein source and/or vegetables and additional healthy and essential ingredients like coconut milk and curry powder.
Curry powder/paste is made up of different spices such as turmeric, cumin, and coriander, each contributing to different health benefits.
What are rice noodles?
Rice noodles are simply, noodles made of rice flour and water.
How to soak rice noodles?
In a large bowl place the rice noodles and fill the bowl with hot top water. Allow rice noodles to soak for 20-30 minutes, until noodles are soft, but still slightly firm.
Place noodles in a colander and drain until ready to use.
When noodles are added to wok or skillet they will soften up more.
Every bite of this Chicken Curry is going to be sensational. Mixed with fresh vegetables and tossed with the warm red curry sauce this is a meal that is a must.
Can chicken curry be reheated?
Yes. Although the chicken is cooked thoroughly the first time, it really is only safe to reheat chicken once.
It can be reheated on the stove top, microwave, or oven.
This is one skillet meal that is perfect on its own. So when you are in need of a quick and easy dinner to add to your weekly menu, this Chicken Curry Skillet will be a winner. Dinner doesn't have to be difficult, but it does need to be delicious.
Chicken Curry Skillet
This Chicken Curry Skillet has all the flavor you are looking for and all the simplicity you need when it comes to dinner. Full of bold curry flavor, it will be perfect for any night of the week.
Prep Time: 25 minutes
Cook Time: 10 minutes
Total Time: 35 minutes
Course: Main Course
Cuisine: Asian
Servings: 5 People
Ingredients
8 oz straight cut rice noodles
1-1/2 LB chicken tenders, cut into one inch pieces
2 tbsp sesame oil
1 tbsp minced garlic
14 oz can unsweetened coconut milk
1 cup water
1 cup broccoli
1 cup sliced mushrooms
1/2 cup diced red pepper
1 cup snap peas
1 tbsp sugar
1 tbsp fish sauce
5 tbsp red curry paste
1/2 tsp garlic salt
1/2 tsp cracked pepper
Basil to garnish
Instructions
Soak rice noodles for 25 minutes in hot tap water, then drain in colander until ready to use.

In a heavy skillet heat sesame oil over medium high heat. Add chicken and cook until cooked through, stirring often about 10 minutes. The last 5 minutes stir in garlic, broccoli, mushrooms, red peppers, and snap peas. Remove mixture and place on a plate.

In the same skillet add coconut milk, water, sugar, fish sauce, red curry paste, garlic salt, and pepper. Stir to combine and bring to a boil. Stir in the rice noodles and chicken and vegetable mixture. Return to a boil then let simmer for 5 minutes. Garnish with basil.
Nutrition per serving
Calories: 502kcal | Fat: 27g | Saturated fat: 18g | Cholesterol: 29mg | Sodium: 673mg | Potassium: 589mg | Carbohydrates: 50g | Fiber: 4g | Sugar: 8g | Protein: 15g | Vitamin A: 3170% | Vitamin C: 52% | Calcium: 64% | Iron: 2.9% |
Looking for another quick and easy skillet meal?
Sign up for the Princess Pinky Girl Newsletter and automatically receive our latest & greatest delivered right to your inbox! Follow Princess Pinky Girl on Facebook, Twitter, Pinterest and Instagram for all of the newest recipes, crafts, travels and updates!
If you make a Princess Pinky Girl creation make sure you take a picture and share it on Instagram with @princesspinkygirl ! I love seeing your masterpieces!