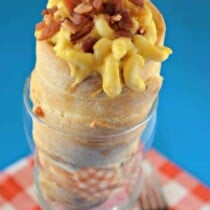 Mac and Cheese Bread Cones - even better when you can make them at home
Jump to Recipe
What is a Bread Cone of Goodness? Disney's Hollywood Studios are now serving Mac 'N Cheese Bread Cones.
We are big Disney fans. I recently read an article from News Talk Florida titled "Disney Rolls Out Mac 'N Cheese Bread Cone". Since, it is an easy drive to Disney World from south Alabama and other areas in the south we have lived; we have visited many times. I love blogging about all the new ideas I find in the park. We were there this past spring for a week. If you need any Disney tips, especially restaurant recommendations be sure to check out all my Disney World and Disney Wonder posts.
I could not wait to try Disney's Bread Cone idea, so I made it myself. I used frozen dinner rolls. I thawed them out, rolled them out, and cut the bread dough into long strips. After making a cone I made out of a folder and foil, I wrapped it with the bread dough, baked it and filled it with Mac & Cheese. OH MY! It not only worked, but it was the cutest convenient package for eating while on the go. You can tell from the smile on my special needs son's face that he loved the Bread Cone. I added my Slow Cooker Mac & Cheese to the bread cone and topped it with crumbled bacon. This Bread Cone filled with Mac & Cheese was Creamy, Crunchy, Delicious and fun to eat! I look forward to trying another food in the cone.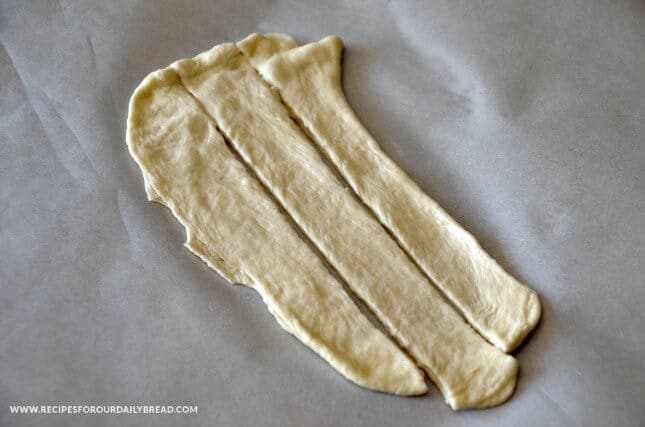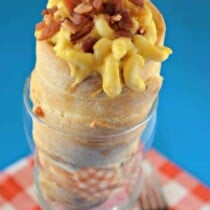 How to make a Bread Cone
Ingredients
3

frozen bread dough balls
Instructions
Thaw the frozen bread dough

Roll the envelope up into a cone shape.

Take the heavy foil and fold it to a 6 by 18 inch piece.

Roll the foil around the cone shape envelop.

Flatten the rolls out lengthwise as much as possible.

Cut each roll into three lengthwise pieces.

Start at the bottom of the foil and wrap a piece of bread dough around it.

Make sure to close the bread dough tight at the bottom.

Continue wrapping the bread dough pieces.

Seal each piece together as you add another bread dough strip by pressing tightly.

Continue adding the bread dough strips until you have reached your desired height of the cone.

Remove the folder from the center of the cone.

Place the foil with the bread dough on it upside down on a baking tray.

Bake 350 degrees for 25 minutes or until golden brown.
Nutrition Info
Calories:
1146
kcal
|
Carbohydrates:
212
g
|
Protein:
26
g
|
Fat:
13
g
|
Sodium:
2116
mg
|
Fiber:
9
g