These Hot Roast Beef Sliders were made using leftover slow cooker roast beef. They are truly an easy and fantastic way to use your leftover roast beef.
Hello Everyone! My name is Diane Roark. I share easy recipes at Recipes For Our Daily Bread. I have a new blog at Our American Travels. I blog about family fun travel ideas to help you make precious memories with your families. You will find restaurant reviews, Disney World reviews, Disney Wonder Reviews, things to do in Alaska, Arkansas, Texas, Louisiana, Branson MO, Seattle, Maine, and more.
My family loves Ham & Cheese Sliders on Hawaiian Rolls. The Hawaiian Rolls are sweet and go wonderful with the other ingredients. These sliders are not only sweet but cheesy, and tangy. I substituted the ham for leftover roast beef to make these Hot Roast Beef Sliders. You could also use deli roast beef. I chopped the roast beef small and added it to Hawaiian rolls along with the cheese. On top of the Hawaiian rolls, I added melted butter, mustard, Worcestershire Sauce, poppy seeds and more. I then baked these sliders until hot and gooey. Your mouth explodes after one bite with sweet, tangy stringy yumminess. These sandwiches were a huge hit with my teenage boys. They disappeared extremely fast which is why I am glad this recipe makes twenty-four sliders. You could always reduce this recipe by using one pack of twelve Hawaiian Rolls and half the remaining ingredients. If you need a great appetizer or quick, easy, delicious sandwiches for lunch or a party, you will love these Hot Roast Beef Sliders.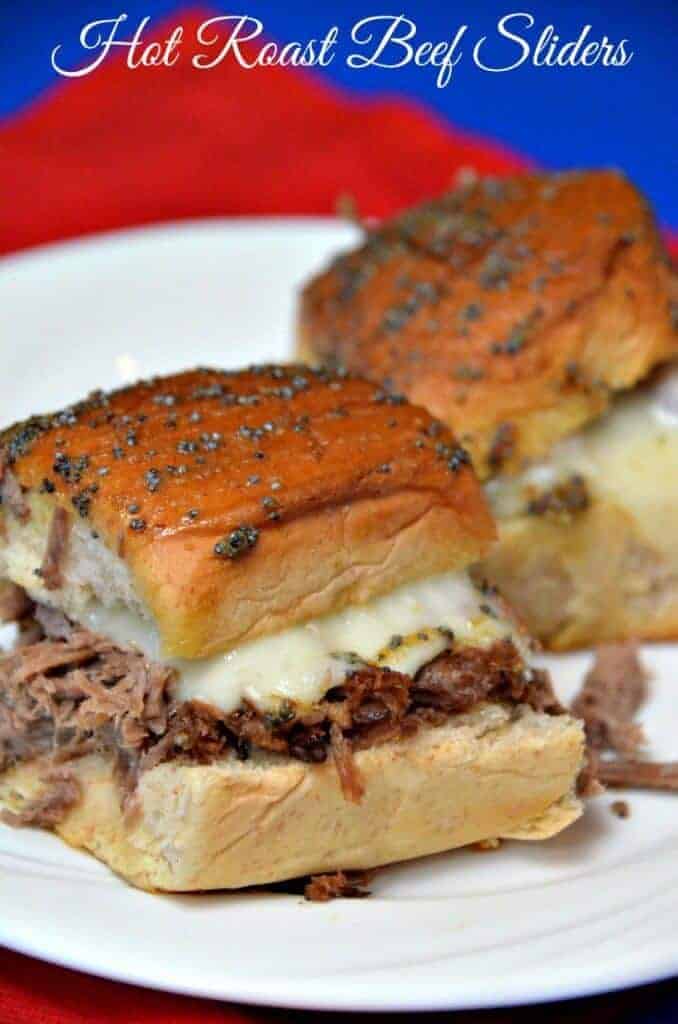 Ingredients for Hot Roast Beef Sliders
2 tablespoons of chopped roast beef on each slider. Recipe makes 24 sliders.
You will need about 1 1/2 to 2 cups chopped roast beef.
12 slices Swiss cheese, cut each one in half
⅓ cup mayonnaise
¼ cup butter, melted
1 tablespoon Dijon Mustard
1 tablespoon Onion powder
2 teaspoons Worcestershire sauce
1 tablespoon poppy seeds
2 packs – 12 count each King Hawaiian Dinner Rolls
Instructions
Leave the rolls together and slice the rolls in half.
Add the mayonnaise to the top and bottom of the rolls.
Layer the chopped roast beef.
Add the top half of the bread on the ham, cheese, and pineapple.
Mix together the melted butter, Dijon mustard, onion powder, Worcestershire sauce, and poppy seeds.
Add this mixture to the top of the sandwiches.
Cover with foil.
Bake 350 degrees for 15 minutes or until golden.
Remove the foil and bake an additional 10 minutes.
Looking for some other of Diane's AMAZING recipes – click on the pictures below: