This post may contain affiliate links. Read my disclosure policy here.
This healthy and homemade Fruit Popsicle Recipe will keep you cool and refreshed all summer long! We chose to make a Raspberry, Mango and Pineapple Fruit Smoothie Popsicle, but you can easily add in your favorite fruit for this easy DIY popsicle recipe!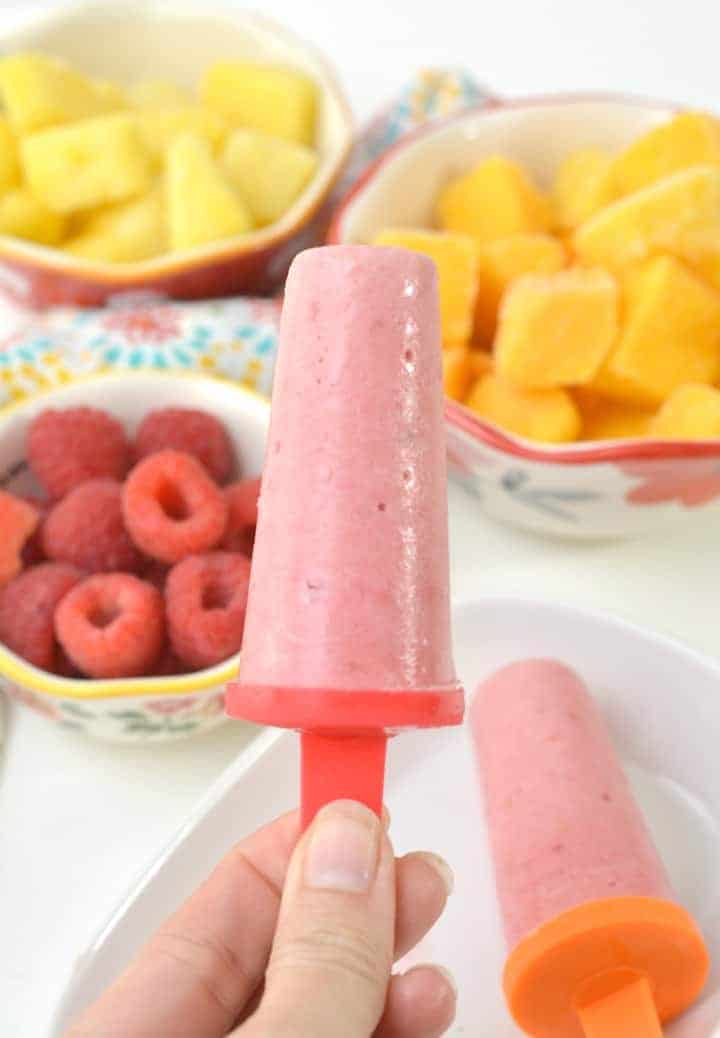 DIY Fruit Popsicle Recipe
Part of the fun of the summer is running around outside and getting super hot and then cooling down with a delicious and refreshing popsicle to eat out on the driveway. GAME CHANGER in my house! We swapped out those store bought popsicles with our more delicious and healthier alternative homemade fruit popsicle recipe!
Many of the foods with all of those artificial flavors and colors may taste okay, but they aren't really the best for us. That is why I really adore these homemade popsicles. I know exactly what is going into them and I feel great about giving them to my kids!
The best part is that they feel like they are getting a special treat, when in truth, they are actually having a really healthy snack. Our recipe can be made with sugar or you can go completely the sugar free popsicle version. Up to you…. you decide what is going in!
Want to see some other great homemade popsicle recipes. We have a whole roundup of some of our very favorites! But wait… what about some adult popsicles. That's right, boozy popsicles are totally a thing (and they are delicious!) Adults only please ?!
What kind of fruit can you put in a homemade popsicle
The version we are sharing with you today has pineapple, mango and raspberries, but here are some other great fruits you can add in (pick your favorite combination) and make a delicious fruit popsicle:
Banana
Strawberry
Coconut
Blueberries
Peaches
Watermelon
There are many different popsicle shapes and sizes. You just need to find the mold that you like. You could go old school popsicle mold or whimsical. Your choice! Here are some great popsicle molds that I found (please know that these include affiliate links)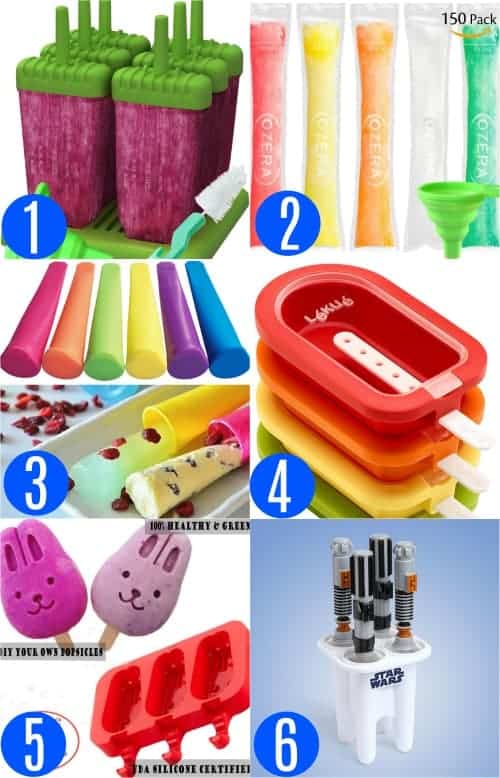 Who invented the Popsicle
I had to share this story, well, because it is totally awesome! Did you know that the popsicle was invented by accident! True story! An 11 year old boy named Frank Epperson, had mixed some soda powder and water and left it outside with a wooden stirring stick in it. It was a cold night and the mixture froze! He woke up in the morning and found this delicious concoction that he started to sell around his neighborhood. Then…history was made! He patented the ideas and summers have never been the same!
How to make a popsicle
Popsicles are crazy easy to make. You really just need to pick your favorite fruits, add some milk, blend them up, pour them in your molds and freeze them! Seriously, it doesn't get much easier than that, right?
Raspberry Mango Pineapple Smoothie Popsicles
This healthy and homemade fruit popsicle recipe will keep you cool and refreshed all summer long! We chose to make a Raspberry, Mango and Pineapple Fruit Smoothie Popsicle, but you can easily add in your favorite fruit for this easy DIY popsicle recipe!
Prep Time: 10 minutes
Freeze: 5 hrs
Total Time: 10 minutes
Course: Dessert
Cuisine: American
Servings: 8
Ingredients
1 cup Raspberries (Frozen)
½ cup Mango (Chunks, Frozen)
½ cup Pineapple (Chunks, Frozen)
2 cups Milk (divided)
½ cup Sugar (optional)
Instructions
Place the frozen raspberries in a blender.

Add 1 cup of the milk to the blender, and blend until smooth.

Put a ½ cup of frozen mango chunks into the blender.

Pour in ½ cup of frozen pineapple to the mixture.

Add in the other 1 cup of the milk, and blend until the mixture is thick and smooth. It will be about the consistency of a smoothie.

This is a very natural tasting popsicle mix. If you would like to add some extra sweetness to the popsicle, add in a ½ cup (or to preference) of granulated sugar at this point, and blend to combine.

Pour the popsicle mixture into popsicle molds, and place into the freezer for a minimum of 5 hours.

Once the popsicles have set, place the molds in a shallow dish of warm water (not for too long or they will get melty) to release the popsicles from the molds more easily, and enjoy!
Nutrition per serving
Calories: 104kcal | Fat: 2g | Saturated fat: 1g | Cholesterol: 6mg | Sodium: 26mg | Potassium: 131mg | Carbohydrates: 20g | Fiber: 1g | Sugar: 18g | Protein: 2g | Vitamin A: 210% | Vitamin C: 12.6% | Calcium: 74% | Iron: 0.1% |
Keyword: summer dessert
Sign up for the Princess Pinky Girl Newsletter and automatically receive our latest & greatest delivered right to your inbox! Follow Princess Pinky Girl on Facebook, Twitter, Pinterest and Instagram for all of the newest recipes, crafts, travels and updates!
If you make a Princess Pinky Girl creation make sure you take a picture and share it on Instagram with @princesspinkygirl ! I love seeing your masterpieces!