Who need cocktails? Boozy Popsicles Recipes that rock! The alcoholic popsicles are guaranteed to be a fun and delicious treat to keep you cool and refreshed!
Alcoholic popsicles are a fun twist on cocktails, these Boozy Popsicle Recipes are so refreshing and will be a hit at your next party!
Love it! Pin It to your DIY Board on Pinterest and SAVE it!
Follow Princess Pinky Girl on Pinterest for more Food, DIY, Travel & MORE!
These long summer days can be quite warm and we all love a great cocktail… why not enjoy your cocktail frozen and in a popsicle? BUT how do you freeze alcohol for a popsicle?? Hold please…we will get to that!
Popsicles are not just for kids any longer. These adult popsicles, otherwise known as, Boozy Popsicles really are a thing! People everywhere these days are enjoying their cocktails in frozen alcohol form and I love how beautiful they are.
The fun part will be deciding which type of popsicle you'd like to make. Virtually any cocktail can be made into a boozy popsicle, so the ideas are endless.
I've done a little bit of research for you and how to make alcoholic popsicles and these are the Pinterest pick of the litter for boozy popsicles that you are guaranteed to love!
Looking for the perfect molds for your alcoholic popsicles? Here are some great molds to try!
Ice Pop Molds – these are your standard, easy to use popsicle molds
Let's see those boozy popsicle recipes and learn how to make adult popsicles …
These Strawberry Basil Margarita Popsicles by Domestic Superhero were created after her Strawberry Basil Margaritas were such a hit!
The flavor combination is out of this world and they are so simple to put together when you pick up a set of these popsicle bags. Get ready for some major fun!
Salt and Lavender created these Strawberry Moscato Popsicles and they are so simple you just won't believe it!
They only have two ingredients so they are a cinch to make, just make sure to allow freezing time.
If you need a popsicle mold, check out this version. I promise you will use it over and over again!
This is one of my favorite cocktails and it is so refreshing. I can't wait to try theseMojito Popsicles by Real Housemoms.
They are the perfect mix of sweetness when you combine the flavors of mint, a hint of life and some rum punch.
When I see these, I just see frozen perfection friends.
Baking Mischief makes a Tinto de Verano Red Wine Popsicle that looks so absolutely amazing!
Made with your favorite red wine, a lemon lime soda and a lime simple syrup that you make at home, your friends will be begging you for this recipe.
I also think it is a plus when your cocktail or boozy popsicle can have such an exotic name, too. Don't you think?
This brings back so many college memories… I loved a good amaretto sour cocktail. I have to admit they are so sweet you can only have one, but this is the perfect solution.
Amaretto Sour Popsicles by Mid Life Croissant are the perfect mix of tart and sweet. The cherries add that little bit off goodness, too.
This is also a great article on how to make sure your boozy popsicles set up correctly, so be sure to check this one out!
Go Go Go Gourmet makes a mean batch of Prosecco Popsicles.
They are so fun and so colorful that you will definitely have to make sure the kids stay away from these guys. However, let the adults go wild and crazy.
You really won't have to worry about these popsicles melting, they are that good!
TheseWhite Wine Spritzer Popsicles by Pint Sized Baker look so beautiful, but they are so simple to make!
Grab your favorite bottle of white wine and fruit and whip up a batch of these refreshing goodies. They are also perfect to share with your girlfriends, too!
Cooking on the Front Burner makes a Moscow Mule Popsicle. This is recipe is a must-try.
The only thing these bad boys are missing are the adorable copper mugs, but I promise you won't even notice. Just look at all of that frozen goodness just begging to be eaten!
These No Sugar Added Strawberry Margarita Popsicles by Salt and Lavender are a great choice if you are attempting to keep your sugar levels down.
Don't worry though, you won't even know that that they are low in sugar, because the flavor is so delicious.
Head to the produce stand and grab a watermelon, because you are definitely going to want to make these guys!
Around My Family Table makes these Peach Mint Rum Popsicles. Aren't they so pretty?
These are perfect for my rum-loving friends, so tuck the kids in early and enjoy a batch of these delights.
Looking for that popsicle mold? You can find it here!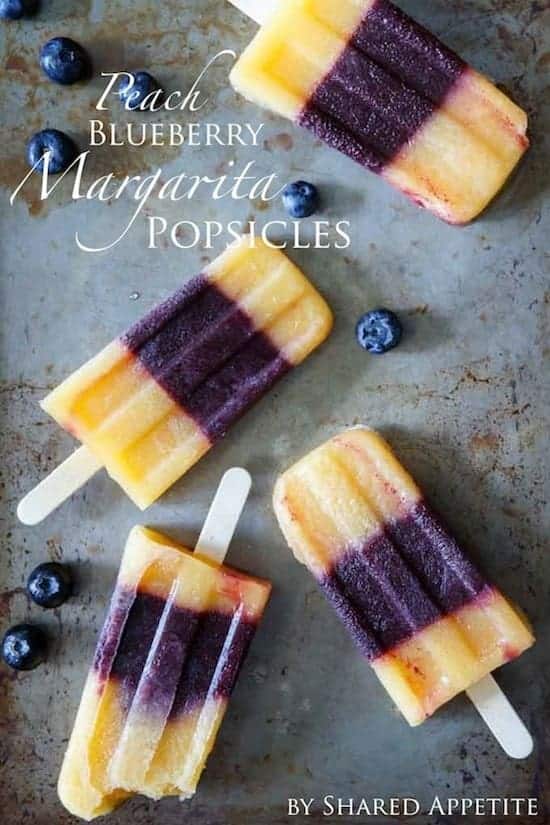 These Peach Blueberry Margarita Popsicles by Shared Appetite look like a piece of art.
Yes, food can totally be art. Just look at all of those beautiful colors and fresh fruit combinations. I think I'm in love and I really want to try these as peaches are just about to be in season where we live.
I think boozy popsicles are a perfectly legitimate way to get your fruits in each day, don't you?
These Raspberry Mango Popsicles made Infused Vodka and Limoncello with by Amandas Cookin have me panting.
I want to run and make a batch right now… I guess I need to order this Zoku popsicle maker and there will be nothing holding me back. I can even make the kids popsicles in a flash with this popsicle maker.
It doesn't take much for me to be happy, does it?
DIY Candy makes these Blueberry & Moscato Boozy Popsicles. They are just so amazingly beautiful, so I just can't imagine how delicious they would be. I really want to try these, as well.
You can be the perfect southern belle with these Mint Julep Popsicles by Honestly Yum.
Although, I don't think you'll have to fan yourself on the terrace. You can just enjoy a great boozy popsicle and cool off while having a delicious treat, score!
Be sure to pin these boozy popsicle recipes for a refreshing spin on the cocktail…
For more delicious popsicle recipes check these out…