What's more fun that themed food? The holiday season provides the perfect opportunity for some fun themed food! Creating the treats is almost as much fun as eating them… remember, I said almost!!
Here are some fun and easy holiday treats for you to try out this season!
Holiday Peep Cupcakes
Peeps – they are not just for Easter anymore!
source: recipes.target.com

Rudolph the Red-Nosed Reindeer Cupcakes
Easy to make and adorable!
click here for instructions
Rice Krispy Holiday Cottages
SO much easier than messing with gingerbread cookies!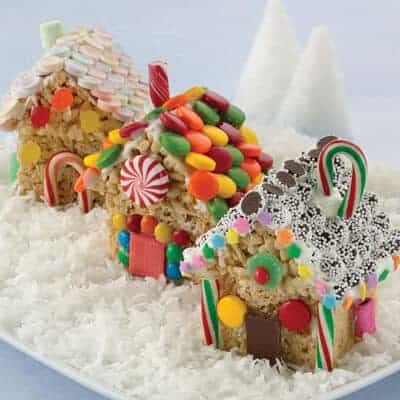 source: landolakes.com
Santa Brownie Hats
They have strawberries, so they must be healthy, right?
source: daisyworld.net

White Chocolate Peppermint Bark
YUM!!! LOVE white chocolate AND peppermint – what a combo!!
source: crystalandcomp.com

Christmas Bark Cookie Crunch
This will be seriously dangerous to have around the house!
source: Darcy Diva
Tasty Table Lights
SUPER cute and such a great presentation – almost too cute to eat!
source: recipes.target.com

Snowmen on a Stick
Now, this is my type of cooking – putting already made doughnuts on a stick! Everything is better on a stick!
source: dukesandduchesses.com
Check out my other fun holiday posts:
Cute & Easy Holiday Decorations
Easy & DIY Holiday Gifts
More Holiday DIY Gifts
How to Make a Candy Cane Sleigh
Christmas Cookie Swap
DIY Teacher Gifts
Must Have Holiday Shopping Apps