These are the easiest soup recipes… ever!
When the weather gets down below about 40 degrees, it is definitely soup weather. Today I have done all of the research for you and found the tastiest and easiest soup recipes for your family to warm up to.
Your days may be busy, but these soups will be something you actually will have to time to make when you get home from work. You'll also find some great crock pot recipes where you fix it and forget it.
There is just nothing better than coming home from a really long day to the aroma of a warm comforting bowl of soup. Your kids will also like most of these, as well. (looking for some more soup recipes? Check these out too!)
Let's see the easiest soup recipes around…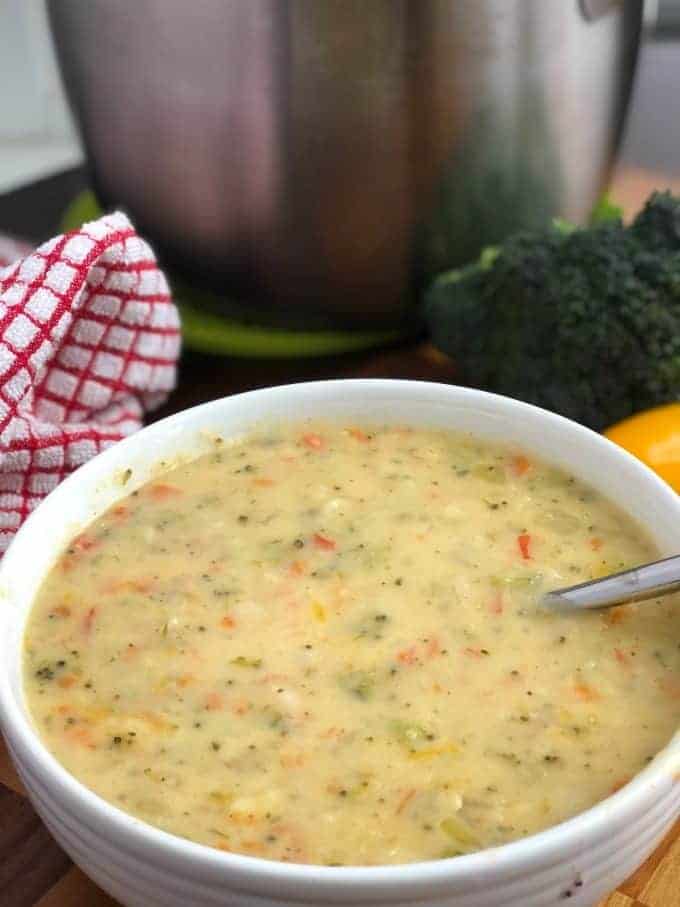 Cheesy and Easy, this vegetable chowder is thick and creamy and loaded with all kinds of vegetables.
This easy chicken and rice soup recipe from Iowa Girl Eats looks pretty simple to throw together and is such a good choice if you need a gluten-free recipe that pleases the entire crowd.
Averie Cooks has the best recipe for 30 minute chicken soup. So if your family is down with the flu or cold, this recipe can be made so easily and on the table in less than half an hour. I love that it doesn't take so long!
I love a good tortilla soup and this one only requires 5 ingredients. That is totally down my alley! I Have a Future and a Hope is sharing this simple recipe and this looks like it could be a go-to recipe at our house!
Life in the Lofthouse makes an amazing slow cooker beef stew. Can't you just imagine coming home to that ready to eat and filling the house with an amazing smell? I love using my crock pot!
This cheesy slow cooker bacon potato soup is so easy to do. Simply cut up the potatoes up and tossed them in the bottom of of the slow cooker. Next, add all the rest of the ingredients and let the slow cooker do all the work. It was not only easy to make, but simply delicious and perfect for a cold winter night.
This Thai Slow Cooker Chicken and Wild Rice Soup is a twist on a classic comfort recipe. A bit spicy, savory and sweet, and completely delicious. I can't wait to try this one out, because everything that Sweet Peas and Saffron makes is always a hit!
Cozy Country Living shares her loaded vegetable soup and it looks amazing. This is such a great way to get all of those veggies in without having to cook everything individually. It also is full of nutrients that are bodies so badly need during the winter months to fend off colds and flu.
Years ago I had my sister Julie share this recipe for Jewish Penicillin on the blog. Winter is coming and with winter comes the dreaded winter cold. Nothing cures a cold like a bowl of traditional Jewish chicken soup. My Grandma Lee had the best Jewish penicillin chicken soup recipe. As most of you know, I am not the cook in the family….. that's my sister, Julie. So, while I would ask my grandma to make it for me, Julie had the foresight to ask her to teach her how to make it. It is the best!
Have you ever tried Italian Wedding Soup? Good and Simple shares her favorite recipe for Italian Wedding Soup. She fine-tuned her daughter's favorite recipe after Target stopped carrying it in their soup section. I think I want to make this one for dinner tomorrow night, too!
I love a good taco soup and Carlsbad Cravings is serving up a recipe for Cheese Taco Soup that can be made in 30 minutes or less. You can't beat that friends. I also think it would be a fun spin if you do a Taco Tuesday night at your house… you could do this soup!
Are You Looking For A Slow Cooker Soup Recipe Your Entire Family Will Love? I rarely fix lasagna anymore because this Lasagna Soup is so easy to prepare and delicious. It is perfect on a cold day.
All She Cooks
came up with this soup recipe when she and her husband were just newly married and on a restricted income. It is lovingly called Poor Man's Soup, but there is nothing poor about it. The taste is rich and delicious and can be made with what you have on hand in the pantry. This version is made in the slow cooker and is perfect to serve a crowd.
This is one of the easiest soup recipes around, but it tastes amazing!
Home Made Interest
shows us how to make this slow cooker Pizza Soup and it is always a hit with all members of the family. I love that she serves it with breadsticks, so it is a true Italian delight of a meal.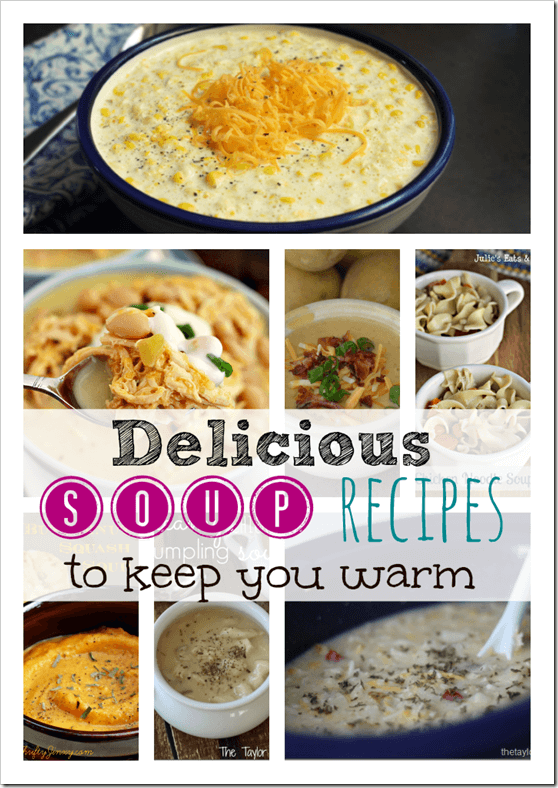 For even more delicious soup recipes, I rounded up a few more of my favorites in a post a while back where I share 8 delicious and comforting soup recipes.
I hope you enjoy whipping up a batch of one of these soups this winter. They are sure to warm your bones, fill your belly and leave your family full of goodness!