This post may contain affiliate links. Read my disclosure policy here.
These DIY Uncrustable Freezer Sandwiches are a huge time saver in the morning! Peanut Butter and Jelly Freezer Sandwiches are the perfect lunchbox solution.

Looking for some easy school lunch box ideas? How about these DIY Uncrustable Freezer Sandwiches!
I recently figured it out. I make over 900 peanut butter and jelly sandwiches every year. I'm not joking! That's because I make them every. single. day.
Well, honestly, there are a few days here and there that we are either out for lunch somewhere or eating something different. But I could probably count those days on one hand. Seriously.
Side note…looking for some other great FREEZER MEAL IDEAS – check out Princess Pinky Girls Fabulous Freezer Meal Ideas post here!
Hello again, Princess Pinky readers! It's Nicole from 365(ish) Days of Pinterest.
I don't imagine Jennifer is making peanut butter and jelly every day since her kids are older than mine. 🙂 Just thought I'd clarify that in case you were wondering. Actually, I have excited news! I'm no longer "365ishpins" now that I've rebranded my site!
I have decided to narrow my focus a bit and really lean into what I love-seasonal content. My new website is Simple and Seasonal and you can find me on social media with the handle @SimpleNSeasonal. I'm so excited!
Right now, it's "back to school" season so I'm sharing this handy tip with you.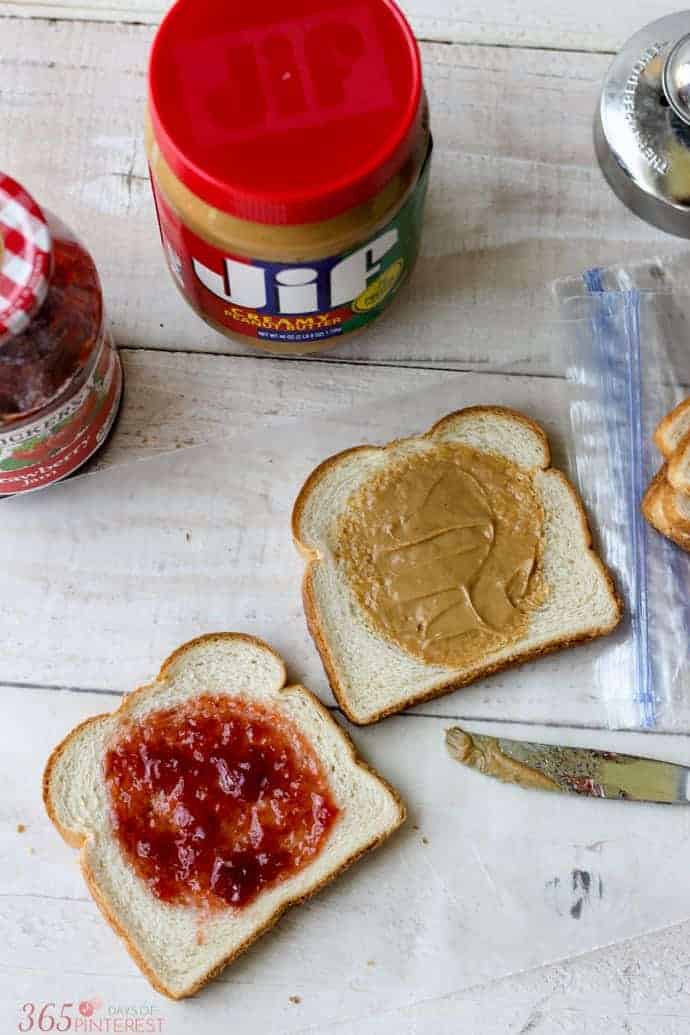 It's not like making a sandwich in the morning is hard. I mean, it's bread, peanut butter and jelly. But for some reason, when we're rushing through the morning getting ready for school, the last thing I want to do is pull a bunch of stuff out of the cupboard and slap together a quick sandwich.
I'll admit, I've bought those pre-made frozen sandwiches before just to make my life easier. But the frugal woman inside me has won out and I've started making my own freezer sandwiches.
They are easy to do in batches, thaw perfectly in lunch boxes, and save so much time in the mornings!
One thing you will need is a Sandwich Cutter with a Sealer. There are a bunch of different types, which can be found here, but I used this particular Sandwich Cutter from Amazon.
DIY Uncrustable Peanut Butter and Jelly Freezer Sandwiches
These DIY Uncrustable Freezer Sandwiches are a huge time saver in the morning! Peanut Butter and Jelly Freezer Sandwiches are the perfect lunchbox solution.
Ingredients
peanut butter
strawberry jelly
1 loaf of bread
1 sandwich cutter (one that seals is best)
sandwich bags (the kind that seal, not the fold-over kind)
Instructions
Spread jelly in a circle on one slice of bread

Spread creamy peanut butter in a circle on another slice of bread

Put the sandwich together and then use a sandwich cutter to slice out the center of the bread and press the edges.

Immediately place in a sealed baggie

Repeat until all the bread is used up (I like to do two loaves of bread at a time while watching TV)

Lay the sandwiches out flat on a tray and freeze before stacking them up or tossing them all in a big gallon-sized bag in the freezer. That will keep them from getting smashed.

Grab and go!
And before you worry about how much bread I'm wasting by cutting out the middle of the sandwiches, let me say this: peanut butter and jelly sandwich crusts make a SUPER yummy french toast bake.
I purposely don't spread the peanut butter or jelly all the way to the edges of a sandwich. That would just be wasteful. But I've found that in every batch there are a few that didn't come away completely clean and the flavors of peanut butter or strawberry jelly sneak in.
For that reason, I don't make croutons or something else savory with the bread crusts. I do, however, make this Overnight French Toast Bake with the leftovers. I
t's not as pretty when you make it with random chunks of bread instead of nice big Texas toast slices, but it tastes just as good! And when you get a little hint of strawberry jelly in a bite, it's like a bonus! 🙂
Visit Simple and Seasonal for more great back to school ideas!
Check out these FABULOUS FREEZER MEALS IDEAS HERE! They will totally change your world and will help make making dinner much easier!
Sign up for the Princess Pinky Girl Newsletter and automatically receive our latest & greatest delivered right to your inbox! Follow Princess Pinky Girl on Facebook, Twitter, Pinterest and Instagram for all of the newest recipes, crafts, travels and updates!
If you make a Princess Pinky Girl creation make sure you take a picture and share it on Instagram with @princesspinkygirl ! I love seeing your masterpieces!