These DIY Uncrustable Freezer Sandwiches are a huge time saver in the morning! Peanut Butter and Jelly Freezer Sandwiches are the perfect lunchbox solution.
Jump to Recipe
DIY Uncrustable Sandwiches are the perfect lunchbox solution that can be made ahead of time. These kid-approved, crustless peanut butter and jelly sandwiches are ready to go anywhere you are! Save time by making a batch and freezing them for a quick & easy freezer lunch box sandwich!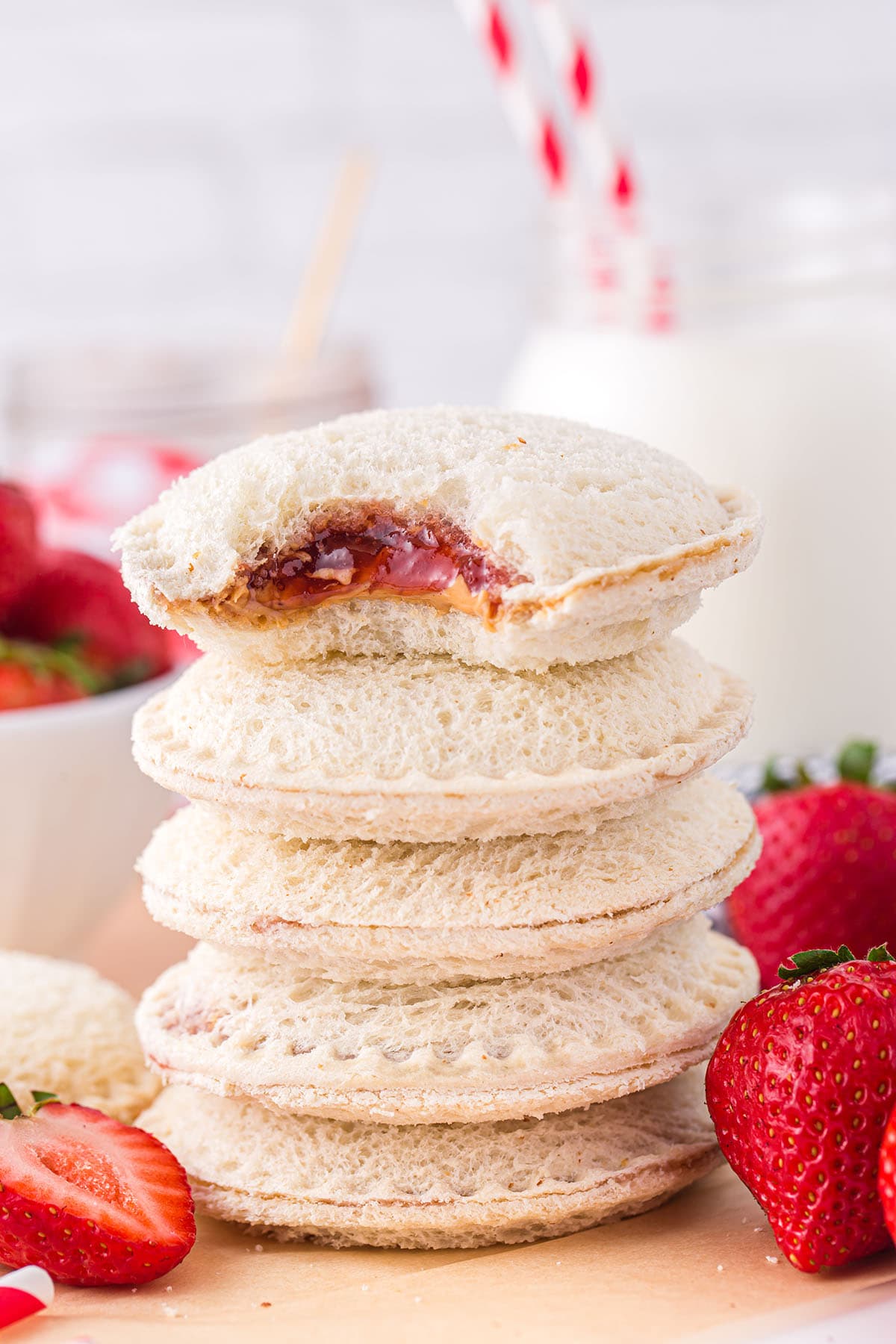 DIY Uncrustable Sandwiches – Great Freezer Meal
These Uncrustable sandwiches are the perfect solution and time-saving hack if you find yourself making peanut butter and jelly sandwiches for your kiddos every day. While it doesn't take too long to throw together a PB & J sandwich, it can get old doing it every day.
And if your kids are anything like mine, they won't eat the crust anyway! My kids beg for the Smuckers Uncrustables at the store, so I started making a DIY version at home. They don't even notice the difference, and I love how easy these are to make in batches and freeze for later!
Side note…looking for some other great FREEZER MEAL IDEAS – check out our Fabulous Freezer Meal Ideas post here!
Why We Love This DIY Uncrustables Recipe
Can be made in advance and frozen for an easy on-the-go option.
Easy to do in batches so you have a handful ready at once.
Super quick to make – they only take about 5 minutes.
The kids love these crustless, fun shaped sandwiches!
Ingredients / Shopping List
Substitutions and Additions
PEANUT BUTTER: If you want to switch things up, you can use crunchy peanut butter. My family loves it. You can also make these as a fun dessert treat and swap the peanut butter for Nutella.
JELLY: You can use any flavor of jelly that your family likes! Uncrustables come in strawberry and grape flavors.
BREAD: Feel free to use whichever type of bread you prefer for this recipe. If you're trying to make a healthier option it's simple to swap out white bread for whole grain or wheat. Most of the time the kids won't notice, since the crust is gone anyway.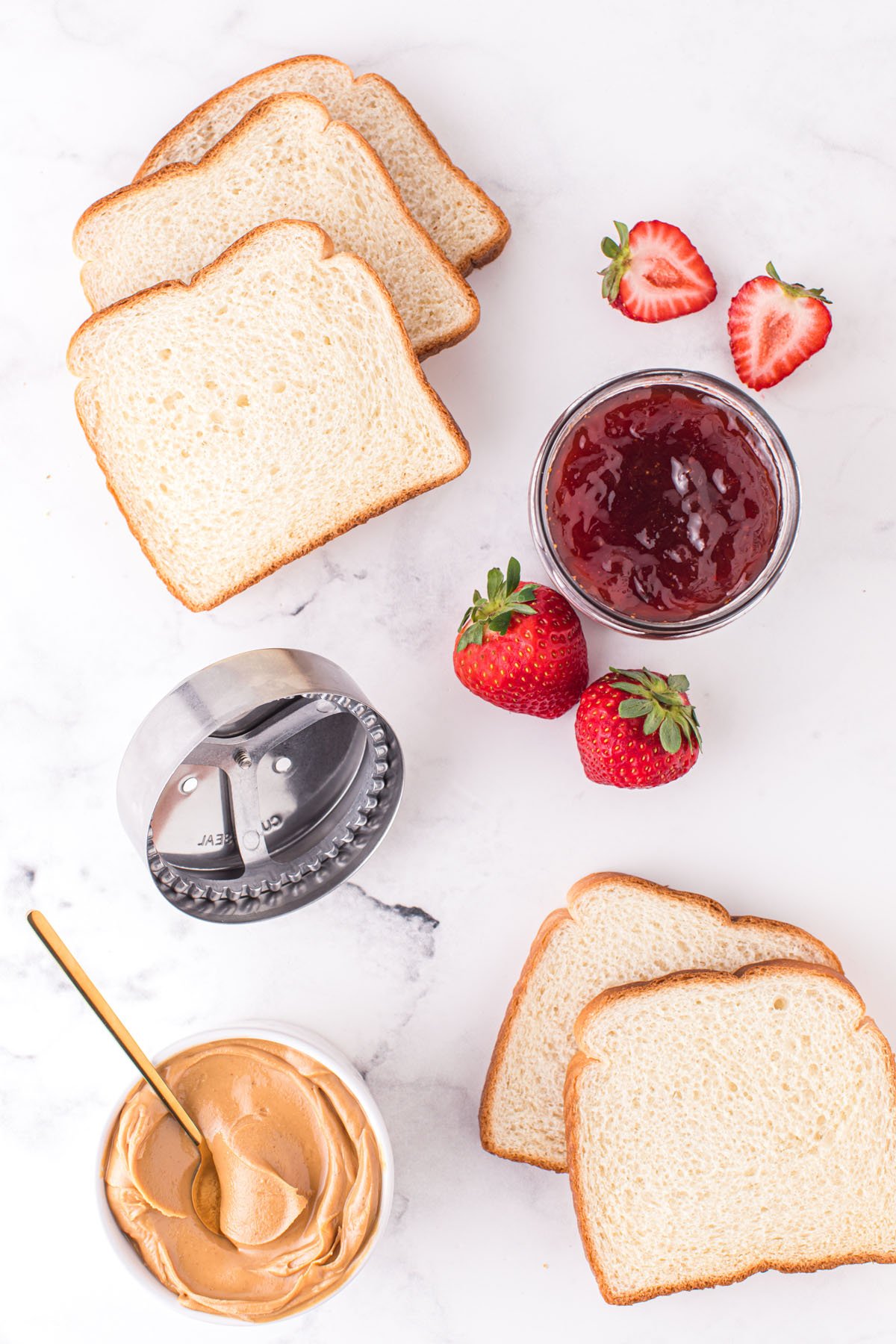 Recommended Tools
SEE FULL PRINTABLE RECIPE CARD BELOW
How to Make DIY Uncrustable Freezer Sandwiches
If you can make a peanut butter and jelly sandwich, you can make an uncrustable sandwich! These are so easy and will come together in just a matter of minutes.
Spread the peanut butter on both pieces of the bread.
PRO-TIP: This is the trick to not having the jelly seep through the bread)

Spread jelly on top of the peanut butter.
PRO-TIP: You can put jelly on one or both pieces of bread. It just depends how much of a jelly lover you are feeding!

Press the sandwich cutter in the middle of the sandwich firmly.

Serve immediately or store in a sealed container for later.


How to Freeze Uncrustables for School Lunches
One of my favorite things about this DIY Uncrustables recipe is how easy they are to freeze and have as a grab-and-go item to pack in school lunches. They save so much time in the morning! Here's how to freeze your Uncrustables for packing in school lunches:
Make sure that all of the air is out of your plastic baggie before sealing it.
Place bagged uncrustables on a cookie sheet so they are all laying flat.

Put the cookie sheet in the freezer, and let them freeze overnight.
The next morning, place the frozen uncrustables in a large freezer bag.
Pull the uncrustables out as needed, they can even thaw right in the lunch bag!
Storage Tips
To Store: Store uncrustables in a sealed Ziploc bag. Be sure to get all of the air out, so they stay nice and fresh. They can be stored at room temp or in the fridge for a couple days.
To Freeze: To freeze, place uncrustables in a Ziploc bag. Again, be sure to get all the air out. Lay the bags on a cookie tray and place in the freezer overnight. Toss them into a giant freezer bag and pull them out as needed. They can be thawed at room temperature.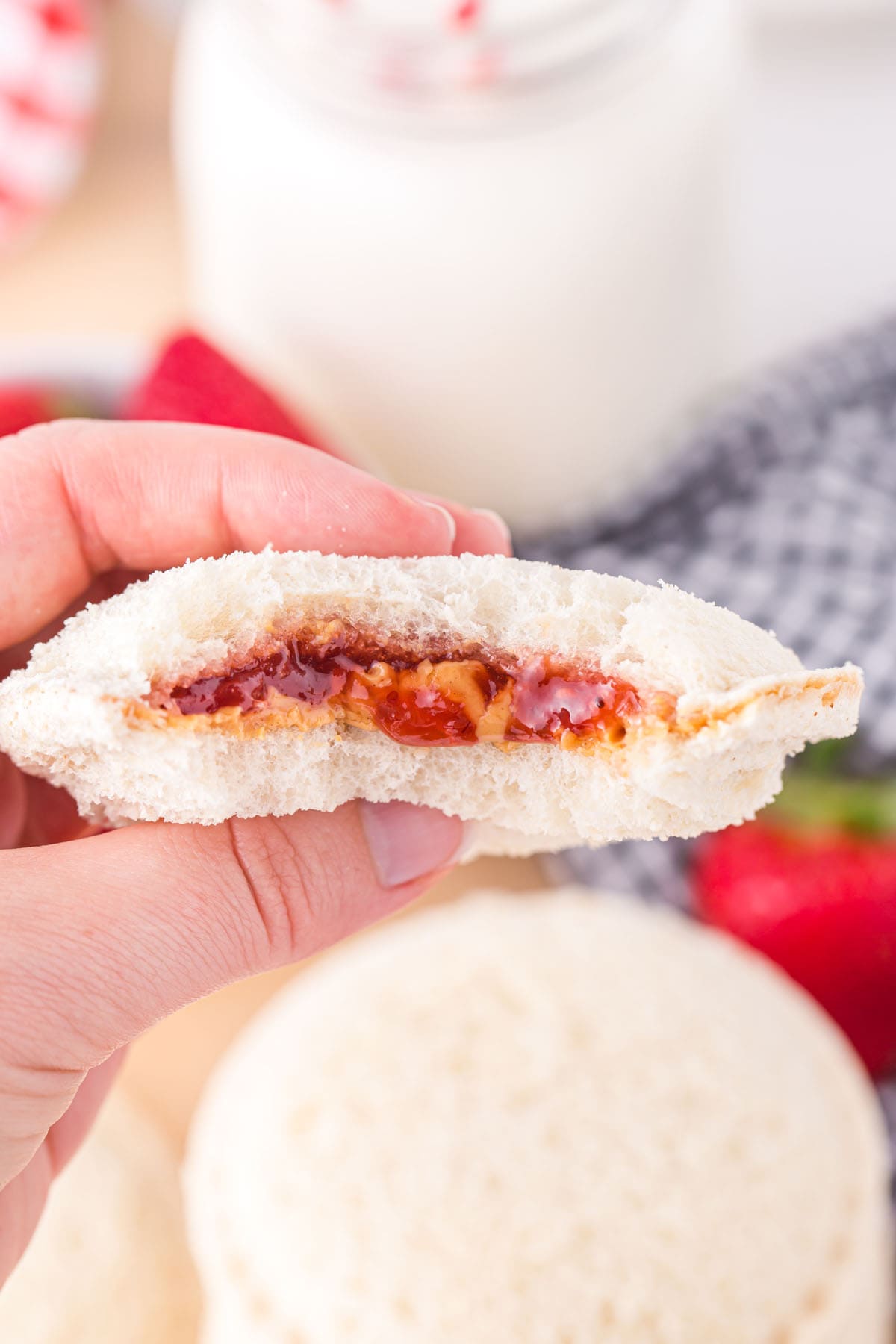 Frequently Asked Questions
What other flavors of Uncrustables can I make?
You can make your Uncrustables with any jelly and peanut butter combination. I've used strawberry, grape, raspberry, and apricot jelly. You could also use a different type of nut butter in place of the peanut butter. Almond butter and cashew butter are great options. If you want to make these more dessert-like, try using hazelnut butter (Nutella).
Are uncrustables healthy?
The store-bought version of uncrustables have sometimes gotten a bad reputation for being unhealthy. While they aren't the worst option out there, making them at home definitely allows for a healthier version of a favorite lunchtime treat. You can swap out the bread for a healthier version and use your favorite brands of peanut butter and jelly for a less processed product.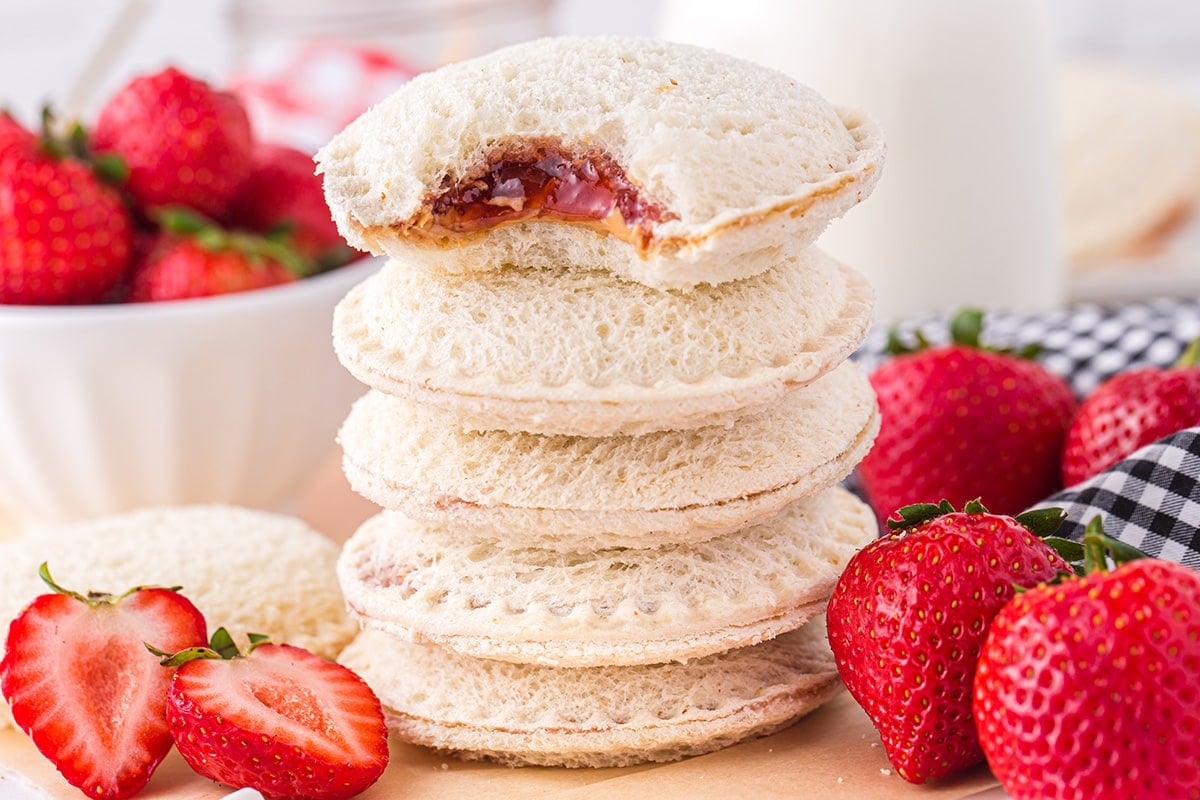 More Great Grab & Go Recipes
DIY Uncrustable Peanut Butter and Jelly Freezer Sandwiches
These DIY Uncrustable Freezer Sandwiches are a huge time saver in the morning! Peanut Butter and Jelly Freezer Sandwiches are the perfect lunchbox solution.
Ingredients
½

cup

peanut butter

½

cup

strawberry jelly

or any flavor

16

slices

bread
Instructions
Spread peanut butter in a circle on both slices of bread.

Spread jelly in a circle on top of the peanut butter of either one or both slices of bread

Put the sandwich together and then use a sandwich cutter to slice out the center of the bread and press the edges.

Immediately place in a sealed baggie

Repeat until all the bread is used up (I like to do two loaves of bread at a time while watching TV)

Lay the sandwiches out flat on a tray and freeze before stacking them up or tossing them all in a big gallon-sized bag in the freezer. That will keep them from getting smashed.

Grab and go!
Nutrition Info
Calories:
305
kcal
|
Carbohydrates:
45
g
|
Protein:
10
g
|
Fat:
10
g
|
Saturated Fat:
2
g
|
Sodium:
371
mg
|
Potassium:
223
mg
|
Fiber:
4
g
|
Sugar:
15
g
|
Vitamin C:
2
mg
|
Calcium:
88
mg
|
Iron:
2
mg