Learn how to make easy DIY sea glass lanterns. This is a great way to upcycle empty glass jars into a beautiful home decor craft! Make the perfect little lantern for summer.
Hi guys! I'm Aimee, and I blog over at The Crazy Craft Lady where I strive to make everyday creative with simple crafts, easy family-friendly recipes, organizing and DIY decor projects. Thanks so much to Jenn for letting me stop in today and share this guest post – my DIY Sea Glass Lanterns. I hope you all enjoy it!
With summer quickly approaching, it seems like coastal DIYs and crafts become more popular. Well, are you a lover of all things coastal?
Did you know that you can fake the look of sea glass? Yep! With a little paint, the sea glass-inspired crafting possibilities are endless.
I've done something similar before on colored glass, but for this craft I tested out a new kind of spray paint.
Here's your supply list for these DIY Sea Glass Lanterns:
empty glass jars, cleaned with labels removed
sea glass "sea foam" spray paint
floral wire – the thickest you can find in the floral department of your craft store
wire cutting tool
votive candles or small electric candles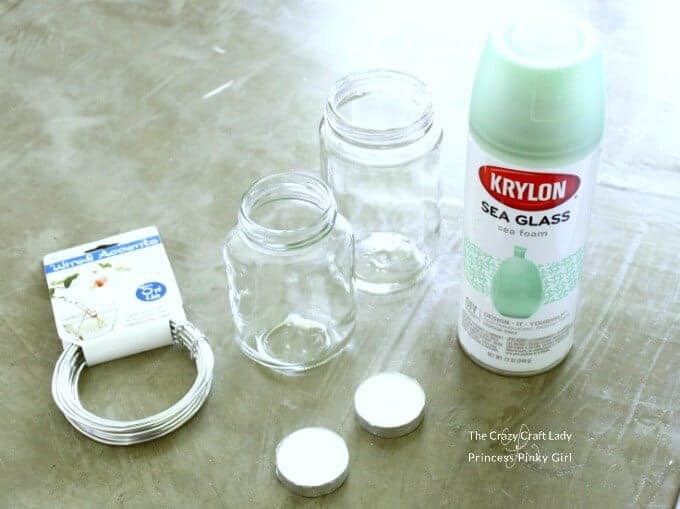 Sea Glass Lantern Instructions:
Select your glass jars. For this project, a small olive or pickle jar would work well.
Clean the jars well, removing any sticky label residue with Goo Gone if needed. I recommend wiping down the sides of each jar with rubbing alcohol as well, to get a thorough clean.
Place your glass jars upside-down on a large piece of cardboard. In a well-ventilated area, spray a thin coat of sea glass spray paint on the jars. Let dry. Then spray on another coat.
Note about this spray paint: This does not spray or apply like ordinary spray paint. It sprays on goopy, and has a little bit of texture to it. That's totally OK. When the paint dries, it will look perfectly normal. Don't worry!
Once your sea glass spray paint had completely dried, it's time to make wire handles for the lanterns.
Wrap floral wire around the mouth of the jar, creating coil loops on either side of the jar. This is where you will attach the handle.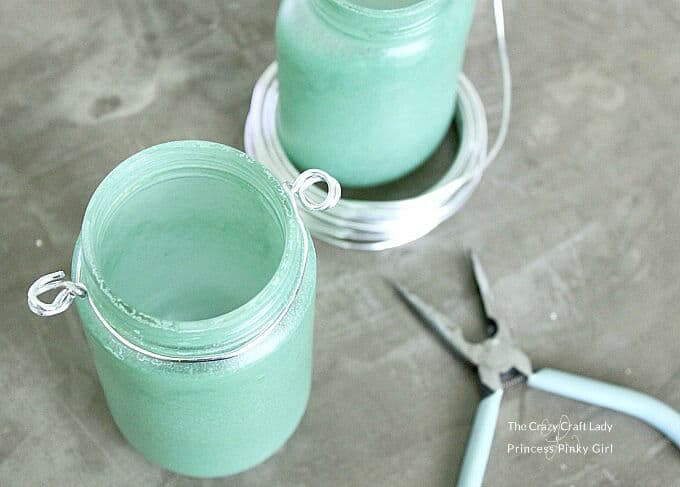 Cut a wire handle, and attach either end to the metal coils on the jar. The floral wire can be a bit tricky to work with at first, so just be careful not to scratch the paint on your jar with the end of the wire.
And that's it! Place a small votive candle (or little electric candle) into the jar, and you have the perfect little lantern for summer.
Thanks again to Jenn for letting me share this craft with you. Happy crafting!
Are You Excited About Summer?
So am I! That's why I created these 12 summer captions – FREE printable summer quotes. You can print them off to use in a gallery wall, save as a computer desktop image, or anything else that you'd like. Get them here!
Looking for some more easy DIY outdoor decor ideas? I love lighting up my backyard with cool DIY projects! These Easy outdoor lighting ideas will totally transform your backyard!