This post may contain affiliate links. Read my disclosure policy here.
I love to pin recipes! The unfortunate thing about this, is that the baking gene was given primarily to my sister, Julie. When I say "primarily", I mean entirely! The extent of my baking expertise is when I don't mess up a boxed cake mix (I have been known to get distracted by something shiny while making a boxed cake – the results are not happy.) On a somewhat usual basis, I will email or tag my sister in a pin telling her "we" should make this for our next family holiday dinner (this means she makes it, and I enjoy it!). Below are some great recipes that I can even make – I included one that I haven't yet tried, but am dying to…. I think I can actually do that one, but probably with adult supervision.
Peanut Butter S'more Brownies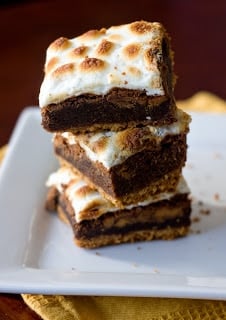 Click this link for the recipe
Source: Erikasweettooth.com
Grilled Chocolate Banana Marshmallow S'mores
Click on this link for the recipe
Source: quick-dish.tablespoon.com
S'more Pops

Source Unknown
Please email me if you know the source of this recipe!
I have some other great dessert recipes – check them out!!
Would love some other great recipes! Share them if you got 'em!!
xoxo
Sign up for the Princess Pinky Girl Newsletter and automatically receive our latest & greatest delivered right to your inbox! Follow Princess Pinky Girl on Facebook, Twitter, Pinterest and Instagram for all of the newest recipes, crafts, travels and updates!
If you make a Princess Pinky Girl creation make sure you take a picture and share it on Instagram with @princesspinkygirl ! I love seeing your masterpieces!