Are you packing to head off to college or is your child? Trying to figure out everything you will need for the dorm? Today I am sharing a free printable college dorm packing list with all of the major dorm room essentials!
This handy dorm room check-list will make sure you are covered with your dorm room must have's!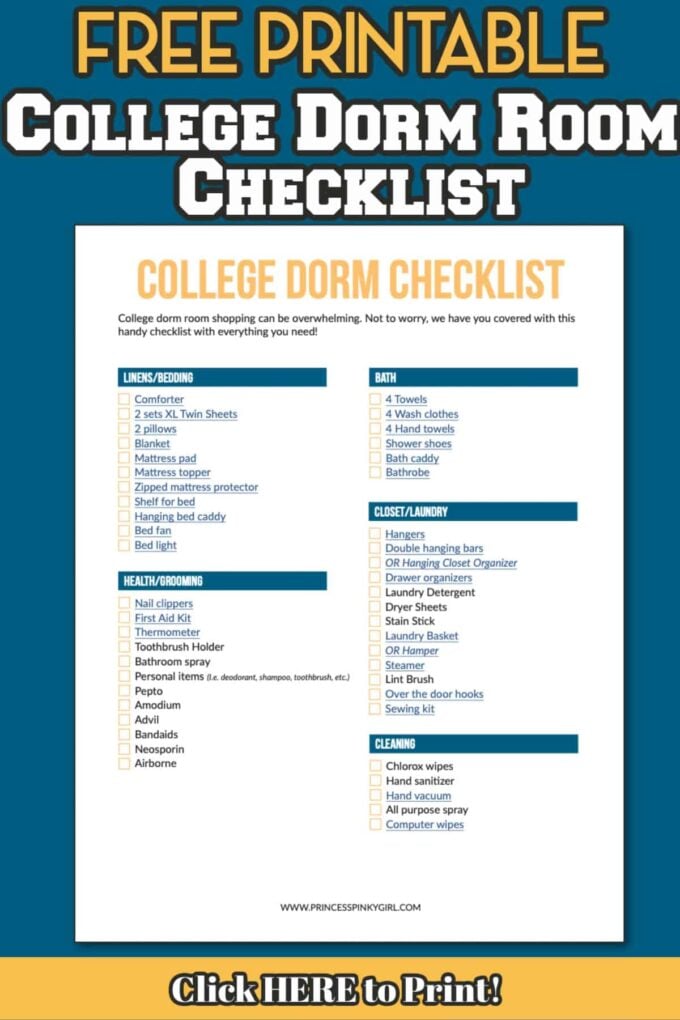 Preparing to pack for college can seem like an overwhelming task, but it doesn't have to be. I have broken down everything you need for your dorm room this year and created a handy college packing list.
Some of the items you may have already thought of, but some of these are really fantastic ideas and they will make college life a breeze!
Be sure to print out the college packing list at the end of this post so you don't forget a thing.
Dorm Room Essentials
Before you head out on a shopping trip, be sure to find out what will be provided by your college. Many dorm rooms are already furnished with a bed, mattress, desk and a chest of drawers. No need to purchase items that will already be provided!
Here is a list of what you might need for your dorm room: (contains affiliate links)
I really love the idea of using an 8 cube storage organizer. You can use this as a tv stand or in your closet. Either way, it provides tons of storage space.
Be sure to pick up the canvas drawers for those items you don't want everyone to see. Perfect for socks, scarves, clothes…. really anything!
You can pick up a set of bed risers for around ten dollars… or…. you can spend just slightly more and get this cool set. This bed riser set has built in USP ports and outlets that plug into the wall for electronic charging right where you need it!
This is absolutely a must have if you will be raising up the bed with risers. Plug in your cell phone, laptop or anything else that you'd like to keep close at hand.
I really love this version of a bedside organizer. It has a few pockets where you can store your laptop, magazines, cell phone and tons of other things. It even has a slot for a power strip.
Can we just take a moment to check out all of these cool canvas drawers? Love them all and I know you coeds will, too!
Bathroom Essentials
I can still remember how afraid I was of the college dorm bathroom. I had heard horror stories and I came fully prepared with my shower shoes and caddy. Things haven't changed much as far as what you need, but you'll want to make sure you come ready for anything.
Here is a list of bathroom items that you will need…
Shower Shoes – I love these because they have holes in them for the water to drain through!
Toothbrush/ Paste/ Holder
Haircare Products
Q-tips / Cotton Balls
Razor / Shaving Cream
Nail Care Items
Soap/ Body Wash/ Sunscreen
Tweezers/ Cosmetic Mirror
Deodorant
Cough Drops/ Cold Medicine
Pain Relievers
Allergy Medication
Stomach Medication
Makeup/ Makeup Remover
Glasses/ Contact and Supplies
If there is one thing every college bound person needs, it is a good shower caddy. I love this shower caddy for so many reasons. First it is stylish, but that is just the icing on top. It is made of mesh, so it will be quick drying and not hang on to moisture. There is room for everything you need, too!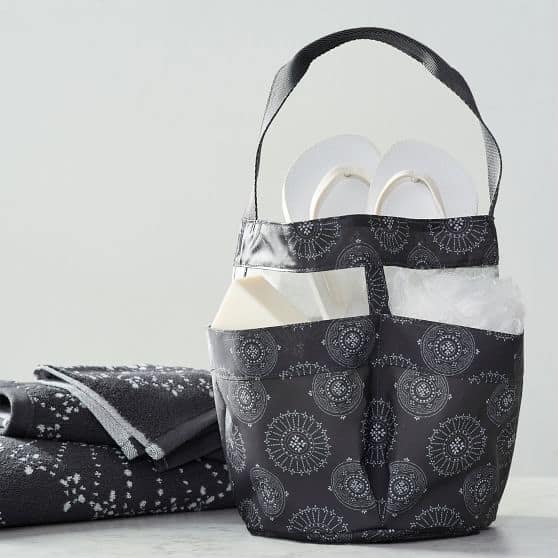 You will also need a cute bath wrap to stay covered when you are done showering and are getting ready. These are so classic.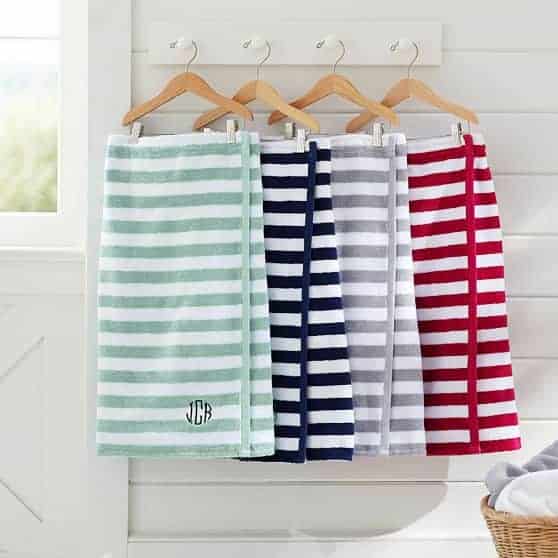 Dorm Laundry Essentials
I think one thing that college kids miss most about home is laundry. Now that you are on your own, someone has to clean your clothes and linens. Guess who that someone is… you!!!
Take a look at this list of must haves and don't forget your quarters!
Iron/ Ironing Board
Stain Remover
Laundry Detergent
Dryer Sheets/ Fabric Softener
I love this laundry backpack. Slip it right on your back when you are ready to hit the laundry room. This also comes in really handy when you want to take a load or two of laundry home while on a break.
Electronics
Be sure to bring all of your electronics and everything that goes along with them like ear buds, charging cords and the like. If you are a gamer, pack everything you need to play with everyone on the hall and even play with friends from back home.
I know you guys won't forget these things, but just in case…
Phone/ Accessories
Computer/ Accessories
Printer/ Ink/ Paper
Game Consoles
Ethernet Cable/ HDMI Cable
TV
Alarm Clock
Kitchen Essentials
You may be thinking that you'll have a meal plan and won't need any kitchen items. Think again! You are going to want to snack, have your morning coffee and sometimes the dining hall may not be open when hunger strikes. Be prepared!
Here are just a few things you might need… be sure to add your favorite snack foods that are microwaveable and coffee to the list…
Mini Fridge/ Microwave/ Toaster
Disposable Cutlery/ Plates/ Bowls
Tupperware/ Ziplock Bags
Coffee Maker/ Mugs
Miscellaneous Dorm Must Haves
Here are a few items that you will need, especially on move in day! Let me know what else you plan on bringing!
Bungee Cords/ Duct Tape
Flashlight/ Batteries
Sewing Kit
What to Bring to College:
Click here to Download the Printable College Packing List