This post may contain affiliate links. Read my disclosure policy here.
This is simply the best Cauliflower Pizza Crust out there. It is also a great gluten free, guilt free, low carb option (and packed with protein!). But the thing that's so great is that my kids love it!
The Best Cauliflower Pizza Crust Recipe
I have been asked a number of times "How do I make cauliflower pizza crust?" and "Does it taste like real bread?" Well, I have some answers for you!
I am going to tell you exactly how to make a great cauliflower pizza crust and it is so very easy!! Scroll down for the printable recipe card!
The best news ever is that when I first made this recipe you had to take a head of cauliflower and cut it all up and then rice it. Now, you can buy the cauliflower already riced! I love that, because it is a HUGE timesaver!
This Cauliflower Pizza Crust is a new family favorite. I am serious – low carb and gluten free and a great healthy option. It also provides a great way to "sneak" some veggies into your kids dinner without them even knowing.
I have been a little obsessed since making it for the first time. However it's not all I make with cauliflower. I have been trying out some other great riced cauliflower recipes like, cauliflower fried rice and cauliflower bread sticks, too (they are so great with dipping sauce and pasta!).
Oh – don't forget our Cauliflower Macaroni and Cheese! You won't ever miss pasta again!
…But does Cauliflower pizza crust taste like bread?
Personally, I don't think it tastes like bread, it tastes more like a thin crust pizza. I think it is delicious, but if you are expecting to think that it is going to be exactly like pizza, then not so much! However, it totally takes care of my pizza cravings!!
So, how did I get on the cauliflower pizza kick? Well, I had heard a lot about cauliflower pizza crust and something about it intrigued me. I don't know why, but it did. So, I had a head of cauliflower and some time on my hands (thanks to numerous snow days in a row) and decided to give it a go.
Confession – I made my kids and husband try it without telling them what it was – they LOVED it! My ten year old made me promise to say in this post that it was "10-year old approved" – but more surprisingly, my husband loved it too!
This is going to happen in so many different ways now! Because I'm in love with the flavor of cauliflower pizza crust, I almost don't even care about the other benefits.
What I also love about using cauliflower for recipes is that not only is it a great low carb alternative, but it also is gluten free, not to mention a healthy option.
Because of the versatility of cauliflower, you will be getting some great vegetables into your kids without them even knowing. This was so helpful when I was on Weight Watchers, too!!
Do I need a food processor to make Cauliflower Pizza Crust?
You no longer need a food processor to make cauliflower pizza crust! It is easier than ever to make it using frozen cauliflower that has already been riced for you!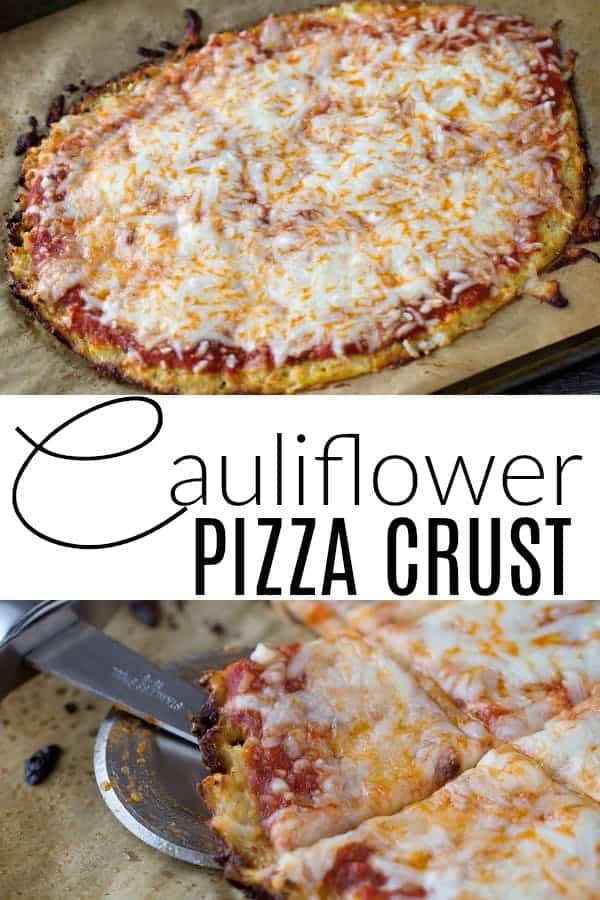 Ingredients needed to make Cauliflower Pizza Crust
Head of cauliflower – should make 2 cups once processed, OR buy a bag of frozen riced cauliflower and make your life easier! That second option is so nice.
Dried basil
Dried oregano
Garlic salt (I love Lawry's) OR 1/4 teaspoon salt and 1/4 teaspoon garlic powder
Shredded parmesan cheese
Mozzarella cheese
Egg
Pizza sauce & toppings of your choice
The cauliflower is going to take on that great Italian flavor because of the basil, oregano and garlic. However, shredded parmesan sends it over the top.
What are some great pizza crust toppings?
The crusts toppings make the pizza – so pile them on! Because you have a solid base for the crust it will taste great. However, if your still unsure of cauliflower pizza crust, the more toppings you add will disguise any lingering difference.
Cheese
Pepperoni
Mushrooms
Green Pepper
Pineapple
Ham
Turkey pepperoni
ANYTHING GOES!
Cauliflower Pizza Crust Tips
Like I said, it is really easy. Some important tips for making a successful cauliflower pizza:
Make sure to rice the cauliflower to nice small pieces
The more water you can squeeze out the better
When you bake the crust flip it over about halfway through the baking process
If you have a pizza stone, use it!
How to Make Cauliflower Pizza Crust
To make cauliflower pizza crust, you will mix cook the cauliflower and squeeze as much water out of it as possible (this is key to keeping your cauliflower pizza crust from getting soggy). Mix all of the ingredients together and spread the "dough" out of a baking sheet, pizza pan or pizza stone (lay parchement paper down on the sheet or pan).
About halfway through the cooking process, you will want to flip the crust over. This will help you get the crispy results for the pizza crust!
Cauliflower Pizza Crust
This is simply the best cauliflower pizza crust out there. It is a great guilt free, low carb option. The best thing is that my kids love it!
Prep Time: 20 minutes
Cook Time: 15 minutes
Total Time: 35 minutes
Course: Dinner
Servings: 8 slices
Ingredients
1 small to medium sized head of cauliflower - should make 2 cups once processed ((many stores now sell frozen riced cauliflower)
1/2 teaspoon dried basil
1/4 teaspoon dried oregano
1 teaspoon garlic salt OR 1/4 teaspoon salt and 1/4 teaspoon garlic powder ((I love Lawry's))
1/3 cup shredded parmesan cheese
1/3 cup mozzarella cheese
1 egg
pizza sauce & toppings of your choice
Instructions
Preheat oven to 450 degrees

Place a piece of parchment paper on a cookie sheet and spray it with non-stick butter spray. (or use a silicon baking mat, which is my favorite thing in the world)

Cut off the florets of the cauliflower - try to cut off as much of the stem as possible. Place the florets in a food processor and "rice it" - you do this by pulsing the food processor - press the button in short "pulse-like" increments- be very careful not to over process and puree, it won't be good!

The cauliflower should come out looking almost grain like. See picture.

(You can save a step by buying the frozen riced cauliflower. I have done this and it comes out just as good!)

Place the cauliflower in a microwave safe bowl and microwave it for about 4 minutes.

Pour it out on a kitchen towel or paper towels and wring the water out of it. The more water you get out the better.

Place in a bowl and mix in all of the other ingredients.

Using your hands, take the mixture and make it into a ball.

Place it on the parchment paper and flatten it out to a pizza shape. (careful not too make it too thick or thin!)

Place the cookie sheet in the oven and bake until the edges start to get golden brown and the middle sets - about 15 minutes. Flip over and bake another few minutes.

Remove from oven and let it cool for a few minutes.

Put your favorite pizza sauce and toppings on and cook on 350 degrees for 3-5 minutes or until cheese is melting and starting to brown.

If you have a pizza stone, I think this would help it to get nice and crispy, I don't have one, but I may have to invest in one!
Recipe Video
Nutrition per serving
Calories: 53kcal | Fat: 2g | Saturated fat: 1g | Cholesterol: 26mg | Sodium: 398mg | Potassium: 47mg | Carbohydrates: 1g | Protein: 3g | Vitamin A: 95% | Vitamin C: 6.4% | Calcium: 80% | Iron: 0.3% |
Keyword: gluten free, lo carb

Looking for some other great easy family dinner recipes, click on the pictures below:
Garlic Chicken Broccoli and Pasta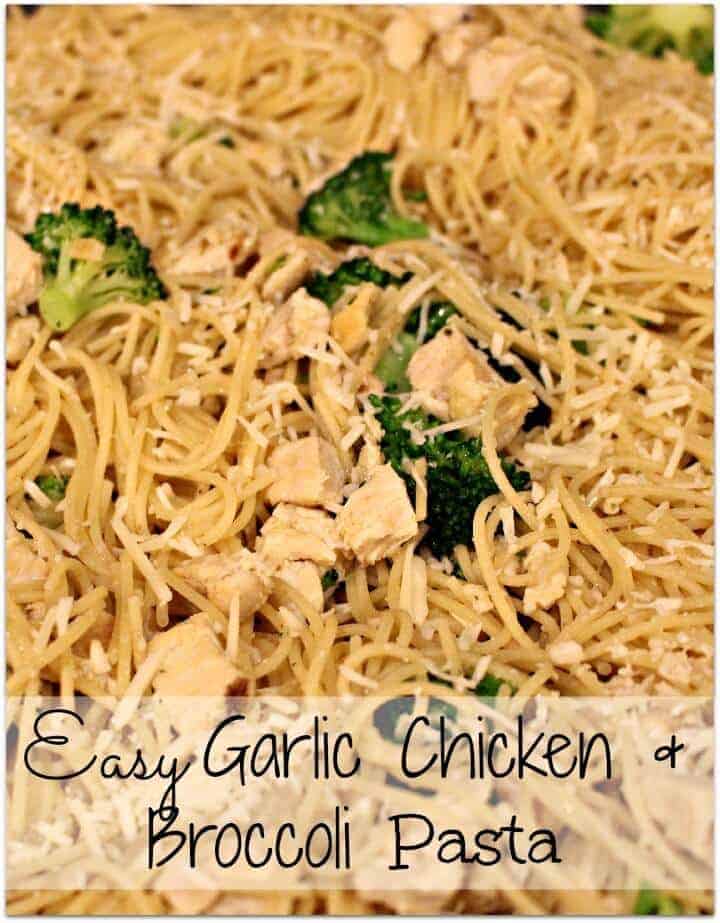 Sign up for the Princess Pinky Girl Newsletter and automatically receive our latest & greatest delivered right to your inbox! Follow Princess Pinky Girl on Facebook, Twitter, Pinterest and Instagram for all of the newest recipes, crafts, travels and updates!
If you make a Princess Pinky Girl creation make sure you take a picture and share it on Instagram with @princesspinkygirl ! I love seeing your masterpieces!