Broccoli salad is a hearty, healthy, and quick side dish for any potluck, barbecue or just for family dinner!
Jump to Recipe
Our classic Broccoli Salad is a hearty, healthy, and quick side dish for any potluck, barbecue or just for family dinner and can be prepped in under 20 minutes!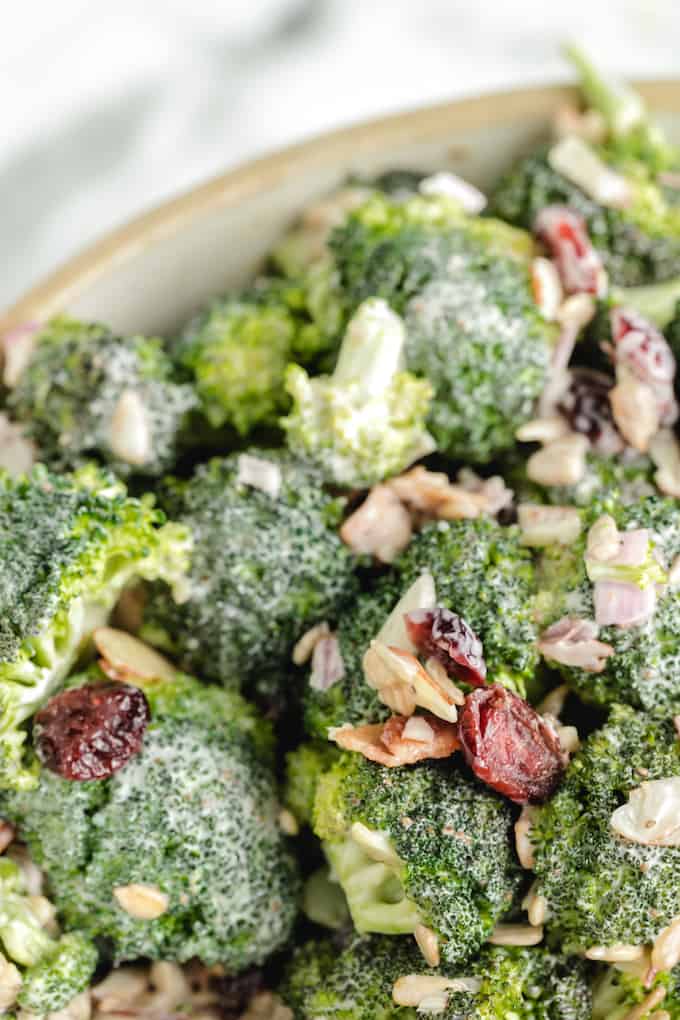 /div>
Made with bacon, dried cranberries, red onion, and of course, broccoli, tossed together in a delicious homemade dressing, this broccoli salad is one of a kind.
Broccoli Salad
I love broccoli, but I have a hard time eating it raw. I prefer it cooked most of the time. This salad is a total exception to that. It's so delicious! It's the perfect spring or summer salad for any occasion, and I can't wait for you to give it a try.
The dressing itself adds just a bit of sweetness to this salad, which is a nice contrast to the broccoli, onions, and bacon. Best of all, it only takes about 20 minutes to prepare, then simply let it chill in the fridge for an hour and you've got the perfect dish to pass that will serve about 8 hungry people.
Ingredients
6 cups of broccoli, cut into bite sized pieces
½ cup of red onion, diced
½ cup of dried cranberries
½ cup of salted sunflower seeds
½ cup of sliced almonds
½ cup of bacon bits, real is the best!
Ingredients for Salad Dressing
1 cup of mayonnaise
3 tablespoons of cider vinegar
2 tablespoons of sugar
1 teaspoon of celery seeds
¼ teaspoon of salt
¼ teaspoon of pepper
What Kind of Broccoli Should I Use for Broccoli Salad
You have a couple of options when it comes to choosing your broccoli for this salad. You can definitely buy pre-cut florets. It will make the prep time even less and will make throwing together this salad super easy!
I know sometimes, cutting up a whole head of broccoli can be a pain in the butt.
However, if you choose to cut up a head of broccoli, it will definitely save you a few pennies! It's almost always going to be cheaper to do it this way. Typically it takes me about 2 good-sized heads of broccoli for this recipe.
Ingredient Substitutions
The fun part about broccoli salad is that you can get a little bit creative with your ingredients and substituting other ingredients in place of those listed here. You can mix things up a bit to make this salad your very own!
Each recipe you find for broccoli salad will likely have lots of similarities and a few differences as well! That's because it's so easy to switch things up.
I have seen some recipes that have shredded cheese or shredded carrots. Some take out the almonds and add in walnuts. Some take out the sunflower seeds altogether.
The sky's the limit with this salad! Get creative and have some fun with it. I'd love to hear how you made this salad your own and which ideas turned out the best.
How to Make Broccoli Salad
Place the sliced onions in a small dish of cold water and let them soak for at least 10 minutes, stirring occasionally. When you're ready to prepare the salad, drain the onions.
In a medium bowl, whisk together all of the dressing ingredients and set this aside to use in a little bit.
In a large bowl, place all of the salad ingredients together.
Pour the dressing mixture over the salad ingredients and mix well.
Refrigerate for at least one hour before serving. Then mix again right before serving.
Tips
Tip 1: Soaking the onions in cold water helps remove some of the raw onion taste. It is completely optional to do this. Drain the onions by placing a paper towel over the dish and while holding the paper over it, invert and let the water run through the paper towel, leaving the onions in the dish.
Tip 2: Refrigeration is key for this salad. In the instructions, you'll see that I recommend leaving it in the fridge for an hour. This would be the minimum amount of time I recommend! If you can leave it in there even longer, it's better. It gives it time to let all of the ingredients really soak together and makes the salad even tastier!
Tip 3: Some people like to blanch their broccoli for this recipe. I never blanch the broccoli and I haven't received any complaints. So, personally I think it is an unnecessary step. But, if you prefer the broccoli this way you can definitely do it. See instructions below:
How to blanch broccoli: To do so, you'll want to bring a pot of water to a boil and blanch the broccoli for about 60 seconds. Remove from heat and drain the broccoli. Then, rinse it with cold water and dry it off before using it in the salad.
How to Store Broccoli Salad
Storing your broccoli salad is really quite simple. You'll want to make sure it is in an air-tight container and stored in the fridge at all times.
The air-tight container is really important here. I recommend storing your broccoli salad in a bowl with a lid, instead of just throwing some plastic wrap over the top of the bowl.
This will keep the broccoli from getting soggy! Also, sometimes broccoli can have quite the aroma, so this helps to keep the broccoli smell contained as well.
---
More Great Salad Recipes
Wedge Salad Skewers | Greek Chicken Pasta Salad | The Absolute Best Pasta Salad Recipes | Mexican Street Corn Salad | Tomato Cucumber Avocado Salad | Mini Caprese Salad | Pizza Pasta Salad | Chicken Bacon Ranch Pasta Salad | Watergate Salad | Chicken Salad
---
Broccoli Salad
Broccoli salad is a hearty, healthy, and quick side dish for any potluck, barbecue or just for family dinner!
Total Time
1

hour
10

minutes
Ingredients
Salad
6

cups

broccoli florets

broken into bite size pieces

1½

cups

shredded sharp cheddar cheese

⅔

cup

chopped craisins

⅔

cup

diced red onion

⅔

cup

cooked and crumbled bacon

½

cup

sunflower kernels
Dressing
1¼

cup

mayonnaise

½

cup

sour cream

4

tablespoons

apple cider vinegar

2

tablespoons

granulated sugar

1

teaspoon

kosher salt

½

teaspoon

fresh cracked black pepper
Instructions
Using an extra large mixing bowl, combine the broccoli, shredded cheese, craisins, red onion, crumbled bacon and sunflower kernels.

Using a medium size mixing bowl, whisk together the mayonnaise, sour cream, apple cider vinegar, sugar, kosher salt and pepper until smooth.

Pour the dressing over the broccoli mixture and stir to completely coat the salad ingredients.

Cover tightly and chill in the refrigerator for 1 hour.
Jenn's Notes
Storage:
Store any leftovers in an airtight container, in the refrigerator for up to 3 days.
Tips:
You can substitute plain Greek yogurt for the sour cream.
You can substitute pumpkin seeds, chopped walnuts or pecans for the sunflower kernels.
You can make the salad the night you are planning to serve the broccoli salad.
Nutrition Info
Calories:
652
kcal
|
Carbohydrates:
20
g
|
Protein:
9
g
|
Fat:
60
g
|
Saturated Fat:
18
g
|
Polyunsaturated Fat:
20
g
|
Monounsaturated Fat:
19
g
|
Trans Fat:
1
g
|
Cholesterol:
63
mg
|
Sodium:
710
mg
|
Potassium:
343
mg
|
Fiber:
3
g
|
Sugar:
13
g
|
Vitamin A:
755
IU
|
Vitamin C:
62
mg
|
Calcium:
211
mg
|
Iron:
1
mg
Everyone who tries my broccoli salad absolutely goes crazy for it. It's one way I can without a doubt get my kids to eat their veggies. It's so delicious and rich in flavor. Plus, there is so much room to make this recipe all yours by switching up ingredients and adding things in.