This post may contain affiliate links. Read my disclosure policy here.
Sometimes the simplest desserts taste the best, and these Berry Vanilla Pudding Cups are one of our family's favorites!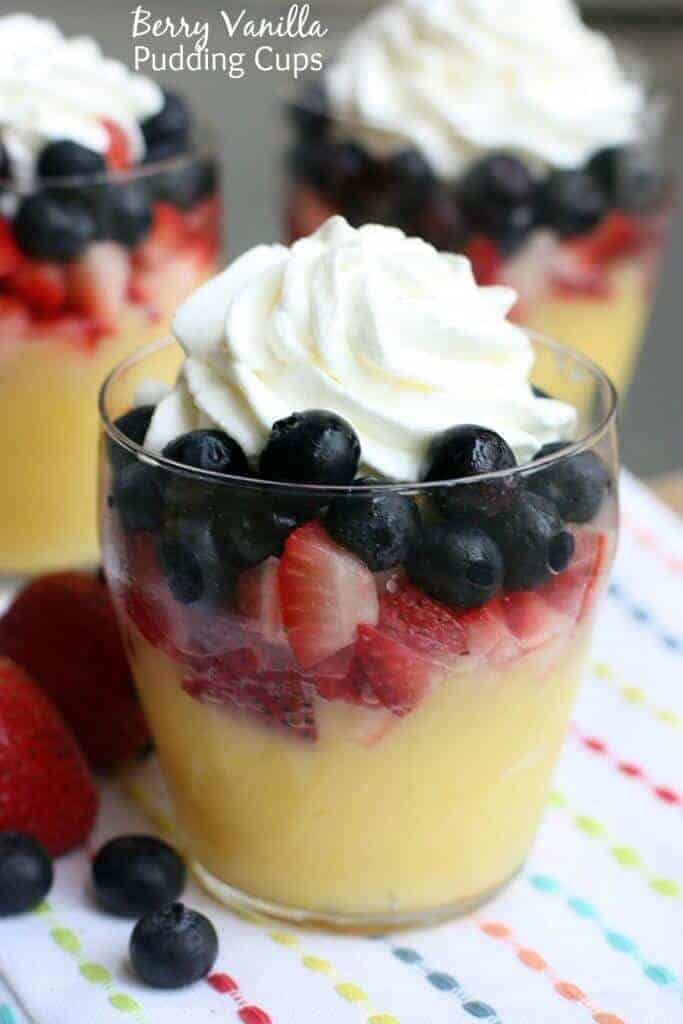 Hi readers, my name is Lauren Allen, and I'm visiting from the food blog Tastes Better From Scratch. I'm SO excited to be a new contributor on Princess Pink Girl and to share my first recipe – Berry Vanilla Pudding Cups.
Just like the name of my blog, I'm a true believer that everything Tastes Better From Scratch! And not only does it taste better, it's usually better for you, and less expensive! Take homemade jam for example. You can make a huge batch of peach jam, raspberry jam or strawberry jam for cheap, and it's SO much better than store bought! My blog is all about sharing easy, homemade meal ideas and recipes that the whole family will love!
The first thing you should know about me is that I'm baker at heart. I really enjoy cooking, but I LOVE baking. Something about making and decorating a delicious cake from scratch is very therapeutic. With the Fourth of July coming up next month I wanted to share a really simple, delicious and festive dessert with you all!
These Berry Vanilla Pudding Cups contain two of my favorite things: homemade pudding, and fresh fruit! I know a lot of people resort to boxed pudding mixes, probably because they think it's simpler, but making homemade pudding is extremely easy! And you probably already have everything on hand to make it. Plus, there's really no comparison when it comes to taste.
Sometimes the simplest desserts taste the best, and these Berry Vanilla Pudding Cups are one of our family's favorites!
Berry Vanilla Pudding Cups
Ingredients:
1 pint fresh strawberries. sliced
1 pint fresh blueberries
Freshly whipped cream, for topping
Vanilla pudding:
2 2/3 cups whole milk, divided
1/2 cup granulated sugar
1/4 cup cornstarch
1/4 tsp salt
1 egg
2 tsp vanilla extract
Directions:
For the pudding, bring 2 cups milk to a boil over medium heat. While the milk is heating, combine the sugar, cornstarch and salt in a medium bowl. Whisk in the remaining milk and beat until smooth. Whisk in the egg and beat until smooth.
When the milk is boiling, add a spoonful at a time to the sugar mixture, stirring constantly, until all of the hot milk is slowly incorporated and the mixture is completely smooth. Return mixture to the saucepan and cook, stirring constantly so no lumps form, for about 2 more minutes or until thickened. Remove from heat and stir in vanilla.
Place a piece of plastic wrap directly over the surface of the pudding. Refrigerate until chilled.
When ready to serve, spoon about 2/3 cup of pudding into each cup. Sprinkle berries over the pudding. Add fresh whipped cream on top.
I hope you'll stop by Tastes Better From Scratch, or follow me on Pinterest, Facebook or Instagram, for some more yummy recipes like:
Chocolate Cake with Chocolate Mousse Filling
Sign up for the Princess Pinky Girl Newsletter and automatically receive our latest & greatest delivered right to your inbox! Follow Princess Pinky Girl on Facebook, Twitter, Pinterest and Instagram for all of the newest recipes, crafts, travels and updates!
If you make a Princess Pinky Girl creation make sure you take a picture and share it on Instagram with @princesspinkygirl ! I love seeing your masterpieces!