The day I can find a dinner that all of my boys like AND is easy to make AND is on the healthier side is a day that I totally rejoice!!! So rejoice I did when we discovered these Baked Chicken Nuggets that everyone in my family not only loves, but actually asks for!!!!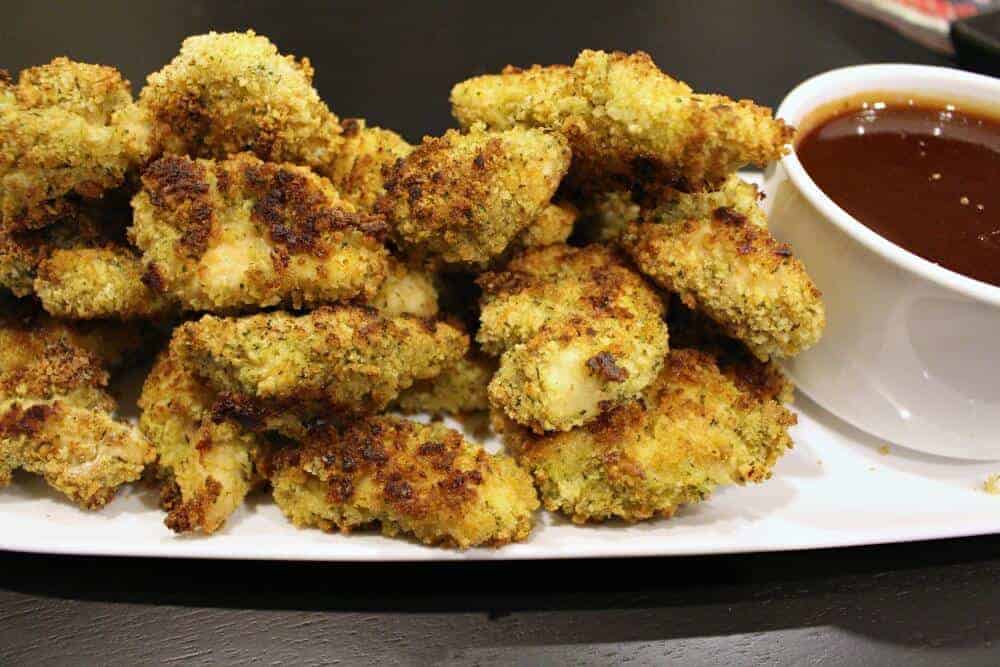 These delicious Baked Chicken Nuggets (adapted from Delish) are really very easy to make!
I baked them and they were super crunchy, if you want them even crunchier, you can pan fry them for a minute on each side – although that makes them slightly less healthy! OHHHHH and the dipping sauce – don't skip the dipping sauce, it is beyond amazing – try serving it with the dipping sauce and Ranch dressing – holy yumminess!! You will be hooked!
Love the idea of baking these nuggets for a healthier option, but miss the fried crunch? Consider trying out an Air Fryer. You can pop these babies in there, while using just a little bit of oil! Find out everything you need to know about and air fryer with my article How to Use an Air Fryer – Tips, Recipes and more!
Super Easy Baked Chicken Nuggets
Here is what you need:
2 lbs boneless skinless chicken breast
2 cups Italian Panko Bread Crumbs
3 eggs
1 cup barbecue sauce
1/2 cup brown sugar
2 limes
Parchment paper
Here is what you do:
Preheat oven to 425 degrees
Cover a cookie sheet in parchment paper
Cut chicken breast into thin strips
Beat eggs in a small bowl
Place panko in another small bowl
Put flour in a ziplock bag, add cut chicken. Zip bag closed and shake the bag until the chicken is fully coated in the flour
Remove a piece of chicken from the ziplock bag and dip it in the egg, then dip in the panko until the chicken is fully covered by the panko. Place the coated chicken on the parchment covered cookie sheet.
Repeat with all of the pieces of chicken
Place in oven for 25 minutes (flip over half way through cooking process) – all ovens cook differently, so be sure the chicken is cooked thoroughly and all the way through
For the sauce – in a saucepan, mix barbecue sauce, brown sugar and the juice from the 2 limes. Cook over low heat until warm. Stir frequently. Serve with chicken
Enjoy!
Looking for other easy family friendly dinners? Click on the pictures below!