The Snow is coming and a regular old snowman is so passe! That is why we love these super Creative activities to do in the snow!
A snow day can be a great thing…at least first thing in the morning. But as the day goes on (or days in some cases), you begin looking for some new ideas to keep your kids occupied during the cold winter days!
/div>
So it is time to get creative and start thinking WWPD (what would Pinterest do) on a snow day? These ideas for playing in the snow will keep your kids entertained for hours ….or days, if necessary!
Ideas for kids to do in the snow
Snow glorious snow! Who doesn't love the snow – well for starters ME! Too bad I live in Michigan where we are blessed with plenty of it!
Any time the weathermen starts predicting a winter storm warning – my kids start with their "snow day ritual" (they haven't figured out that the weatherman is usually wrong.)
If you aren't familiar with it, it consists of flushing ice down the toilet, wearing your pajamas inside out and backward, sleeping with a spoon under the pillow, running around the table 10 times clockwise and place a white crayon on the windowsill.
Now, what my kids don't know is that I have a counter-ritual to prevent snow days! This consists of flushing hot water down the toilet, wear your pajamas the correct way, sleep with a fork under your pillow, run around the table 10 times counter-clockwise and place a yellow crayon on the windowsill. Happily, mine works more often than theirs!
When the snow does actually come, it is important to be prepared with some creative activities to do in the snow! Now, most kids are happy building a snowman or having a snowball fight or building a snow fort, but here are some creative twists on these typical activities and some additional ideas if they are looking for more!!
One can never be too prepared!
Don't forget, as soon as you send the kids outside to play, grab your Crockpot and start making this delicious Slow Cooker Hot Chocolate. It is quite possibly the best hot chocolate you will ever make (so much better than the powdered hot chocolate)
Let's check out those GREAT ideas for playing in the snow!
How to Make Snow Ice Cream
from Sugar Pie Farmhouse!
Yup, you heard me right – Snow Ice Cream. This is one that we are FOR SURE trying! Follow the link to see how to make snow ice cream!
How to make your own Snow Paint
from Your Modern Family
You know what they say, don't eat yellow snow – How about green snow, blue snow , nd red snow? However, this is actually colored snow that they can actually eat!
Grab a spray bottle and some drops of food coloring and you have your very own snow paint! You can get some cheap and colorful spray bottles at the dollar store…. they will likely break after a few uses, but they are worth the buck!
Just be careful to warn the kiddos to not spray on each other because the food coloring can stain their snow jackets and pants (lesson learned here!)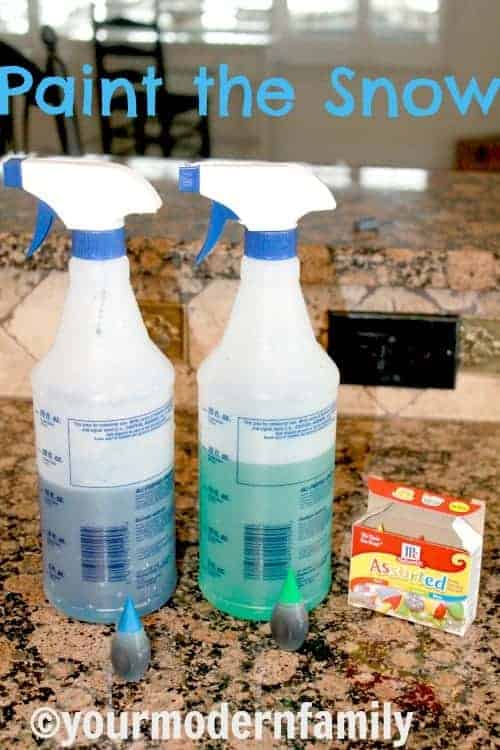 How to make colored ice balls
from Queen Vanna Creations!
This was really a super cool activity – and a pretty decoration for your snow covered lawn!
It is pretty easy – just get some balloons, put a couple drops of food coloring in the balloon (the darker you want the globes, the more you should put in.)
Slowly fill the balloon with water, tie it closed. Put the balloons outside in the snow until they are frozen solid. Then take off the balloon with a scissors and there you go – beautiful, colorful balls of ice.
They sure are pretty to look at!
Make an upside down snowman!
When my kids ask me why I want them to make an upside down snowman, I tell them… Well, why not!
Anyone and everyone makes the average, right side up snowman – but how many upside down snowmen have you run in to?? (and it will take them a long time to figure out how to make it balance!)
Why? Well, why not! Anyone and everyone makes the average, rightside up snowman – but how many upside down snowmen have you run in to??
Make a snow face on a car! I know what I am doing next time it snows!!!
How fun would it be to come out to your car and see this guy? OMG – I would LOVE it!!
More fun and creative snowthings to build!
Snow Snoopy!
Surprise someone with a mini snowman on their car – another way to brighten someones day on a dreary winter day!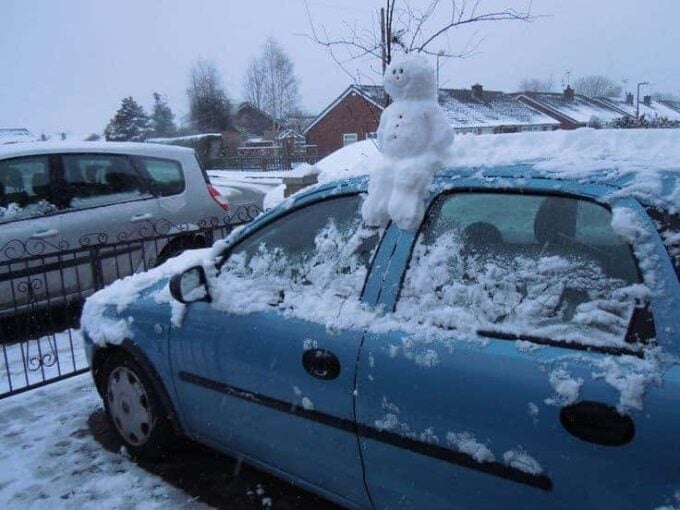 Make a snowman army! (this will keep the kids occupied on a snowday!)
Build a snow fort – this is something to aspire to!

Well…. this may be a little out of my league – but I found some great tools to help with the building process!! Check out these great (affiliate) Snow Fort Tools!
Want to take your fort building to the next level – try these (affiliate) Snow Fort Tools out!
So my northern friends – it is time to get out there and embrace the snow – it isn't going away for quite some time – so if you can't beat it…. join it!!
While the kids are outside playing, delight them when they come inside with these adorable and delicious Hot Chocolate Cookie Cups (they go great with the Crockpot Hot Chocolate!)