New to the world of Air Fryers and looking for some great recipes? We have dinner recipes, chicken recipes, breakfast recipes, vegetable recipes, and even dessert recipes! Everything you want to know about Air Fryer Recipes and more!
I know we've talked about air fryers before, but I just cannot get over how fabulous they are!
What is an Air Fryer
Air fryers mimic the results of deep-frying your food but use only hot air and a minimal amount of oil (if any). The growing interest in using air fryers comes from the benefits of easy clean-up and low-fat (therefore healthier) meals.
Air fryers differ from deep frying by reducing fat, calories, and guilt! Though they don't produce identical results, people generally think air fried food tastes just as delicious!
Don't have an air fryer or new to the air fryer world, check out our How to Use an Airfryer post! It will tell you everything you need to know!
Side note. Our other obsession is our Instant Pot. Have you tried it yet? Take a look at our Everything You Wanted to Know About the Instant Pot here!
Air Fryer Chicken Recipes
This delicious alternative to deep fried wings promises all the flavor and crunch of your favorite appetizer!
Air Fryer Chicken Wings
You don't have to give up that great fried chicken family recipe! Just use your air fryer for a lower-carb (and healthier) version. Delicious!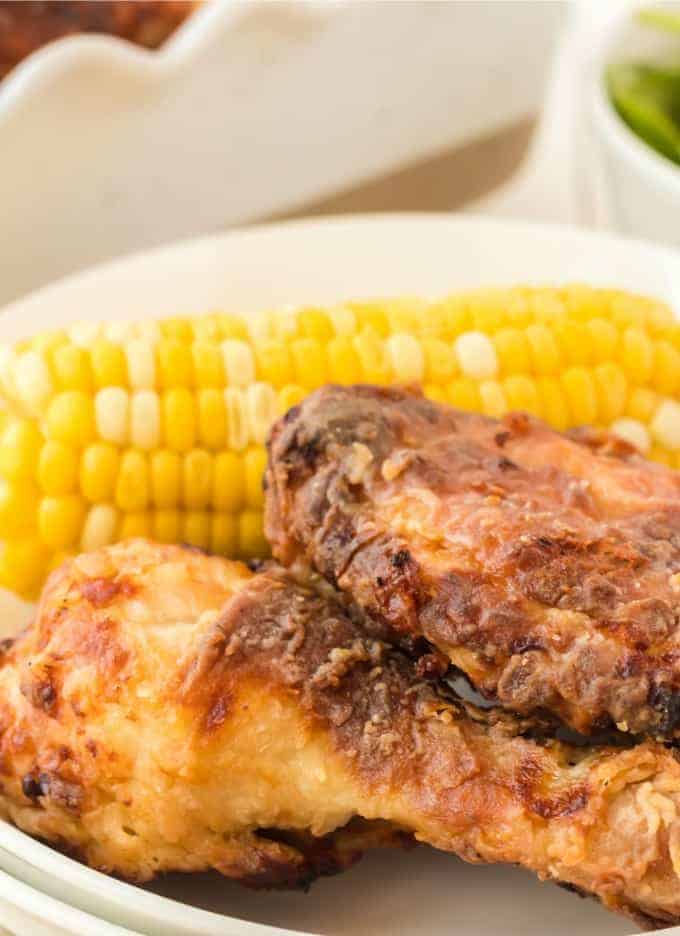 from Princess Pinky Girl
Homemade, low-carb, AND keto friendly? You betcha! Try these air fried buffalo wings for the next big game.
Buffalo Chicken Wings
From Dr. Davina's Eats
You'll enjoy this mouth-watering, tender, juicy, and flavorful chicken. It's super easy and ready in no time!
Air Fryer Roast Chicken
from Dinner, Dishes and Dessert
Are you looking for a healthy option for your kid-friendly dinner? We think they'll love this air fryer version of chicken nuggets!
Air Fryer Chicken Nuggets
from Crunchy Creamy Sweet
Air Fryer Vegetable Recipes
The air fryer is SO easy to use, and who doesn't LOVE french fries? Try these 3-ingredient Air Fryer French Fries – they are the perfect side dish and you'll never go back to the traditional method.
From Princess Pinky Girl
The crunchy panko breadcrumb coating on these air fryer pickles makes them taste even better than the deep fried original…and without the added calories!
Air Fryer Fried Pickles
From Plated Cravings
These sweet potato fries are ready in 10-12 minutes, and the sweet crunch is heavenly! This appetizer is great for entertaining!
Air Fryer Sweet Potato Fries with Greek Yoghurt Dip
Can a blooming onion be more delicious? Well, try it in your air fryer – just as fabulous with 75% less fat and calories!
Air Fryer Blooming Onion
From Tatertots and Jello
Even the kids will gobble up these good-for-you, super-crispy delicious zucchini fries! Now you can have your fries without the guilt!
Air Fryer Zucchini Fries
From Venture 1105
With 10 minutes, an air fryer, and the perfect seasoning mix, you may even get the kids to eat their vegetables! Yum!
Air Fryer Roasted Vegetables
From Brooklyn Active Mama
Crispy skin on the outside and perfect on the inside too? Yes! Try this air fryer method for unbelievable baked potatoes!
Air Fryer Baked Potatoes
From Thirty Handmade Days
These onion rings are so delicious and super crispy – This recipe alone will convince you to get your own air fryer!
Air Fryer Onion Rings
From Wholesome Yum
Air Fryer Seafood Recipes
In less than 20 minutes, your family will be sitting down to a 5-star meal that uses only 5 ingredients. This sweet and crispy caramelized textured salmon is top notch!
Air Fryer Salmon with Brown Sugar Glaze
From Simply Made Recipes
Stop dreaming of the Caribbean and bite right into it! These crunchy airfried shrimp pair perfectly with a refreshing pina colada dip!
Air Fryer Coconut Shrimp with Piña Colada Dip
From Family Food Travel
If you're looking for an easy one-dish meal for weeknights, this recipe is touted as the easiest, tastiest & quickest stuffed peppers recipe you will ever make!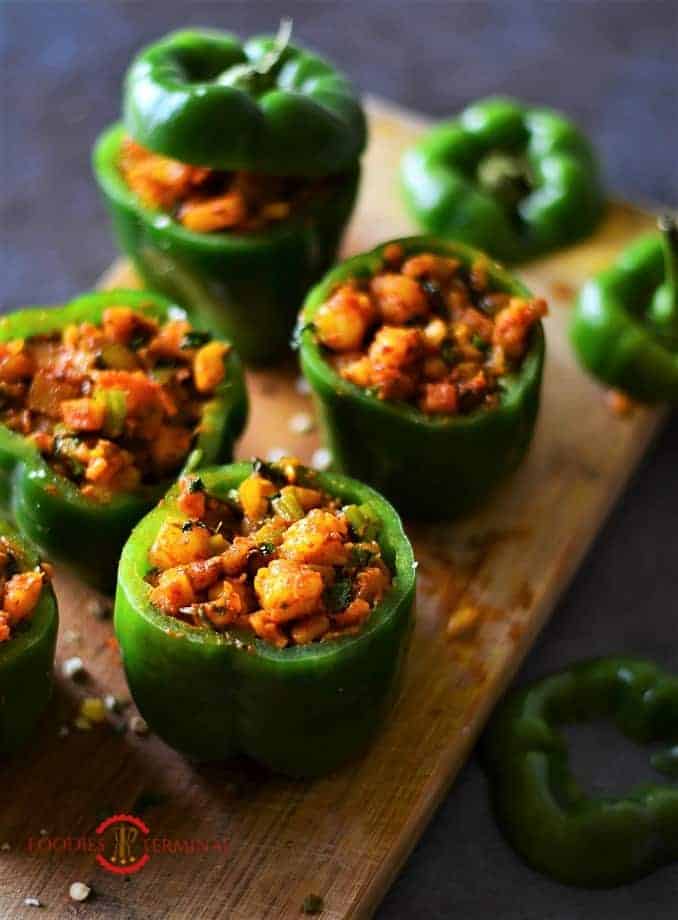 Shrimp Stuffed Bell Peppers
From Foodies Terminal
Air Fryer Pork Recipes
This air fryer bacon is perfect for that BLT, is packed with flavor, and has no bacon splatter to clean up!
Air Fryer Bacon
From Simply Made Recipes
You'll never miss the traditional fat and calories of these 12 minute pork chops! Good as Mom's used to be without the guilt!
Zesty Breaded Air Fryer Pork Chops
From Kitchen Dreaming
If nice and brown on the outside and tender and juicy on the inside sounds good to you…look no further! This healthier version of the original will steal the show at dinner!
Garlic Air Fryer Pork Loin
Air Fryer Dessert Recipes
Okay, dessert AND the simplicity of using an air fryer? Sound too good to be true? You'll flip over these delectable cherry pies!
Air Fryer Cherry Pies
From Who Needs a Cape
With only 2 net carbs each, these lightly air fried golden brown cheesecake bites are perfect and stay true to your keto diet!
Air Fryer Cheesecake Bites
From Easy Keto Dishes
Get ready to enter into apple pie heaven! They are triangles of pastry perfection that could become an obsession!
Air Fryer Apple Pie Filo Pastries
From 5 Minutes for Mom
Air Fryer Breakfast Recipes
You'll never have to leave home again to cure that doughnut craving! You'll love this improved version because without the deep frying, there's no greasiness! Just YUM!
Air Fryer Donuts
From This Old Gal
Say goodbye to "soggy" french toast! This is crisp perfection and a top-8 allergy-free recipe!
Air Fryer Gluten Free Coconut French Toast
These gluten-free treats are great for breakfast or the perfect healthy snack! Enjoy your hot, fluffy blueberry muffins in less than 20 minutes!
Air Fryer Blueberry Muffins
From Clean Eating Kitchen
Which recipe are you going to air fry up tonight?
Be sure and pin this post for later…