Black Friday shopping doesn't have to be chaotic anymore. I am so excited to share all of the new ways Walmart is turning Black Friday shopping into a whole new experience!

This post is sponsored by Walmart and SheKnows Media, but all opinions are 100% my own.
Have you ever wanted to be in on a really big secret? Well, I was and now I get to share it with my readers!
I was among a select group of bloggers who, for the very first time, got to preview Walmart's super secret Black Friday hottest deals!
Not only did we get to see all of the great deals, but we also found some great tips about how to help our readers maximize their shopping experience!
What time does Walmart's Black Friday Sale start?
Walmart's Black Friday sale starts at 6:00 PM on Thanksgiving night, Thursday, November 22, 2018, except where prohibited by law. To be sure, please check your local store for their hours.
The Walmart Black Friday APP
This exclusive Walmart App is going to be just what you need for Black Friday (and any time you are in Walmart!) I love when you are looking for a specific item, you are able to find exactly where it is in the store on your smartphone.
Follow the Color Story
When you walk into Walmart on Black Friday, you are going to notice a rainbow of colors!
Look up, and you'll see big, brightly colored balloons with the name of the shopping area. These balloons, which you will see all over the store, are your roadmap to your products.
In the past, products from different departments would be scattered throughout the store, but this year they'll all be together to make the products you are searching for easy to find!
Just remember to look up!
Here is the color guide and some of our top picks in each department:
PINK – Home Department
Top Gift Picks in Home
Tasty 30 Piece Cookware Set – $99 This is an exclusive for Walmart gift set. The cookware is rated in the top 3 for nonstick cookware, and it comes with a Google home mini!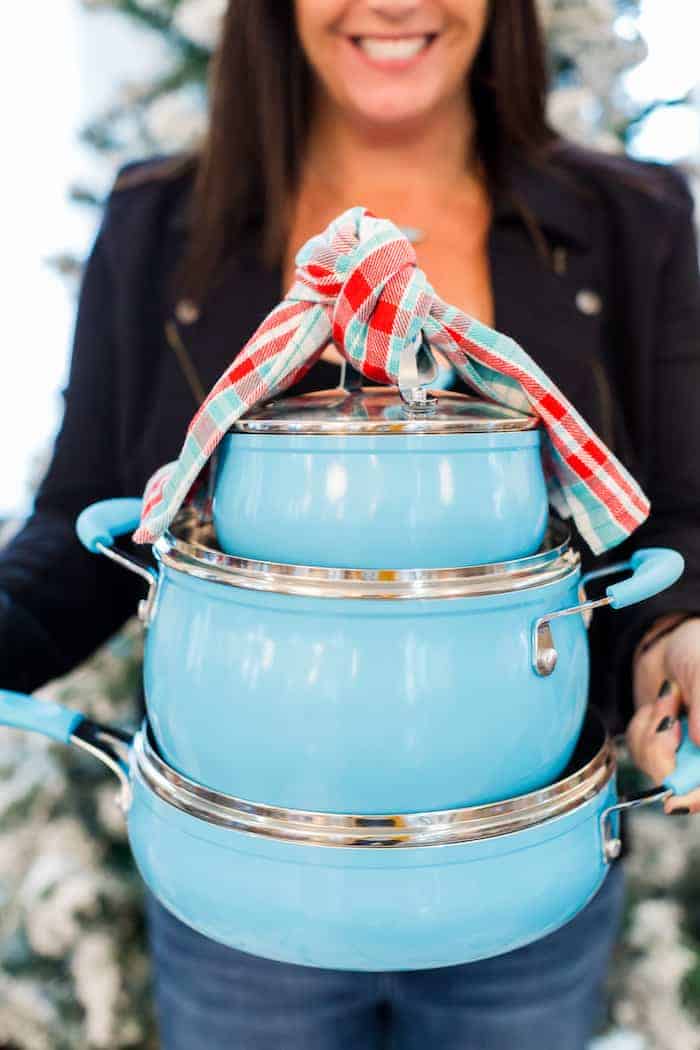 Frigidaire Retro Mini Fridge – $19.92 – this 6-can mini fridge is perfect for your office or bedroom. Keep your favorite canned drinks chilled and close at hand!
ORANGE- General Merchandise Department
Top Gift Pick in General Merchandise – since this is such a huge department, I had to pick a few!
This Black and Decker & Stanley Tool Set – $69 – This is sure to be a huge hit! It has 85 pieces and the value is beyond compare.
It literally has everything you would ever need when it comes to tools. If you need some stocking stuffers, you cannot beat the prices on this sporting good equipment.
What athlete doesn't love a new football or basketball? You will love it even more at these crazy low prices of $9. (They may need to go beside the stocking unless you have a really big one!)
Parachute Packable Hammock – $10 – EVERYONE is getting one of these from me this year. Hammocking is totally trending and there isn't a teenager around who doesn't want one of these to get in.
They are only $10 each and I have never seen such an amazing price and they come in six different colors and comes with straps and carabiners – AMAZING stocking stuffer!
BLUE- Apparel Department
Top Gift Pick in Apparel
Animal Print Booties – $12. Need the perfect gift for her? You cannot go wrong with these trendy booties. They come in black and animal print and are perfect for New Year's Eve!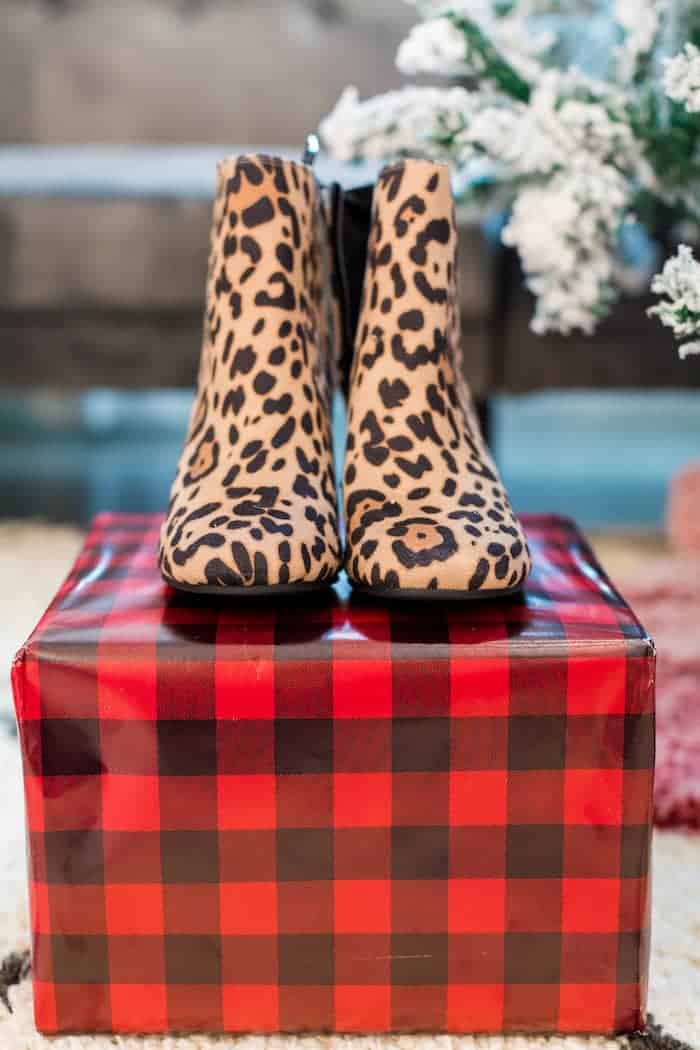 GREEN- Toy Department
Top Gift Pick in Toys – Again, I couldn't pick just one!
Avengers Infinity Wars or Marvel Action Figures – $30– my boys will go crazy for these gift sets! Each comes with SIX action figures! Imagine the hours of imaginative play that will go on with these guys!
Ryan's World Giant Golden Egg – $34.82 – If you don't know who Ryan is, ask your kids! Ryan is a Youtube toy reviewer and he partnered with Walmart for this exclusive product! Your kids won't know what they are getting until they "unbox" it, but they are sure to love the collectible toys they discover!
Batmobile Ride-On Toy – $98 – Ride on toys are always a huge hit and your little superhero will love saving the neighborhood in Batman's favorite ride!
PURPLE – Entertainment Department
Top Picks in Entertainment – you guessed it, picked more than one!
Walmart is your gaming destination! They have great and exclusive deals on the big 3 – Nintendo, Xbox, and PlayStation (Spiderman bundle $199). But my kids are all about the Nintendo Switch ($299)! You can play it on the big screen at home and then take it on the go! This is going to be a top gift this holiday season.
Google Home Hub – $99 – This Smart device is like having your own personal assistant at your beck and call, but what makes it different than other devices is the addition of the screen for visual answers!
Ask Google to show you how to do something, and it will bring up a video. When you are not using it, turn on scrolling photos and it becomes a digital picture frame. See who is at your front door or turn down the thermostat.
Best of all, it still does all of your favorite things, like plays music, turns on your other smart devices and more.
But wait, there's more to this color story! You will notice some of the Walmart associates also wearing specific colors. These are the area experts!
Got a question about a TV, find the associate wearing the Purple color vest. Need to find the perfect toy for your 5-year-old niece, look for the associate wearing Green vest. No more guessing where to go. Just follow the colors!
Sail through checkout
Long lines can be a bummer, that is why Walmart is trying something new this year with their Checkout With Me associates! Their associates will have adaptable mobile registers for those guests with just a few items to purchase to help make checkout faster than ever!
So, as you can see, Walmart is making it easier than ever to breeze through Black Friday while getting the best deals on tons of exclusive items! Walmart will truly be your one-stop shop for the holiday season!