This Strawberry Mint Moscow Mule takes an already delicious drink and cranks it up to the next level, it is so full of flavor!
Jump to Recipe
You won't believe the refreshing deliciousness of this Strawberry Mint Moscow Mule. It's the perfect crisp, cool drink for a hot summer day. With its fresh ingredients and sugar-free spicy ginger beer and lemonade, this Moscow Mule is a cocktail that's full of flavor.
In just 5 minutes you have the perfect beverage to kick back and relax with.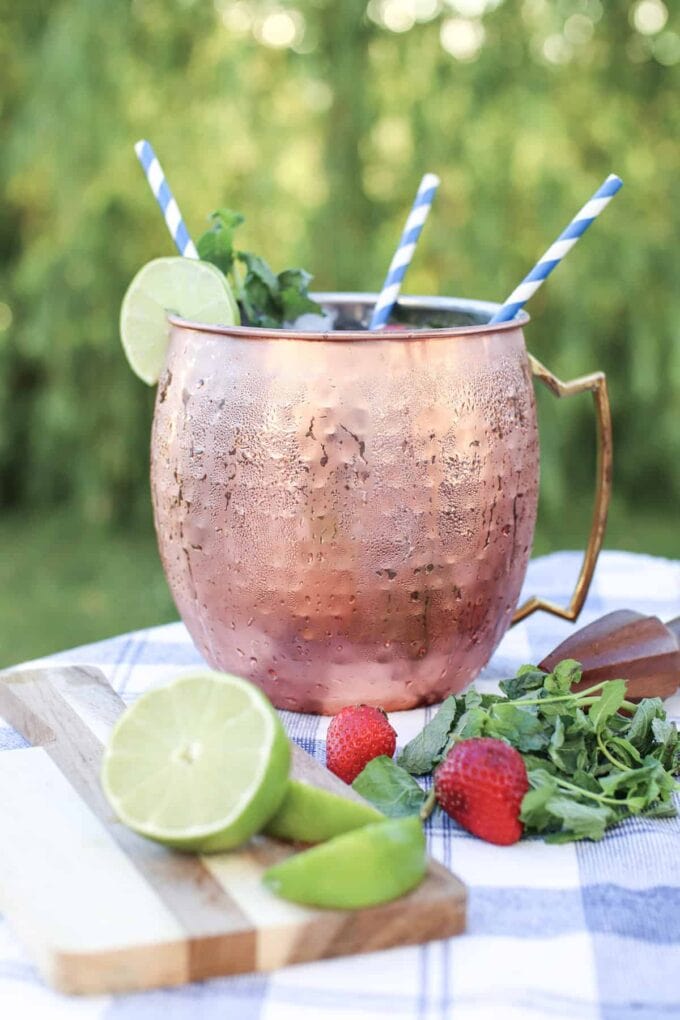 Summertime is the perfect time to try out new drinks! Whether you're hanging out with the neighbors or kicking back at the cabin, it's always better with a drink in hand. This Strawberry Mint Moscow Mule is the perfect summer cocktail to have!
I love any drink that has fresh ingredients. This Moscow Mule does not disappoint. Fresh mint, fresh berries, and fresh lime juice make for a crisp and cool drink. As if I could possibly love Moscow Mules more than I already do, this recipe sent a drink I was already crazy for to the next level.
Best of all, it's only 3 steps to make. That's right, there's no waiting to sip this tasty beverage, it's ready in 5 minutes. In no time at all you have one delicious, refreshing cocktail. Get ready to sip back and relax!
What is a Moscow Mule?
A Moscow Mule is a fun and refreshing cocktail. Usually they are made by mixing vodka, ginger beer, and lime juice. You might recognize them better after hearing that they are the cocktail you see everyone drinking from a copper mug, which they are typically served in.
It's said that their name came about from the combination of vodka and ginger beer. Moscow came up because of the tendency to associate vodka with Russia. Mule was decided because the spicy ginger beer gives the drink a 'kick' to it. Although this may just be a myth, it's a fun story about the origin of these delicious drinks!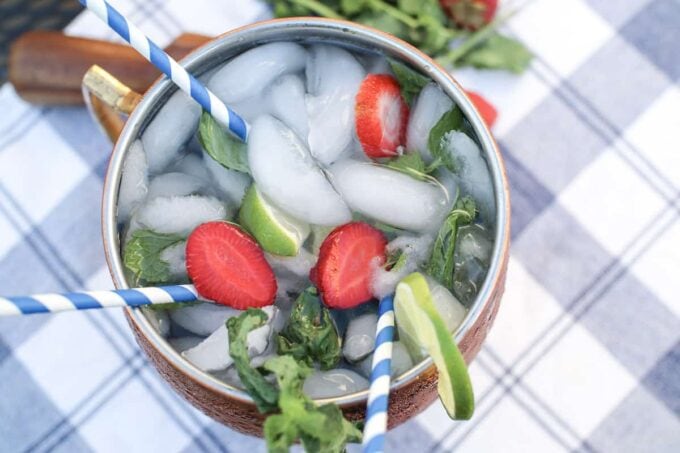 Ingredients for Strawberry Mint Moscow Mule
3 fresh sliced strawberries
2 oz vodka
Juice from ½ lemon
½ can sugar free ginger beer
Pinch of mint leaves
1 oz sugar free lemonade
Ingredient Substitutions
Strawberries: The fun part about this recipe is that the strawberries it calls for, could actually be replaced with just about any type of berry. Mint goes wonderfully with so many flavors! You could swap out your strawberries for raspberries, blueberries, blackberries… the list could go on! You could even combine more than one berry as well. It's fun to get creative with this cocktail.
Mint: If you're not a huge fan of mint, it could be swapped out for another herb such as basil. Strawberry and basil is a wonderful combination. You could also choose to leave the mint out of this altogether and just make a Strawberry Moscow Mule.
Vodka: While Moscow Mules are traditionally made with vodka as the alcohol, this can be changed very easily. If you prefer, you could swap it out for gin or rum. You could also leave the alcohol out and make it a virgin mule as well!
How to Make Strawberry Moscow Mule
Fill your glass with ice. Traditionally, Moscow Mules are served in a copper mug!
Add all of the ingredients to your glass.
Stir all of the ingredients together to combine them, and enjoy!
Tips for Making the Perfect Moscow Mule
Tip 1: Try muddling your fruit! Muddling, or mashing up your fresh fruit will help to release the fruit's flavor into the drink more.
Tip 2: Slap the mint! It may sound strange, but slapping your mint will help to warm up the mint and release the flavor within the leaves. To do so, hold the mint in one hand, laying flat against your palm. Then take your other hand and smack the mint, like you are clapping.
Tip 3: Making these drinks for a large group? If so, you can mix together your strawberries, mint, and vodka in a large pitcher. Be sure to multiply the number of ingredients by the number of people you will be serving. Then, pour the mix from the pitcher over ice into your copper mug, filling the mug halfway. Top the mug with ginger beer to the top and you are all set to serve a group of people!
More Great Cocktail Recipes
The Best Rainbow Sangria Recipe | Boozy Popsicles|Cotton Candy Champagne Cocktail | 4th of July Red, White and Blue Jello Shots | Peach Iced Tea | Lillet Cocktail | Hard Lemonade
Strawberry Mint Moscow Mule
This Strawberry Mint Moscow Mule takes an already delicious drink and cranks it up to the next level, it is so full of flavor!
Ingredients
3

fresh sliced strawberries

2

oz

vodka

½

lemon

just juice

6

ounces

sugar free ginger beer

1/2 12 ounce can

Pinch

mint leaves

1

oz

sugar free lemonade
Instructions
Fill the glass with ice. (preferably using a copper mug!)

Add all of the ingredients to the mug.

Stir all of the ingredients together and enjoy!
Nutrition Info
Calories:
230
kcal
|
Carbohydrates:
26
g
|
Protein:
1
g
|
Fat:
1
g
|
Saturated Fat:
1
g
|
Sodium:
16
mg
|
Potassium:
130
mg
|
Fiber:
2
g
|
Sugar:
21
g
|
Vitamin C:
50
mg
|
Calcium:
14
mg
|
Iron:
1
mg
Moscow Mules are the ultimate refreshing summer drink. This Strawberry Mint Moscow Mule takes an already delicious drink and cranks it up to the next level, it is so full of flavor!