These 5-ingredient Peanut Butter Dog Treats are so easy to make: just mix, roll, cut, and bake!
Jump to Recipe
These 5-ingredient Peanut Butter Dog Treats are so easy to make: just mix, roll, cut, and bake! In no time, your furry family member will be enjoying a healthy homemade dog treat. What better way to show your puppy you love them!
Peanut Butter dog treats
I am always baking treats for my 2-legged family members, so I thought it was about time to make something for my 4-legged family members! And let me just say, these homemade dog treats were a huge hit among the pups of our household. I'm not sure if they will ever go back to store-bought treats after enjoying these.
Truthfully, that might be okay with me, since these are super easy to make and healthy for the dogs. These peanut butter dog treats use natural ingredients that are dog-safe. So, they are treats that we love to give our furry friends, as much as they love to enjoy them!
If you want to create other homemade treats made of fresh fruits, check out this Blueberry Dog Treats your dog will love and it's loaded with vitamins and fiber.
WHY You Should make your own peanut butter dog treats?
Making your own peanut butter dog treats offers several benefits:
Control over ingredients: By making homemade treats, you have full control over the ingredients used. You can choose high-quality and dog-safe ingredients, avoiding additives, preservatives, and potential allergens.
Tailored to your dog's needs: Homemade treats allow you to cater to your dog's specific dietary needs or preferences. You can adjust the recipe to accommodate any food sensitivities, create treats for dogs with special dietary requirements, or simply provide a healthier alternative to store-bought options.
Bonding and fun: Preparing homemade treats for your furry friend can be a fun activity that strengthens the bond between you and your dog. It allows you to engage in a shared experience and provide them with something special made with love.
Remember to consult with your veterinarian before introducing any new treats into your dog's diet, especially if your dog has specific health conditions or dietary restrictions.
Why you'll love Peanut Butter Treats for Dogs
Natural treat for your dog
Quick and easy to make
Totally dog-friendly and approved
Short list of ingredients
Healthy dog treats
Cheaper than store-bought treats
Makes a big batch of about 40 treats
Can be stored in the freezer for months
Safe for humans, too!
Peanut Butter Dog Treats Recipe Ingredients
1 cup creamy peanut butter
1 egg
½ ripe banana, mashed
1 Tablespoon maple syrup
1 cup whole wheat flour
Peanut Butter Dog Treat Recipe Variations
PEANUT BUTTER: You can use any brand of peanut butter that you prefer. However, it is important to note that dogs can't have peanut butter containing xylitol. So, be sure to look for this in the ingredients. Most peanut butters do not have this, but it's best to check to make sure!
FLOUR: I always use whole wheat flour when I make these, but you could use white flour as well.
SEE FULL PRINTABLE RECIPE CARD BELOW
How to make Homemade Peanut Butter Dog Treats
There are just 4 steps to making these delicious homemade dog treats. They will come together very easily in just 10 minutes prep time.
Beat together peanut butter, egg, banana, and syrup.

Slowly mix in the flour.

Roll dough out on a floured countertop.
Pro-tip: When you're rolling out the dough you want it to be about ½ inch thick. This is the optimal thickness for proper baking.

Cut into cookies using dog-inspired cookie cutter.
Pro-tip: You can use whatever type of cookie cut-out or shapes that you, or rather your dog, prefers!

Set them on the sheet pan.

Bake for 15-25 minutes at 350 degrees.

Storing this Peanut Butter Cookie for Dogs
You can keep these at room temperature for a day or two, but afterwards they should be placed in your refrigerator or freezer in an airtight container.
If in the refrigerator, they will keep for up to 10 days. If you freeze them, they will be good for a few months.
FAQs for Peanut Butter Dog Treats RECIPE
How long do I cook my Home Made Dog Treats?
The cook time is dependent on how soft or crunchy you would like your dog treats and how large your cookie cutter are. I like to bake three different sizes of treats at the same time and temperature so that I have a variety of crispy and soft treats, depending on what I would like to feed my dog at the time.
What brand peanut butter is safe for dogs?
Any peanut butter that doesn't contain xylitol is safe for dogs. JIF, Peter Pan, Skippy are all xylitol-free.
Can I use regular flour for dog treats?
White flour is not recommended to use in homemade dog treats.
What age can I give my dog regular peanut butter?
Dogs can start having little bits of peanut butter starting at 6 weeks. Peanut butter should be given to dogs in moderation.
is peanut butter good for dogs?
Peanut butter can be good for dogs when given in moderation and as part of a balanced diet. It is a good source of healthy fats, protein, and vitamins, but it's important to choose peanut butter that is free from additives like xylitol, which is toxic to dogs. Always check the ingredients list and opt for natural, unsalted peanut butter without any added sugars or artificial sweeteners.
How long will Homemade Dog Treats keep?
Homemade dog treats can typically keep for about 1 to 2 weeks when stored in an airtight container in a cool and dry place and can be frozen for a few months. It's always a good idea to check the treats for any signs of spoilage before feeding them to your dog. If in doubt, it's best to make smaller batches and refrigerate or freeze the treats to extend their shelf life.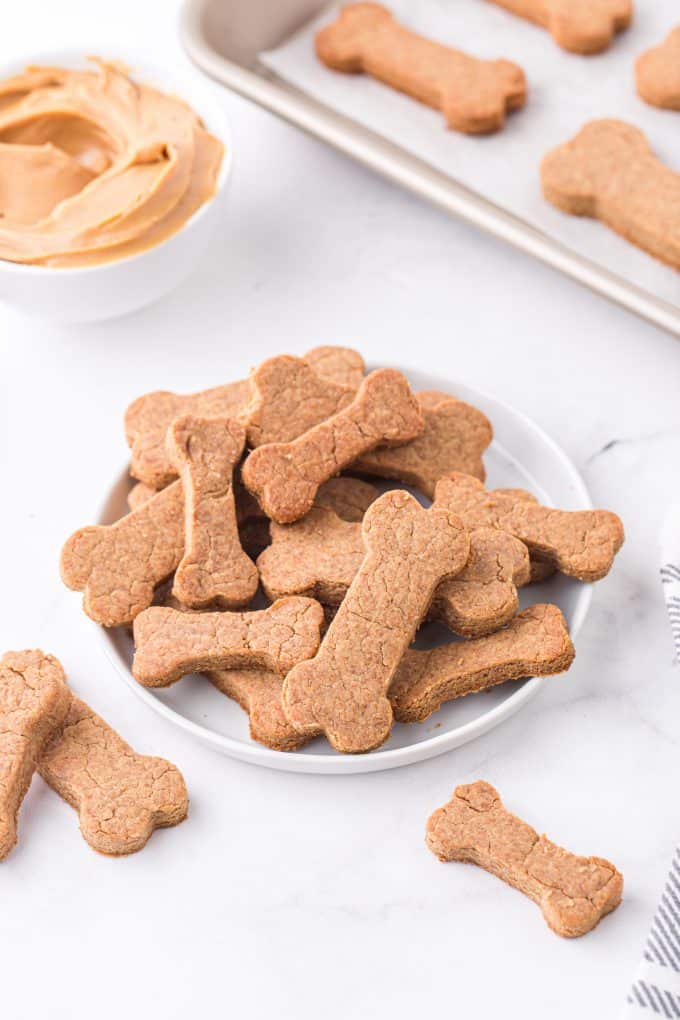 More Other Easy Homemade Dog Treat Recipes
Peanut Butter Dog Treats
These 5-ingredient Peanut Butter Dog Treats are so easy to make: just mix, roll, cut, and bake!
Ingredients
1

cup

creamy peanut butter

1

egg

½

ripe banana

mashed

1

tbsp

maple syrup

1

cup

whole wheat flour
Instructions
Preheat the oven to 350 degrees Fahrenheit and set aside a baking pan that is lined with parchment paper.

In a mixer, beat together the peanut butter, egg, banana, and maple syrup until fully combined. Slowly beat in the whole wheat flour.

Take the dough and roll it out on a floured countertop until it is ½ inch thick. It should be a crumbly dough. If you would like to firm it up slightly, add in 2-3 Tablespoons of water.

Once rolled out, use a dog-inspired cookie cutter to cut out cookies and set them on the sheet pan.

Bake for 15-25 minute or until golden brown. Remove and let cool before serving.
Jenn's Notes
The dough will be crumbly as you're working with it. If you want to firm it up slightly you can add in 2-3 tablespoons of water.
Nutrition Info
Calories:
52
kcal
|
Carbohydrates:
4
g
|
Protein:
2
g
|
Fat:
3
g
|
Saturated Fat:
1
g
|
Trans Fat:
1
g
|
Cholesterol:
4
mg
|
Sodium:
31
mg
|
Potassium:
61
mg
|
Fiber:
1
g
|
Sugar:
1
g
|
Vitamin A:
7
IU
|
Vitamin C:
1
mg
|
Calcium:
5
mg
|
Iron:
1
mg