For the last several years, I have combed the stores looking for Hanukkah decorations. I live in a community with a larger Jewish population, so I probably have a great deal more than many to choose from. Our Bed Bath and Beyond has two aisles dedicated to Hanukkah, Target has part of one, Hobby Lobby has ZERO and Walmart has an end cap.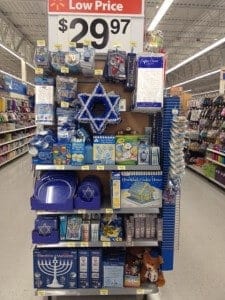 So, a couple of weeks ago, the Menorah Tree brothers, Mike & Alex, contacted me and asked me if they sent me a complimentary Menorah Tree would I be willing to review it on my blog. A Menorah Tree, hmmmm, my mom always told me we couldn't have a Hanukkah Bush, but she never said anything about a Menorah Tree! I have always loved decorating for all of the holidays and have always felt that Hanukkah totally got the shaft! I mean, seriously, Hanukkah is the Festival of Lights, after all.
The big box arrived last night with the big MENORAH TREE label on it and my kids couldn't wait to rip it open and build it! The instructions were easy enough for a 14 and 12 year old to build it in about 1/2 hour. We had some lights that we decorated it with and , there you go, Hanukkah decor is done!
The Menorah Tree is $295, so it is a bit of an investment, but it is VERY well made. It is something that you will have for years. The base is made of aluminum and there is a laser-cut Star of David accent on the front. The dimensions are 86″ H x 56″W x 2″ D. As I mentioned, it is very easy to put up and take down and can be easily stored. One thing I would love to see in Menorah Tree 2.0 would be a power strip on the back of the base. This would make it much easier to affix the lights and decorations!
Following are some pictures. The first one is from their website: menorahtree.com. The others are from our own personal Menorah Tree.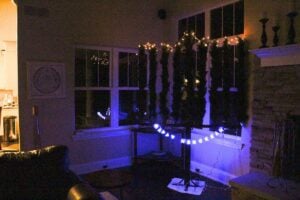 So here is the bottom line…. while many of my friends and family may feel that having a Menorah Tree may be too non-traditional for their liking, this will be an amazing addition to our annual Chrismukkah Party and is perfect for our friends of interfaith marriage!
Thank you Alex and Mike for this great addition and new Hanukkah tradition!
The Menorah Tree can be purchased at www.menorahtree.com.