This post may contain affiliate links. Read my disclosure policy here.
I am OBSESSED with Pinterest – love it, love it, love it! I not only have an unnatural and probably unhealthy addiction to it, but some people must kind of like what I do on there, I have more than 3.5 million followers! I get asked all of the time tons of questions about how to use Pinterest to help grow a business. Well, I had the amazing opportunity to visit the Pinterest office in NYC and met with their Community Manager – she has the most amazing haircut by the way! We were able to ask pretty much anything we wanted and we got some very informative information, which I am going to share with you today -please note, some of the suggestions are straight from Pinterest and others are my "observations". Overall, it focuses on how to be successful on Pinterest and tips and tools to make your content more search friendly – enjoy!!
What are the ideal images to pin?
This was an easy one, but one of the things that so many people don't understand and don't do. Image is EVERYTHING on Pinterest. You can have the best recipe or craft or product you want to pin, but if you don't have the right image, forget about it. Per Pinterest, vertical is definitely better than horizontal – hands down! When someone goes to their home feed on Pinterest, they just start scrolling and waiting for something to jump out at them. If it doesn't jump – they just scroll right by. Think about it like this – when you go into a store looking for that perfect outfit. The first thing you look at is the outfit on the mannequins. They are right there in your face, strategically placed, right when you walk in the door. If the outfit on the mannequin is something that you connect with, you are going to search further for the pieces that make up that outfit. Pinterest is the same – but you want to have that pin that stands out from the others and vertical will stand out better than a small horizontal picture. Now for my observation – One way to do that is to take up more real estate on the home feed – you do this with longer pins. See the example below. The picture below all the way to the left is a regular square image – not too exciting. The picture looks good, but you may or may not notice it. The middle one takes up more space on the feed, you are sure to notice it more. The third, that's the ticket! Your followers have more chance to see it because it is on their screen for longer and jumps out at you!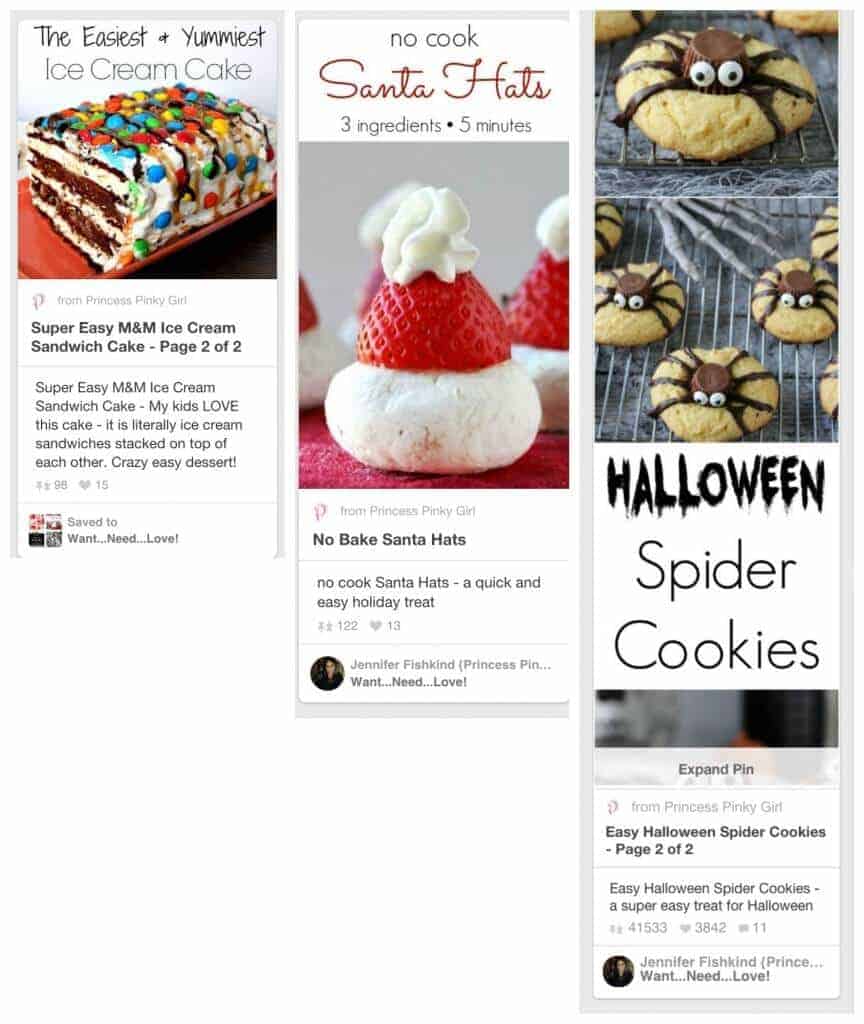 Also, people love the step-by-step tutorial type of pictures – it shows them that the project is achievable. You just want to give them enough to peak their interest, so they want to click on the picture to see more at your site.
How important are searches in Pinterest
Searches are HUGE! Pinterest sees itself as a giant search engine and that is the way it is now prioritizing pins. So, having the right image and making your pins "search ready" …. these are the two things that you want to focus most on to be successful on Pinterest. So what does that means? Well here are a few key pointers to get search ready:
Think SEO – Search Engine Optimization. This totally applies within Pinterest. Most people go to Pinterest with something in mind. They are looking for a particular recipe or craft or decor idea. When you pin your image to Pinterest, make sure that images name describes what it is. For instance, these Halloween Spider Cookies are one of my popular posts right now.
In the past I may have named it, "Spider Cookies Pinterest", so I knew that the image was for Pinterest. Now, I will make sure that the name is more descriptive "Halloween Spider Cookies Recipe – an easy and delicious Halloween treat". I will name it this and make sure it is also populated in the Alt Tag as well. This way, when someone pins it, that is what comes up in the Pin description AND most importantly, it has some of the key words that people may search, like: Halloween, recipe, Halloween treat, easy, etc. Also, think about putting your key ingredients (if a recipe, for instance) in the pin description. This makes it more likely to do well in Pinterest's search engines. Note from the folks at Pinterest – Alt tags are not indexed by Pinterest search. but it is a good idea to set up alt text to become pre-filled Pin descriptions when folks Pin from your site, which is a good practice, but they're not automatically indexed and used for Pinterest search result rankings.
The same thing goes for the title of your post – you want to make sure that you have those same key words within your title – Pinterest is going to scan the title of the post as well.
Ditto on board titles – I know it is fun to have kitsche and cute board titles, but if you are going for better search results – put your SEO hat on and make them basic and searchable. For example, I had a board called "Dinners that I could even make" – while this described what I was putting on there, it wasn't necessarily very searchable. Someone may come on and search for "dinners that I could even make", but they were more likely to be a lot more people searching for "Easy dinner recipes". So that is now the name of my board!!
Text overlays – do I or don't I?
According to Pinterest – You do! While text overlays are not considered in the Pinterest search engines, it is a best practice for making your content more actionable and helpful for Pinners and that's why they tend to perform well. So Pinterest says YES, use text overlays to help your pins do better. But, be smart about it. Just because you can, doesn't mean you should. What I mean by that, is use text overlays to enhance your photo, not clutter it. Use basic fonts and not a lot of other distractions. There are some super cute fonts that we love and think would be so cute, but resist the urge and lean towards the more "readable" fonts. If your audience cannot read it, they will just pass it by.
Hashtags or No Hashtags
According to Pinterest – hashtags are not necessary. The Pinterest search engines do not care about hashtags – They are treated the same as the words in your descriptions – so don't bother with them on Pinterest!
Boards, Boards and More Boards
Bottom line, if you are not actively pinning to a board, get rid of it! Pinterest likes activity. If you have a board that has 5 pins and your are not pinning to it actively, it's search engines will ignore it!
Group Boards – Should I or Shouldn't I
This more my observation and not straight from Pinterest – Are you on one of those group boards that have a really good following, but has hundreds, if not more, other pinners and you cannot understand why you cannot get good repins on it? A couple of things may be happening….First, your pins get buried really fast and no one sees them. Second, there may be some people on it who are spamming. This marks the whole board as spam and your stuff will not get seen. Third, if some of the others are pinning questionable content and a follower reports it, again, the board gets hidden while Pinterest is looking into it and your pins will not be seen. Personally, if you are going to be part of a group boards, stay on the boards with less than 25 other pinners that you know have quality content- I have nothing to back it up, just my thoughts, for whatever that is worth.
Scheduling Software
I did ask about scheduling tools and if it will negatively ding your pins. The answer was no – Pinterest does not care if you are using scheduling software or pinning in real time. I have tried a few different scheduling tools and my personal favorite is Viral Tag. I think for Pinterest in particular, it works the best. Especially if you are pinning in batches. Check it out here!
So I have shared everything I learned at my Pinterest visit. I truly hope this is helpful – if you know of any Pinterest secrets or myths that have been demystified please leave them in the comments for others to see! It is a big blogging world out there and there is enough room for all of us to be successful, so let's share our knowledge and get stronger and better together!!
xoxo,
Jenn
Sign up for the Princess Pinky Girl Newsletter and automatically receive our latest & greatest delivered right to your inbox! Follow Princess Pinky Girl on Facebook, Twitter, Pinterest and Instagram for all of the newest recipes, crafts, travels and updates!
If you make a Princess Pinky Girl creation make sure you take a picture and share it on Instagram with @princesspinkygirl ! I love seeing your masterpieces!