A topiary centerpiece can make such a statement. There are tons of great holiday topiary out there, some easy to make, some more difficult (you know me…. I always like the easy, I leave the challenging one's for my sister!!). However, good news for me is that even the easiest topiary will make a huge impact on your table! Here are a few that will leave your guests in awe!
Christmas Light Topiary
source: haterandhareevents.blogspot.com
DIY Christmas Candy Topiary
source: shindigz.com
Christmas Present Topiary
source: thatvillagehouse.blogspot.com
Christmas Ball Tree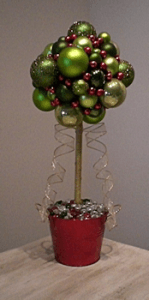 source: handeemandee.com
Peppermint Topiary Tree
source: showtellshare.blogspot.com
Topiary is not just for Christmas anymore!
Valentine's Day Topiary
source: gluegunsandspatulas.blogspot.com

Fourth of July Topiary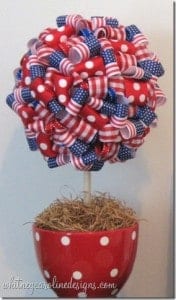 source: whitneycaroline.blogspot.com
Halloween Topiary
soucce: southernyankeemix.com
Candy Topiary – Any occasion
Double Bubble Topiary

Dum-Dum Topiary


Gumball Topiary

For the most part you will need a decent hot glue gun. I would recommend investing in a decent one. Use that ever-so-valuable 40% Michaels coupon and you will not believe how many projects it will come in handy for!
Hey All…. I am always looking for some good ideas for holiday table decorating and decorating in general! Any good (and easy) ideas out there??