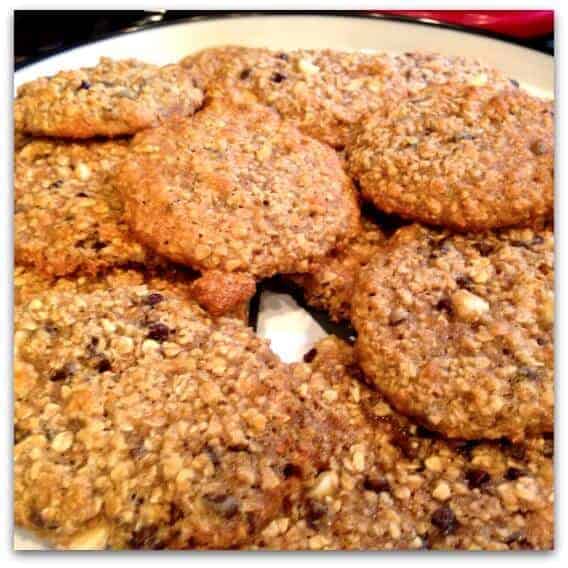 Soft and chewy oatmeal cookies made with applesauce and egg whites makes a great snack.
Jump to Recipe
These soft and chewy healthy oatmeal cookies are substituted with eggs whites and applesauce. They are sweet and the perfect oatmeal cookie texture.
I went over to my friend Jayme's today and she was busy baking. She is one of those bakers who can swap out ingredients and not stress about it. If you are anything like me, I have to have everything exact. I follow instructions to the letter and when someone tells me "just throw in a little of this and a little of that" – forget it…. that recipe is history for me!
So, she found this Chewy Oatmeal Cookies recipe on the back of a brown sugar bag and decided to make it a healthier chewy oatmeal cookie!
I always thought that oatmeal cookies were "healthy", but when I looked at the ingredients – boy was I wrong! 4 eggs…. 1 1/2 cups shortening – yikes!!!
The best part is when I tasted these – OMG were they amazing!!! I am telling you that you will not be disappointed in these cookies. You would never know they were a healthier chewy oatmeal cookie!
Here's What You Need:
2 GoGo Squeeze Apple Sauces
1/4 cup canola oil
2 2/3 cup light brown sugar, packed
2 egg whites & 2 eggs beaten
2 teaspoons vanilla extract
2 cups all purpose flour
1 1/2 teaspoon baking soda
1 pinch of salt
4 1/2 cups oatmeal
1/2 bag semi-sweet chocolate chips
1/2 bag white chocolate chips
OPTIONAL: Banana and dried cherries
Here's What You Do:
Preheat oven to 350 degrees
Combine flour, baking soda and salt in a bowl and set aside
Beat brown sugar and apple sauce and oil in large bowl until cream (use an electric mixer)
Add vanilla and eggs and mix
Add dry ingredients and mix until blended
Stir in oatmeal and chocolate and white chocolate chips
Drop cookie dough onto ungreased baking sheets
Bake cookies until starting to brown but middle looks underdone – 10 -12 minutes
Cool slightly and transfer cookies to wire rack to cool completely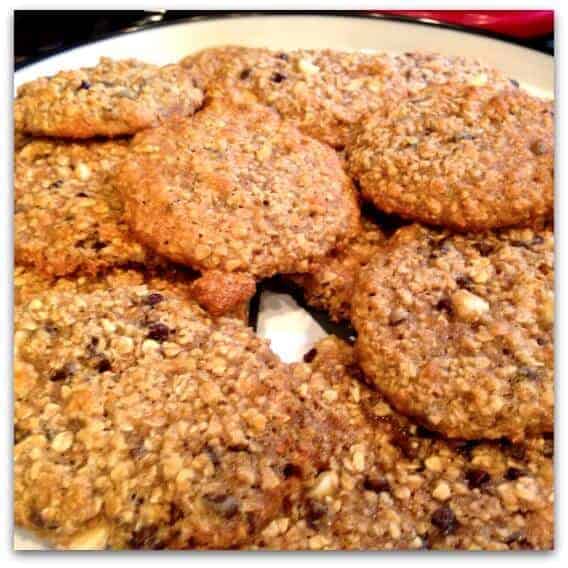 Healthy Oatmeal Cookies
Soft and chewy oatmeal cookies made with applesauce and egg whites makes a great snack.
Ingredients
2

GoGo Squeeze Apple Sauces

¼

cup

canola oil

2 ⅔

cup

light brown sugar

packed

2

egg whites

beaten

2

eggs

beaten

2

teaspoons

vanilla extract

2

cups

all purpose flour

1 ½

teaspoon

baking soda

1

pinch

salt

4 ½

cups

oatmeal

½

bag semi-sweet chocolate chips

½

bag white chocolate chips

OPTIONAL: Banana and dried cherries
Instructions
Preheat oven to 350 degrees

Combine flour, baking soda and salt in a bowl and set aside

Beat brown sugar and apple sauce and oil in large bowl until cream (use an electric mixer)

Add vanilla and eggs and mix

Add dry ingredients and mix until blended

Stir in oatmeal and chocolate and white chocolate chips

Drop cookie dough onto ungreased baking sheets

Bake cookies until starting to brown but middle looks underdone – 10 -12 minutes

Cool slightly and transfer cookies to wire rack to cool completely
Nutrition Info
Calories:
194
kcal
|
Carbohydrates:
38
g
|
Protein:
3
g
|
Fat:
4
g
|
Saturated Fat:
1
g
|
Polyunsaturated Fat:
1
g
|
Monounsaturated Fat:
2
g
|
Trans Fat:
1
g
|
Cholesterol:
14
mg
|
Sodium:
88
mg
|
Potassium:
87
mg
|
Fiber:
1
g
|
Sugar:
24
g
|
Vitamin A:
20
IU
|
Vitamin C:
1
mg
|
Calcium:
28
mg
|
Iron:
1
mg