We are big game people at our house! We love sitting down around the kitchen table and playing games. We have a closet that is filled to the rim with old games, new games, classic games – you name it! So, I thought I would share some of our favorite games for family game night!
Apples to Apples
This is a GREAT game for larger groups – you need four or more players and it is so much fun.
click to purchase
Yam Slam
This is a cross between Yahtzee & poker – my husband and I like playing this by ourselves too!
click to purchase
Blokus
This is a quick thinking strategy game that kind of reminds me a bit of Tetris.
click here to purchase
Double Shutter
Do you kids ever ask you to play a game, but you really don't feel like it? This is the perfect game for that time…. it is quick, easy and fun!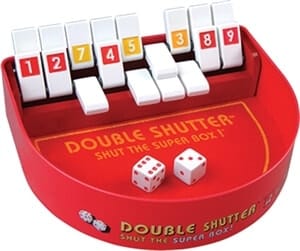 click here to purchase

Spot it
Also a quick and fun game and is great for traveling or to bring to a restaurant!
click here to purchase
Qwirkle
This game is like dominos on steroids – SO fun!
click here to purchase
Cards Against Humanity
ALERT: This is the Anti-Family Game night game – this is for adults only, but will turn an adult get together into a blast!!! You will not stop laughing all night!
click to purchase
We are always looking for new games to play. What are some great games you play with your family?