Christmas Gingerbread House
Hi everyone! I'm Mary Ellen from Recipes Food and Cooking and I'm so happy to be here sharing one of my favorite holiday traditions with you – making a Christmas Gingerbread House. I have so much fun making these. It's how I start the holiday season.
I used to cut my gingerbread house using a pattern traced onto parchment paper until I found these cutters a few years ago. I noticed a few weeks ago that several of the big box craft stores were selling them so if you're lucky they still might have some or you could check at Amazon.
I've been using the same recipe for the houses that I've used for years. It is pretty fail safe and came from a Wilton Gingerbread book I have. I roll the dough out on the back of a greased cookie sheet so I don't have to move the pieces which could distort them. I imagine you could really have a difficult time when you go to put it together. I also put the cookie sheets in the refrigerator for 10 minutes before I bake them. This helps to keep the dough from spreading as much.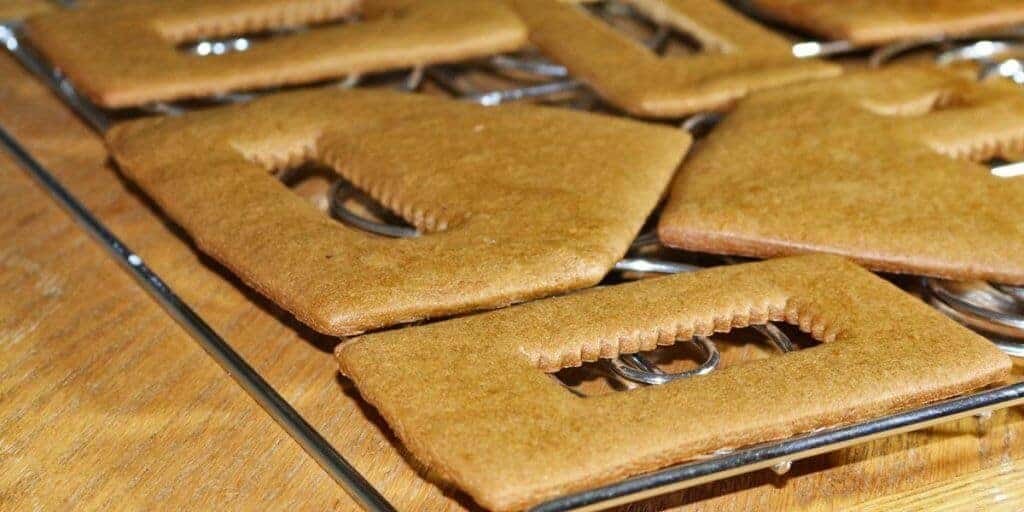 When you bake the gingerbread house you want them to be very dry. I left them air dry for at least a day before I put the houses together. I actually for the first time had an issue with the houses softening up after a few days because of the humidity. If this happens to you heat your oven to the lowest setting. Put the pieces directly on the oven rack. You are not trying to bake them again, just dry the pieces. Watch it carefully and turn off the oven as soon as the oven gets warm. Leave them in the oven overnight with the door closed. You could leave the oven light on also which would help but I didn't think of it until just now. I actually turned my oven on again a couple of times that evening for just a couple of minutes. You shouldn't have to do this but in case you do this should solve the issue.
I have found thru the years that hard candies work best especially if they are going to be setting out for any length of time. You also don't want them setting in direct sunlight.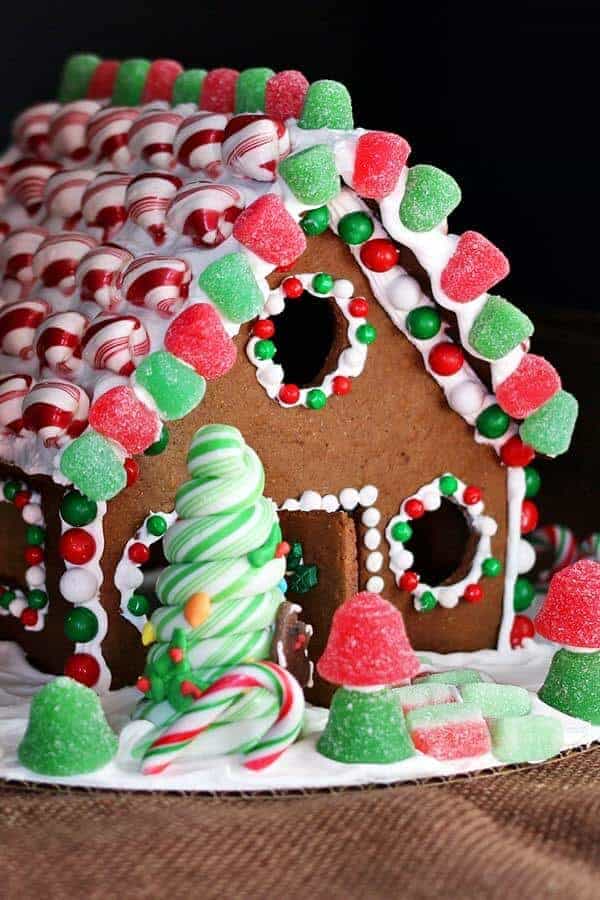 Christmas Gingerbread House
Prep Time: 15 minutes
Cook Time: 6 – 12 minutes
Total Time: 2 hours
Ingredients
5 cups flour
1 teaspoon baking soda
1 teaspoon salt
2 teaspoons ginger
2 teaspoons cinnamon
1 teaspoon nutmeg
1 teaspoon cloves
1 cup solid white shortening
1 cup sugar
1 1/4 cups molasses
2 eggs beaten
Instructions
Thoroughly mix together the flour, soda, salt and spices.
In a saucepan melt the shortening. Let cool slightly and add the sugar and molasses. Add eggs when cool.
Add the oil mixture to your mixing bowl fitted with the paddle attachment. Add 4 cups of the flour. Mix together thoroughly. Add remaining flour a little at a time to make a stiff dough.
Roll out the dough on the back of greased cookie sheets to about 1/8th inch thick. Lay your pattern pieces on top and cut out with a knife or pizza cutter. Place cookie sheets in the refrigerator for 15 minutes.
Preheat oven to 350 degrees. Bake for about 6 minutes for smaller pieces and up to 12 for the larger pieces like the roof. Let set on the cookie sheet for a few minutes before removing to a wire rack to cool. Let pieces dry overnight before assembling.
Get the Royal Icing recipe here for decorating the house.
See some of my other Christmas recipes.
Christmas Gingerbread House and a list of some suggestions for types of candies to use.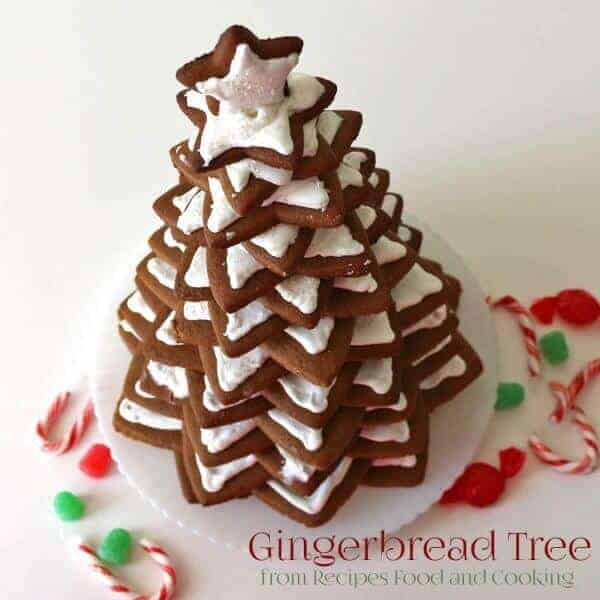 Pin It!
Mary Ellen loves to cook and bake and learned to cook watching her grandmother, mom and aunts in her grandmother's busy kitchen. It was a magical place where it seemed as if the pot never emptied and there was always room at the table for one more. It seems only natural that she would love to cook and bake so much. She worked in her uncle's restaurant all through school and continued on a culinary path for about 15 years including being a pastry chef. She even owned a bakery for a short time. She is the owner of That's My Home, Recipes Food and Cooking and Razzle Dazzle Recipes.
I'd love it if you followed me!
Facebook//Google+ //Pinterest//Twitter