Hi, Stephanie here from Year-Round Giving sharing my Chocolate Espresso Cupcakes with Chocolate Dipped Cherries. What better time to share these decadent little cupcakes when Valentine's Day is just a couple days away!
This Valentine's Day we are spending it together as a family. No babysitter, no reservations and no stress. I have a simple steak and potato dinner planned out for the evening. The real highlight of Valentine's Day is the chocolate desserts. Along with these cupcakes, I made my kiddos these adorable Chocolate Covered OREOs with Candy Hearts.
These gorgeous cupcakes and frosting are made entirely from scratch which makes them extra special. The chocolate cake is baked with espresso to make these cupcakes extra moist. The rich butter frosting contains a hint of coffee and the chocolate dipped cherry takes this cupcake over the top.
These cupcakes paired with a red wine will make a romantic dessert for two. Chocolate, Coffee, and Cherries what is there not to love about these cupcakes?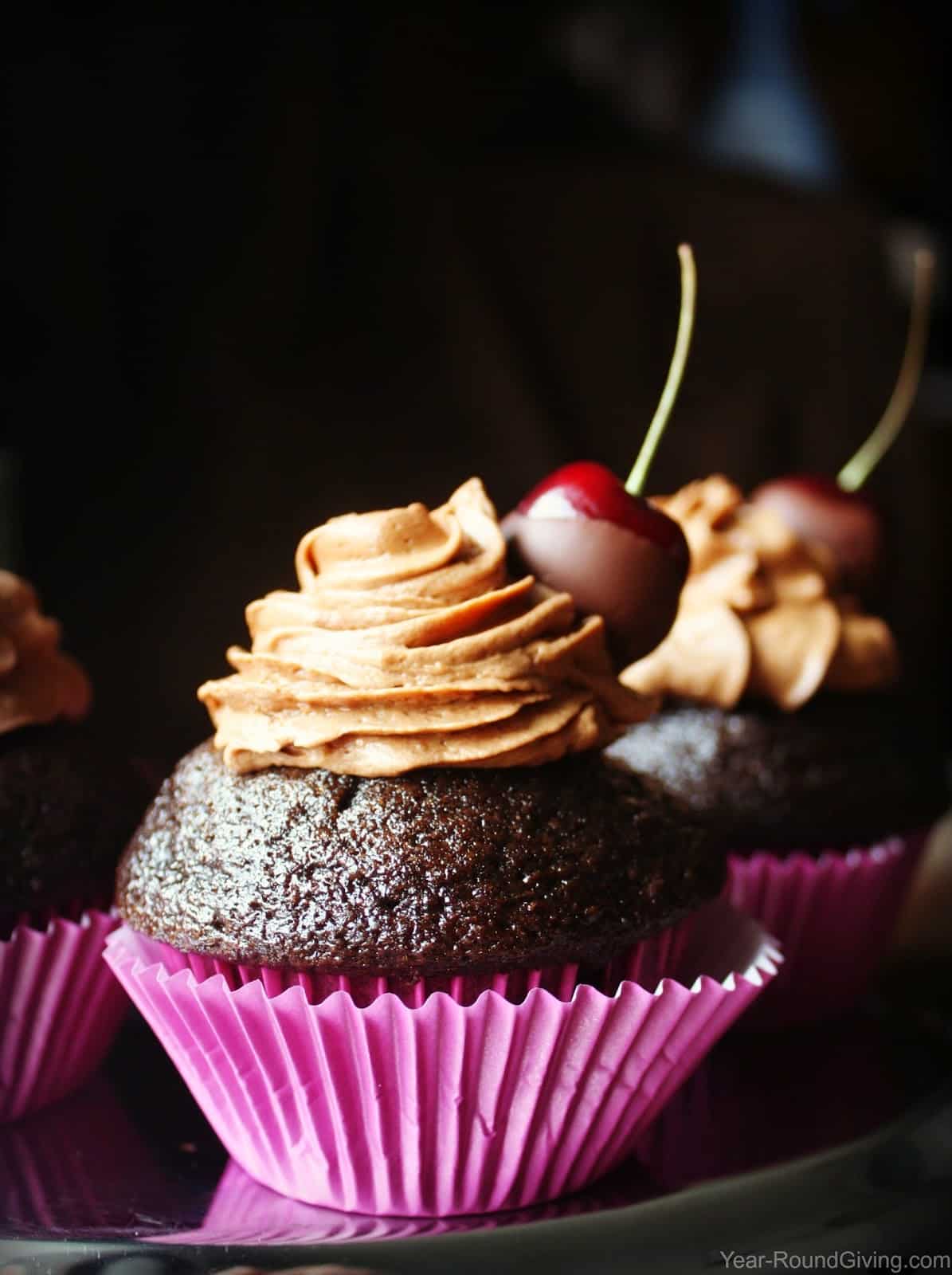 Chocolate Espresso Cupcakes with Chocolate Covered Cherries
Cake Ingredients
1 3/4 cups all purpose flour
2 cups sugar
3/4 cup cocoa powder
2 tsp baking soda
1 tsp baking powder
1 tsp salt
1 cup buttermilk (full fat if your store only carries 1% Buttermilk go to a different store)
1/2 cup vegetable oil
2 large eggs
1 tsp bourban vanilla extract
1 cup freshly brewed espresso
Frosting Ingredients
6 oz. semisweet chocolate
2 sticks of salted butter
1 egg yolk
1 tsp bourban vanilla extract
1 1/4 cups confectioners sugar
1 Tbs instant coffee granules
Chocolate Dipped Cherry Ingredients
6 oz. milk chocolate
24 dark cherries
Directions for the Cupcakes
Preheat oven to 350F.
Line cupcake pan with cupcake liners.
In a mixing bowl combine flour, sugar, cocoa powder, baking soda, baking powder and salt.
In another mixing bowl combine buttermilk, vegetable oil, and eggs.
Pour wet ingredients into the dry ingredients and mix until well blended.
Add vanilla and espresso and stir with a spatula or wooden spoon from the bottom up.
Pour into cupcake liners and bake for 15 minutes or until an inserted toothpick comes out clean.
Let completely cool.
Directions for Frosting
Melt chocolate in a double boiler. Let cool.
In a mixing bowl beat butter until fluffy.
Add egg yolk and vanilla and continue to beat until well combined.
Slowly mix in confectioners sugar. Blend until the mixture is creamy.
Dissolve the instant coffee granules in 1 tablespoon of hot water. Pour into frosting mixture.
Pour melted chocolate into frosting mixture and slowly combine. Do not whip.
Chill frosting before spreading on the cupcake.
Directions for Chocolate Dipped Cherries
Line a tray with wax paper.
Melt milk chocolate in a double boiler.
Dip cherries in the melted chocolate and place on prepared tray.
Refrigerate for 15 minutes or until chocolate has set.
Top frosted cupcakes with chocolate dipped cherries.
Stephanie Jackson is the creator at Year-Round Giving where she creates recipes for breakfast to dessert to cocktails and everything in between. Spring through Summer she gets her hands dirty in the garden bringing fresh garden ingredients to create unique recipes. Connect with her on social media.
Facebook / Twitter / Pinterest / Google Plus / Instagram / Bloglovin / Subscribe /