This post may contain affiliate links. Read my disclosure policy here.
I have a new obsession – Cauliflower bread anything!!! I tried Cauliflower Pizza a few weeks ago and I was totally won over – I couldn't believe that cauliflower could possibly be made into a convincing bread – boy was I wrong!! I have been just waiting to experiment with making a Cauliflower Breadsticks and I think I have perfected it! OMG these were so good. I didn't tell my family that they were cauliflower and they all loved it! I have successfully snuck vegetables into my kids – yay me!!!
Here is what you need:
Cauliflower head
1/2 – 3/4 cups of shredded mozzarella cheese
1/4 cup shredded parmesan cheese
2 eggs
1 teaspoon garlic salt (love Lawry's)
1/4 teaspoon oregano
1/2 teaspoon basil leaes
Here is what you do:
Preheat oven to 450 degrees
Place a piece of parchment paper on a cookie sheet and spray it with non-stick butter spray.
Cut off the florets of the cauliflower – try to cut off as much of the stem as possible. Place the florets in a food processor and "rice it" – you do this by pulsing the food processor – press the button in short "pulse-like" increments- be very careful not to over process and puree, it won't be good! NOTE- my cauliflower head made 2 cups of cauliflower rice.
The cauliflower should come out looking almost grain like. See below: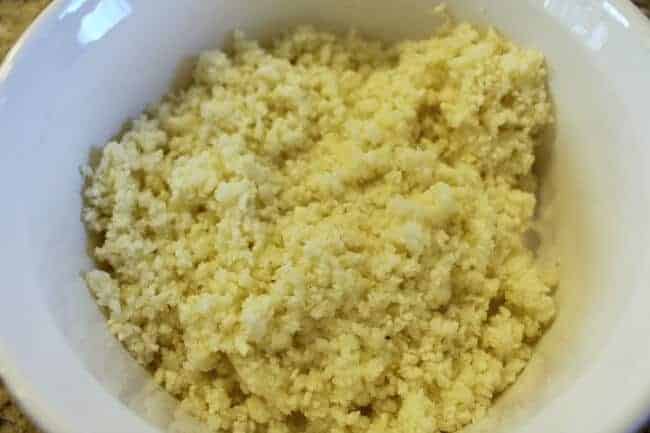 Place the cauliflower in a microwave safe bowl and microwave it for about 8 minutes. NOTE – don't be surprised, it really shrinks down!!
Pour it out on a kitchen towel or paper towels and wring the water out of it. The more water you get out the better.
Place in a bowl and mix in all of the other ingredients.
Place the mixture on the parchment paper and mold it into your desired shape. (careful not to make it too think or thin!)
Place the cookie sheet in the oven and bake until the edges start to get golden brown and the middle sets – about 20 minutes.
Remove from oven and use a spatula to flip over.
(optional) Add some additional mozzarella cheese to top (you won't regret it) and place back in oven for a few more minutes until cheese is melted.
Remove from oven and slice. Serve with marinara sauce to dip
Enjoy!
Looking for some other easy meals that your family will love – click on the pictures below!
Sign up for the Princess Pinky Girl Newsletter and automatically receive our latest & greatest delivered right to your inbox! Follow Princess Pinky Girl on Facebook, Twitter, Pinterest and Instagram for all of the newest recipes, crafts, travels and updates!
If you make a Princess Pinky Girl creation make sure you take a picture and share it on Instagram with @princesspinkygirl ! I love seeing your masterpieces!