Blueberry Cobbler – There is nothing better than a fresh fruit cobbler with a scoop of ice cream on a summer day.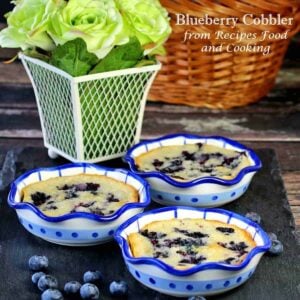 Blueberry Cobbler
Hi everyone, I'm Mary Ellen from over at Recipes Food and Cooking and That's My Home. I'm excited to be here this month and I'm sharing my favorite recipe for Blueberry Cobbler. There is nothing better than a fresh fruit cobbler with a scoop of ice cream on a summer day. Wait until you get a bite of those crispy edges, they are the best!
You can do these with about any fruit you have. This is my favorite way to do peaches. Fresh pineapple is also good. You can do them individually like I did here or in an 8 x 8 pan or skillet.
It should be blueberry season for a lot of you right now. It is so fun to go out and pick (eat) the fresh blueberries. Here in Florida our season is in April. I try and pick at least 20 lbs. for the freezer to use throughout the year. Blueberries are easy to freeze, just put them in a freezer bag. You don't wash them until you are ready to use them.
This is a quick and easy recipe. You can put it together in less than 10 minutes and no mixer required.
Blueberry Cobbler
1/2 cup butter – melted
1 cup flour
1 cup sugar
1 1/2 teaspoons baking powder
½ teaspoon salt
1 teaspoon vanilla
3/4 cup milk
2 cups blueberries
Preheat the oven to 350 degrees.
Put all of the ingredients except the blueberries in a mixing bowl. Use a wire whisk and mix until it all is incorporated.
Spray 4 baking dishes or a 8 x 8 pan with cooking spray. Pour batter into dishes. Sprinkle with the blueberries.
Bake for 35 – 40 minutes. Tops will puff in the center and edges will start to brown.
Maybe you'd like to try our recipe for?
Pin It!
Mary Ellen loves to cook and bake and learned to cook watching her grandmother, mom and aunts in her grandmother's busy kitchen. It was a magical place where it seemed as if the pot never emptied and there was always room at the table for one more. It seems only natural that she would love to cook and bake so much. She worked in her uncle's restaurant all through school and continued on a culinary path for about 15 years including being a pastry chef. She even owned a bakery for a short time. She is the owner of That's My Home, Recipes Food and Cooking and Razzle Dazzle Recipes.
I'd love it if you followed me!