This post may contain affiliate links. Read my disclosure policy here.
Jump into spring with these delicious Blackberry Lime Scones that are loaded with fresh blackberries and tangy lime. They make the perfect treat for your Spring get-togethers.
Hello everyone! I'm Jackie from The Seaside Baker and I am so excited to be a new contributor here on Princess Pinky Girl! I am a huge fan of baking and cooking with the season's finest produce and thus bring you these Blackberry Lime Scones.
If you are looking for an easy, impressive, and delicious treat, these scones are it. Loaded with fresh and juicy blackberries, these scones taste just as good as they look. The blackberries release their juices while baking creating a beautiful almost marbled effect in the scone.
Scones are one of those things that everyone loves, and non-bakers think take forever to bake, which in fact, they do not. Scones are incredibly easy to make and only take about 30 minutes from start to finish. If you have a nifty food processor, it takes even less time! The beauty about this recipe is that you can substitute any berry or fruit, or even omit the fruit for a Starbucks like vanilla scone.
Blackberry and lime is one of my favorite flavor combinations ever. It combines the juiciness and subtle sweetness of the blackberry with the tanginess of the lime. It creates a cool and refreshing bite that pairs perfectly with the buttery base of the scone. It is also a great flavor combination for savory dishes such as salmon or chicken.
So, if you are looking for the perfect treat for your next Spring inspired brunch, make these scones! They will be a complete hit! For more Blackberry Lime deserts or scones, check out our recipes below! Enjoy!
Blackberry Lime Scones
Jump into spring with these delicious scones that are loaded with fresh blackberries and tangy lime. They make the perfect treat for you Spring get-togethers.
Prep Time: 10 minutes
Cook Time: 17 minutes
Total Time: 27 minutes
Servings: 6
Ingredients
2 1/2 cups all purpose flour
1/2 cup granulated sugar
1/2 tsp salt
1/2 tsp baking soda
1 tsp baking powder
8 tablespoons butter (cold and cut into small slices)
2/3 cup half & half
2 teaspoons lime juice
1 tbsp lime zest (freshly grated)
1 egg
1 cup blackberries (fresh or frozen)
Lime Glaze
1 cup powdered sugar
1/2 tbsp lime juice
1/2 tbsp lime zest (freshly grated)
Instructions
Preheat oven to 400 degrees. Line baking sheet with parchment paper.

In a large bowl or the bowl of your food processor, blend together flour, sugar, salt, baking powder and soda.

Add cold butter slices and cut into flour or pulse until small clumps form.

Add half & half, lime juice and zest, and egg and mix or pulse until just combined.

If using frozen blackberries, add to the dough and pulse with food processor 2 times until combined. If using fresh blackberries, knead into dough with clean hands.

Form dough into a large disk and slice into 6-8 wedges.

Carefully separate wedges and place on baking sheet.

Bake scones for 12 minutes or until the edges begin to turn golden brown. Cool completely before icing.

To make the glaze, combine powdered sugar, lime juice and zest, and whisk until smooth.

Top each cooled scone with 1 tablespoon of glaze.

Enjoy immediately or place in an airtight container in the fridge for up to two days.
Recipe Notes
Recipe from The Seaside Baker for Princess Pinky Girl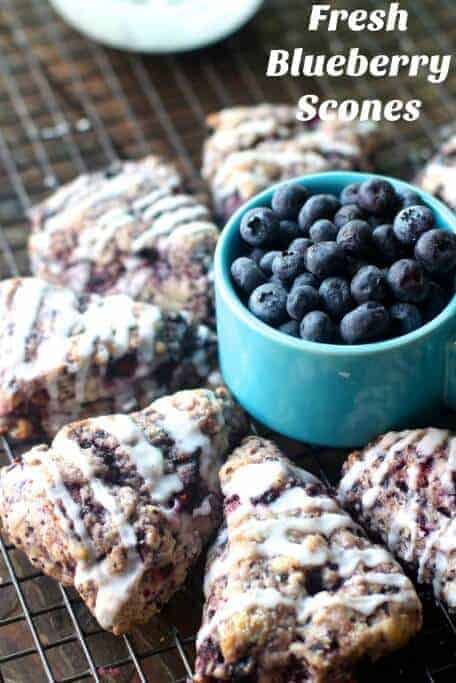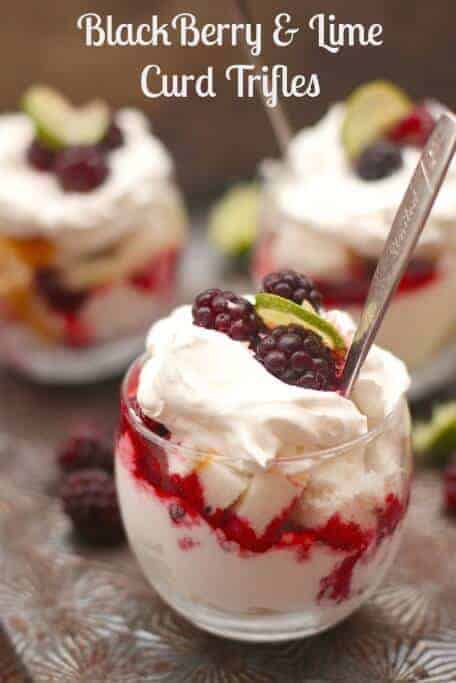 Sign up for the Princess Pinky Girl Newsletter and automatically receive our latest & greatest delivered right to your inbox! Follow Princess Pinky Girl on Facebook, Twitter, Pinterest and Instagram for all of the newest recipes, crafts, travels and updates!
If you make a Princess Pinky Girl creation make sure you take a picture and share it on Instagram with @princesspinkygirl ! I love seeing your masterpieces!