What makes you think of the holidays more than Rudolph the Red Nosed Reindeer? What do you love more during the holidays other than fun and delicious desserts? Well, I decided to combine the two and make a deliciously yummy and cute Rudolph the Red Nosed Reindeer Cupcakes!
They are super easy and a great family activity!
Here are all of the things you will need to make your very own Rudolph Cupcakes:
1 box chocolate cake-mix (prepare as directed on box for cupcakes)
Chocolate frosting
Cupcake liners
Wilton Candy Eyes
Rose Gold Tiny Twist Pretzles
Red Starbust Jellybeans (or Jelly Belly's)
Twizzler Pull & Peel Red Licorice
Again, very easy – All you do is prepare the cupcakes as directed. Be sure to let the cupcakes completely cool and frost.
Use a little frosting on the backs of the eyes to help them stick on the cupcakes. Add the jelly bean nose. Break the pretzels into "antler looking" pieces and stick them on the top of the cupcake like ears! Separate the Pull & Peel Licorice into individual strands and cut the licorice into about 1/2 inch pieces. Lay it across the bottom section of the cupcake curved up like a mouth. Presto – you are done!
Once the cupcakes are cooled, it took us about a half hour or so to decorate! It was super fun and a great family activity!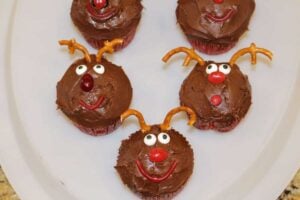 Coming soon….. Abominable Snowmen cupcakes!!