This post may contain affiliate links. Read my disclosure policy here.
Could you use a quick, easy, delicious, all in one dish that your kids will love?
My name is Diane Roark, and I blog at Recipes for our Daily Bread. I am excited to be a guest blogger today on Princess Pinky Girl. She has been adding posts and roundups lately to help you make transitioning back to school easier. I am hoping my Chicken Bacon Ranch Pasta Salad will also help you by planning a quick and easy meal. With all my kids going in different directions this school year including, public school, private school, homeschool, and medical school, plus playing football, I have to plan meals. It simply just makes life easier. I am adding this Chicken Bacon Ranch Pasta Salad today. It is quick and easy to make and delicious warm. You can also prepare it ahead of time and eat it cold. My family is split down the middle with half of us loving this pasta salad warm and half of us loving it cold. No matter how you eat it, I hope this recipe gives you another delicious idea to help put dinner on the table during this busy back to school time.
If you enjoy Outback Ranch dressing, you will do a "Happy Dance" over this Chicken Bacon Ranch Pasta Salad. I used a Copycat Outback Ranch Dressing to make this pasta salad. This copycat recipe came from Top Secret Restaurant Recipes 2 by Todd Wilbur. I tried this recipe a few weeks ago, and my family was crazy for it. After tasting this Ranch dressing, it motivated me to create several recipes using it, including this Chicken Bacon Ranch Pasta Salad. This pasta salad is includes lots of my family's favorite ingredients including bacon, Ranch dressing, pasta, and cheese. I even hid zucchini and tomatoes in it. I have made this pasta salad three times lately twice for my family and once to take to someone else. This is the reason for the different pictures below. Each time I made this Chicken Bacon Ranch Pasta Salad, the results were great.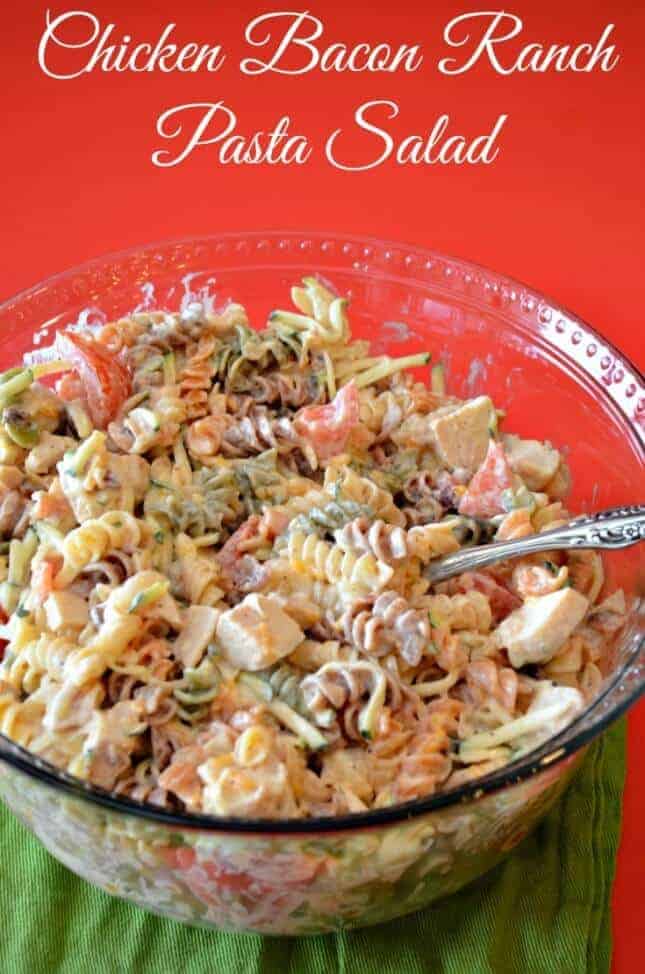 Blessings Always,
Here's what you need:
Chicken Bacon Ranch Pasta Salad:
12 ounce pack Spiral pasta ( I used Wacky Pack Veggy Spiral Pack)
3 chicken breast, chopped
1 cup shredded cheddar cheese
1 chopped tomato, or a handful of cherry tomatoes chopped in half
6 pieces bacon, cooked hard and crumbled
1 zucchini shredded
1 tomato chopped or a handful of cherry tomatoes cut in half
COPYCAT RANCH DRESSING INGREDIENTS:
1 pack Ranch Dressing (the original recipe called for 1 teaspoon dry Ranch dressing Buttermilk Recipe)
1 cup Mayonnaise
1/2 cup buttermilk
1/4 teaspoon black pepper
1/8 teaspoon paprika
1/8 teaspoon garlic powder
Here's what you do:
COPYCAT OUTBACK RANCH DRESSING:
Mix together the mayonnaise, buttermilk, Ranch dressing pack, pepper, paprika, and garlic powder.
Refrigerate
Makes 1-1/2 cups and I used it all in this pasta salad.
CHICKEN BACON RANCH PASTA:
Season chicken with salt and pepper and bake for 30 minutes in the oven 350 degrees.
Cut the chicken breast up into bite sizes,
Cook the pasta according to the package directions.
In a large bowl, combine the chopped chicken, cooked and drained pasta, ranch dressing, shredded cheese, chopped tomatoes, zucchini, and 6 pieces of bacon cooked hard and crumbled.
Mix well and serve or refrigerate.

Looking for some more family friendly recipes:
Sign up for the Princess Pinky Girl Newsletter and automatically receive our latest & greatest delivered right to your inbox! Follow Princess Pinky Girl on Facebook, Twitter, Pinterest and Instagram for all of the newest recipes, crafts, travels and updates!
If you make a Princess Pinky Girl creation make sure you take a picture and share it on Instagram with @princesspinkygirl ! I love seeing your masterpieces!