This post may contain affiliate links. Read my disclosure policy here.
Chewy Chocolate Caramel Bars are soft and chewy and the oats in them give them the perfect texture.
Hey guys, this is Lauren again from Tastes Better From Scratch and I'm super excited to share these amazing Chewy Chocolate Caramel Bars with you!
My mom recently gave me my Grandma's recipe box. It's this super old-fashioned metal box that weighs like 50 pounds, but it's full of GOLD! Ok, not real gold, but recipe gold! I've spent hours sorting through some really old, really fun recipes. I'm not going to lie, I can't read some of them. My Grandma's friends wrote in old fashioned cursive, and sometimes the writing is so slanted I have no idea what the recipe says.
Amongst the recipes that I have been able to read are some total classics, and some amazing family recipes that were passed down from my great-great grandparents. I've shared a few favorites already on my blog, including my Grandma's Lemon Chiffon Pie, Oatmeal Cake, and Baked Apples. I found this recipe for Chewy Chocolate Caramel Bars and I think it was from her neighbor. I've seen similar recipes before and I knew immediately I wanted to bake them.
These bars can be summed up in three words: Chocolate Caramel Bliss. They are soft and chewy and the oats in them give them the perfect texture. They're absolutely delicious! A "keeper" recipe for sure!
Chewy Chocolate Caramel Bars
Chewy Chocolate Caramel Bars are soft and chewy and the oats in them give them the perfect texture.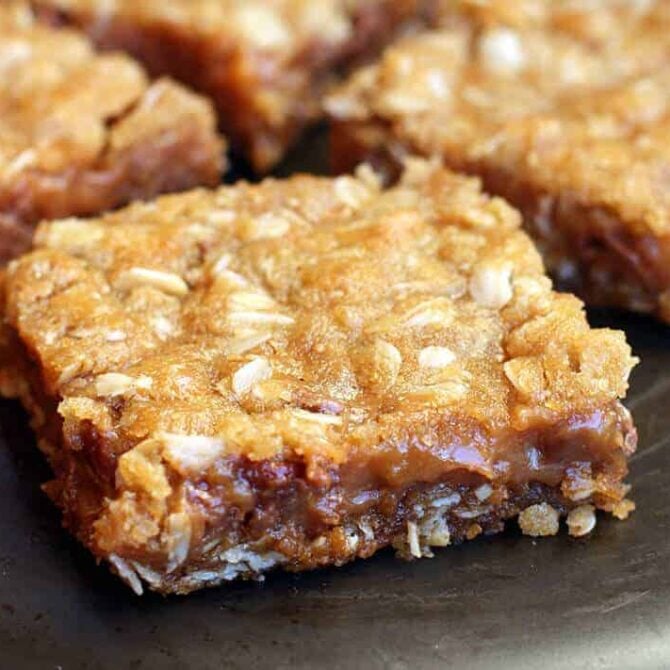 Ingredients
1 cup melted butter
1 1/2 cups flour
1 1/2 cups old-fashioned oats
1 1/2 cups brown sugar
1/2 teaspoon baking soda
1/4 teaspoon salt
14 ounce bag of caramels (unwrapped)
1/2 cup evaporated milk
1 12 ounce package chocolate chips
Instructions
Preheat oven to 350 degrees F.

Combine the first six ingredients and reserve half of the mixture, pressing the other half into the bottom of a 9x13'' pan.

Bake crust for about 15 minutes, until lightly browned.

Combine the caramels and evaporated milk in a microwave safe bowl (or on the stove over low heat). Microwave at low power, stirring every 30 seconds, until the caramel is melted.

When the crust comes out of the oven sprinkle chocolate chips all over the top. Drizzle melted caramel over the chocolate chips.

Top with remaining crumb mixture.

Return to oven and bake for another 12-17 minutes or until the edges are lightly browned.

Allow to cool completely before serving, to allow them to set up. I like to chill them in the refrigerator for at least two hours before serving.
I hope you'll stop by Tastes Better From Scratch, or follow me on Pinterest, Facebook or Instagram, for some more yummy recipes like:
Pumpkin Cookies with Caramel Frosting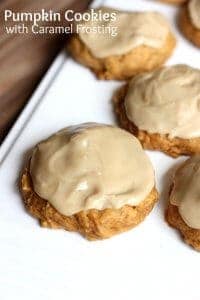 Caramel and Chocolate Dipped Pretzel Rods
Sign up for the Princess Pinky Girl Newsletter and automatically receive our latest & greatest delivered right to your inbox! Follow Princess Pinky Girl on Facebook, Twitter, Pinterest and Instagram for all of the newest recipes, crafts, travels and updates!
If you make a Princess Pinky Girl creation make sure you take a picture and share it on Instagram with @princesspinkygirl ! I love seeing your masterpieces!